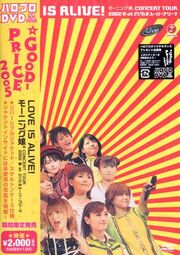 Morning Musume Concert Tour 2002 Haru "LOVE IS ALIVE! at Saitama Super Arena (モーニング娘。CONCERT TOUR 2002春"LOVE IS ALIVE!" at さいたまスーパーアリーナ) was Morning Musume's 2002 spring concert. Country Musume, Coconuts Musume and Fujimoto Miki were featured as guests. This concert was the first that featured 5th generation members Takahashi Ai, Konno Asami, Ogawa Makoto and Niigaki Risa. The DVD was released on July 31, 2002. It sold 82,993 copies.
The Blu-ray was released on August 7, 2013, and it failed to chart on Oricon's DVD chart. 
OPENING
MC 1
Otoko Tomodachi - Abe Natsumi with Takahashi Ai, Konno Asami, Ogawa Makoto, and Niigaki Risa
MC 2
Summer Night Town (English Version) - Coconuts Musume
Densha no Futari - Abe Natsumi, Ishikawa Rika, Yoshizawa Hitomi, Kago Ai, Takahashi Ai, Konno Asami, and Niigaki Risa
MC 3
MC 4
Hajimete no Rock Concert - Iida Kaori, Yasuda Kei, Yaguchi Mari, Goto Maki, Tsuji Nozomi, and Ogawa Makoto
MC 5
Nanni mo Iwazu ni I LOVE YOU Tokuten Eizou (特典映像)
Members Featured
Edit
Guests
External Links
Edit
Ad blocker interference detected!
Wikia is a free-to-use site that makes money from advertising. We have a modified experience for viewers using ad blockers

Wikia is not accessible if you've made further modifications. Remove the custom ad blocker rule(s) and the page will load as expected.