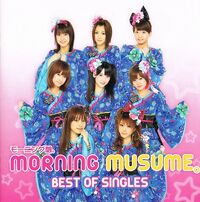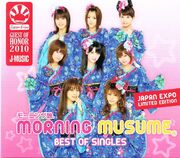 Morning Musume Best of Singles Japan Expo Limited Edition is a compilation album released for the Japan Expo 2010 held in Paris, France. Morning Musume were guests of honor for the event.
It was released on July 1, 2010.  There were only 1,000 copies released, 100 of which were bundled with a concert ticket as part of the Morning Musume Concert Premium Pack.
Tracklist
Edit
CD Contents
Edit
The 3-CD pack contains 41 singles released by Morning Musume.
CD 1 contains singles from Mikan to Seishun Collection, with the exception of Pepper Keibu. Tomo was added as the the theme song for the Expo and is the only coupling track on this compilation.
CD 2 and 3 contains singles included in the Morning Musume ALL SINGLES COMPLETE ~10th ANNIVERSARY~ from Morning Coffee to Onna ni Sachi Are. Morning Musume no Hyokkori Hyoutanjima is not included in CD 2.
Ad blocker interference detected!
Wikia is a free-to-use site that makes money from advertising. We have a modified experience for viewers using ad blockers

Wikia is not accessible if you've made further modifications. Remove the custom ad blocker rule(s) and the page will load as expected.