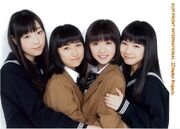 Morning Musume ANNEX Event ~Iwai Nyuugakushiki~ (モーニング娘。ANNEXイベント ~祝・入学式~) is an ANNEX fanclub event by Morning Musume members Fukumura Mizuki, Ishida Ayumi, Sato Masaki, and Kudo Haruka. The event was to celebrate Fukumura and Ishida's entrance into high school, and Sato and Kudo's entrance into middle school. Four total events took place on April 3 and 4, 2012 at TOKYO FM HALL.
MC
MC - Game corner
MC
Featured Members
Edit
Event Schedule
Edit
Date
Venue
Prefecture
Doors Open
Event Starts
4/3
TOKYO FM HALL
Tokyo
17:45
18:15
19:20
19:50
4/4
17:45
18:15
19:20
19:50
Fukumura Mizuki and Ishida Ayumi graduated from middle school, and Sato and Kudo graduated from elementary school earlier that March.
External Links
Edit
Ad blocker interference detected!
Wikia is a free-to-use site that makes money from advertising. We have a modified experience for viewers using ad blockers

Wikia is not accessible if you've made further modifications. Remove the custom ad blocker rule(s) and the page will load as expected.