Morning Cop
Comments

0
1,761pages on
this wiki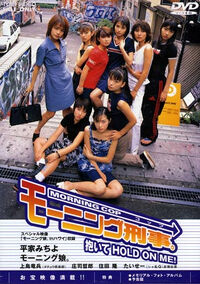 Morning Cop ~Daite HOLD ON ME!~ (モーニング刑事。~抱いてHOLD ON ME!~) is a Hello! Project semi-musical based movie. It features the entire first and second generation of Morning Musume, and soloist Heike Michiyo as the main roles. This was the first movie for Morning Musume and Heike, and the last in which Fukuda and Ishiguro would appear. And though it is pretty much known as Morning Cop, the full title of the movie is Morning Cop - Daite HOLD ON ME!. Which is named after Morning Musume's hit single "Daite HOLD ON ME!".
Heike Michiyo is rising fast in as idol and model, appearing on the cover and becoming the face of Lovely magazine. One day though, while opening her fan mail with her friends, Morning Musume, she opens up a very disturbing gift! Soon after a handsome detective comes in and determines that she has a stalker.
The detective promises he'll do what he can but after a while the police are at ends, not knowing where the stalker is. And with Michiyo only getting more distressed, Morning Musume decides to take matters into their own hands and help find Michiyo's stalker. After going through some training, the girls then become Morning Cop! Where catching villains is a piece of cake! The girls then start investigating and find that the stalker knows more then they knew.
Michiyo promises to hang in there, but things get creepier and creepier with the stalker and on top of it all, she is getting harassed by anti-fans. Morning Cop promises to protect her and do all they can to find the stalker. They go asking around dark places and even face the "Emperor" the boss of Akihabara to try and find him. Soon though, they find themselves in a predicament with Michiyo, that unravels a shocking and horrifying twist in the end!
Soundtracks
Edit