Mon Soleil 415

Mon Soleil 415 promoting Koi
General Information

Origin

Gifu, Japan

Genre

J-pop

Years active

2012-2014, 2015-Present

Website

Associated acts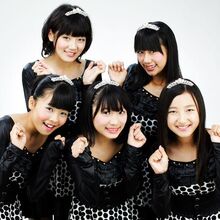 Mon Soleil 415 (モンソレイユ415) is a Japanese pop local idol group based in Gifu under CRP Productions.
The group was formed on September 22, 2012 and released their debut single, "Koi", on May 3, 2013. The group entered a hiatus in late July 2014 due to the members desire to search for employment, study overseas and take high school exams. The group temporarily resumed activities in mid-2015 to release their first mini album "Yanagase Junjou" on May 9, 2015 and resumed full activities in early 2016.
Current Members
Wakamiya Sakito (若宮さきと)
Nomura Yuki (野村ゆき)
Takahashi Megu (高橋めぐ)
Former Members
Edit
Discography
Edit
Mini Albums
Edit
[2015.05.09] Yanagase Junjou
External Links
Edit
Ad blocker interference detected!
Wikia is a free-to-use site that makes money from advertising. We have a modified experience for viewers using ad blockers

Wikia is not accessible if you've made further modifications. Remove the custom ad blocker rule(s) and the page will load as expected.