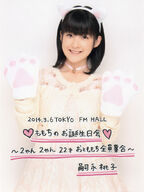 Momochi no Otanjoubi Kai ~2 Nyan 2 Nyan 22sai Otomomochi Zenin Shugo~ (♡ももちのお誕生日会♡〜2ゃん2ゃん22才 おとももち全員集合〜) is a fanclub DVD by Tsugunaga Momoko. It features her 22nd birthday event at TOKYO FM HALL on March 6, 2014. The DVD was sold only to Hello! Project Fanclub members and had a deadline to be ordered by May 27, 2014. It was released to fanclub mebers on July 27, 2014.
MC - Lovendor's Yuki & Marin introduced (both wearing Momochi Birthday T-shirts)
Anata Nashide wa Ikite Yukenai (Acoustic Ver.)
BELIEVE★★★ (Acoustic Ver.)
MC - Fans sing Happy Birthday to Momochi
Last Forever (Acoustic Ver.)
MC - Yuki & Marin talk about the new cd then leave the stage
MC
MC - Hama-chan message - Hamachan & Wota sing Happy Birthday
Tsugunaga had two events for her birthday, both took place on the same day and were only an hour apart.
The second event is the event that made it into the DVD.
In the first event, Tsugunaga sings Rival instead of Yononaka Barairo and Baketsu no Mizu instead of BELIEVE★★★.
This is her first birthday event.
External Links
Edit