Miyoshi Erika
Comments

0
2,908pages on
this wiki
Miyoshi Erika
三好絵梨香

Information
Born
November 8, 1984
Birth Place
Sapporo, Hokkaidō, Japan
Blood Type
B
Zodiac Sign
Scorpio
Height
161cm
Professional Information
Genres
Japanese pop
Occupation
Singer, actress
Years Active
2004–present
Label
Piccolo Town
Associated Acts
v-u-den, H.P. All Stars
Miyoshi Erika (三好絵梨香) is a Japanese pop singer and is a former member of the Hello! Project-associated trio v-u-den.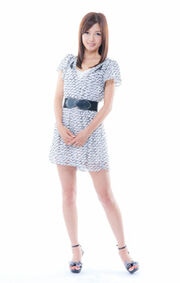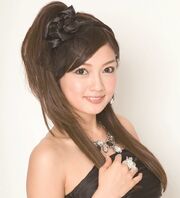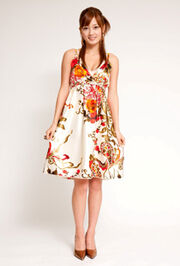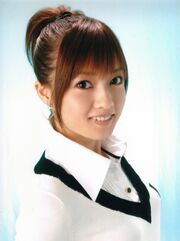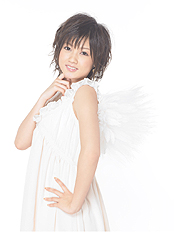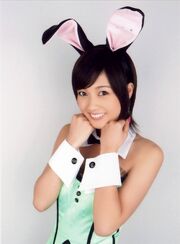 In 2001, Miyoshi auditioned for Morning Musume's 5th generation but didn't pass.
Miyoshi Erika was one of the 2003 Hello! Project audition winners. Reportedly she was supposed to debut as a solo artist, however nothing came about and instead she debuted in the group v-u-den, with Ishikawa Rika and Okada Yui. She was also made a member of the Hello! Project kickbase team, Metro Rabbits H.P..
In 2004, Miyoshi became a member of the newly formed group, v-u-den , along with Okada Yui and Ishikawa Rika.
She also particpated in the shuffle unit H.P. All Stars with fellow v-u-den members.
In 2006, Miyoshi was cast in the movie Sukeban Deka:Codename = Asamiya Saki along with Matsuura Aya and fellow v-u-den members Ishikawa Rika and Okada Yui .
In 2008, v-u-den disbanded. After v-u-den's disbanding, Miyoshi remained within Hello! Project until the mass Elder Club graduation in 2009. Since then she has remained with UP-FRONT PROMOTION.
In 2009, Miyoshi graduated from Hello! Project along with the rest of Elder Club.
In December of 2009, Miyoshi and former v-u-den member Okada Yui briefly reunited to perform two live shows: the MIYO-YUI no Kyounen mo Futaribocchi Casual Dinner Show on December 20th and the MIYO-YUI no Kyounen mo Futaribocchi Special Live on December 23rd. Many v-u-den songs were featured, as well as some cover songs.
In 2011, she was cast in the stageplay Reborn ~Inochi no Audition~ along with Morning Musume, and other Up-Front Members.
On April 9, Miyoshi updated her blog informing fans that she has registered her marriage on April 8. She is married to an IT company employee from Sapporo and she plans to continue her work.
Name: Miyoshi Erika (三好絵梨香)
Legal Name: TBA
Married Date: April 8, 2013
Family: Husband
Birth Date: November 8, 1984
Birth Place: Sapporo, Hokkaido, Japan
Blood Type: B
Hobbies: Karaoke, listening to music, watching movies
Height: 161cm
Western Zodiac: Scorpio
Eastern Zodiac: Rat
Talents: Tennis, cooking, Antonio Inoki imitation
Charm Point: Smile
Least Favorite Food: Sea urchin roe and salmon roe
Audition Song: Morning Musume - AS FOR ONE DAY
Hello! Project Groups:
Shuffle Groups:
Up-Front PROMOTION:
Singles Participated In
Edit
H.P. ALL STARS
Edit
Ganbarou Nippon Ai wa Katsu Singers
Edit
Reborn Eleven
Edit
Solo Songs
Edit
Photobooks
Edit
[2008] Cat's Eye Club
[2009] Cat Eye Club 2
[2010.09.08-12] Tsubuyaku Girl's (つぶやくGirl's)
[2010] Kiniro no Corda (as Nami Amou)
[2011.10.08-17] Reborn ~Inochi no Audition~ (リボーン~命のオーディション~) (as Mozart)
[2011.12.13-18] Akahana (あかはな)
[2005-2006] Hello Pro Yanen!! (ハロプロやねん!!)
[2005-2006] B.B.L.
[2005-2006] TBC Fun Field Mouretsu Moudasshu (TBC FUNふぃーるど・モーレツモーダッシュ)
[2006-2007] v-u-den beauty hour 21 (美勇伝 beauty hour 21)
[2007-2008] v-u-den Miyoshi・Okada no Konya wa Futaribocchi (美勇伝 三好・岡田の今夜はふたりぼっち)
[2012-2013] Joshikai Radio (女子会ラジオ)
[2013-present] Sana Miyo Upstage (さなみよアップステージ)
External Links
Edit
v-u-den
Members

2nd Gen/Zoku: Michishige Sayumi, Sugaya Risako
Former Members

1st Gen: Ishikawa Rika, Miyoshi Erika, Okada Yui
2nd Gen/Zoku: Junjun
Singles

01, 02, 03, 04, 05, 06, 07, 08, 09, 10
Other: ALL FOR ONE & ONE FOR ALL!
Albums

Original: Suite Room Number 1
Best: v-u-den Single Best 9 Vol.1 Omaketsuki
Other

Concerts