Miyoshi Chinatsu
三佳千夏

Background Information
Stage Name
Tani Rumiko, Miyoshi Chinatsu
Born
August 14, 1979
Origin
Tokyo, Japan
Blood Type
B
Zodiac Sign
Leo
Height
167cm
Genres
apanese and Korean pop
Years Active
1999–present
Label
zetima, PAL RECORDS
Blog
rumiko_life
Twitter
@rumiko0635jp
Miyoshi Chinatsu (三佳千夏), who now goes by the name Tani Rumiko (谷ルミコ), her real name being Chigi Rumiko (千木留美子) is a Japanese and Korean singer. She rose to fame when she became a member of Hello! Project. She has participated in many concerts and other events nationwide.
Biography
Edit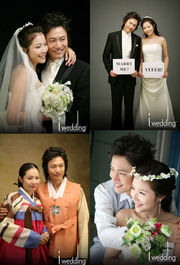 In August 1999, Chigi Rumiko won the "First Morning. Heike Michiyo & little sister" Audition and began working in Hello! Project, changing her name to Miyoshi Chinatsu.
By May 2000, she had got 3 singles out. In October of 2000, Miyoshi retired from Hello! Project. Her last appearance was at Hello! Project concert in September 2000.
In September 2004, she began to show her face to the public again and began taking up acting, singing, and dancing lessons.
In early 2005, she ended her retirement, when a music producer for the movie Kokkuri-san heard her voice and asked her to do a song for them. She then debuted under the name Tani Rumiko and sang the ending theme to the Korean movie, Kokkuri-san, along with several other songs. She also did a compilation song with the Korean band called march.
2006-present
Edit
In August 2006, she and Korean pop singer Kim Jung Min (real name Kim Jung Soo), who she had been dating, announced their engagement, they married on October 21. She claimed South Korean citizenship and currently resides in South Korea. They have since had three children together.
Stage name: Tani Rumiko (谷ルミコ) (2005-),
Miyoshi Chinatsu (三佳千夏) (1999 - 2005)
Real name: Chigi Rumiko (千木留美子)
Birth date: August 14, 1979
Birth place: Tokyo, Japan
Blood Type: B
Star Sign: Leo
Height: 167 cm
Hobbies: Traveling, watching movies, listening to music, golfing, dancing, snowboarding, basketball
Specialty: Cooking, English
Discography
Edit
[1999] Pinch Runner
[2005-04-08] Koh valley Rumi
[2011] Noriko in Seoul (노리코, 서울에 가다) (as Haruka)
Television
Edit
[1999-03-?] Idol wo Sagase
[1999] TV Tokyo
[2000] Hello! Morning
[2004-11-??] CS ・ SKY Jupiter Shop Channel [regular] <Journal>
[2005-01-??] saita mook ~ Eleven Limited (芝Paku出版) 『saita(セブンイレブン限定ムック)』
Her producer while in Hello! Project was Sanada Kaoru, a former member of the band Tokyo JAP.
All of her singles except for her last one have English names.
External Links
Edit