Miyamoto Karin
宮本 佳林

Miyamoto Karin, July 2017
Background Information
Also Known As
Karin (

カリン

?

)
Former Names
Kopink (

コピンク

?

)
Born
December 1, 1998
Origin
Chiba, Japan
Blood Type
O
Zodiac Sign
Sagittarius
Height
154cm
Genres
J-Pop
Occupation
Idol, Singer, Actress, Model
Years Active
2008-present
(8 years)
Agency
UP-FRONT AGENCY (2008-2012)
UP-FRONT PROMOTION (2012-)
Label
Up-Front Works
hachama
Associated Acts
Juice=Juice, Hello Pro Kenshuusei, Shin Minimoni, Reborn Eleven, Jurin, Team Okai, Hello! Project Station Dance Club
Blog
Official Juice=Juice Ameba Blog

Juice=Juice

Information
Joined
February 3, 2013
Member Color

     

 Grape
Debut Single
Romance no Tochuu / Watashi ga Iu Mae ni Dakishimenakya ne (MEMORIAL EDIT) / Samidare Bijo ga Samidareru (MEMORIAL EDIT)
Time in Group
4 Years, 6 Months, 7 Days
Hello Pro Kenshuusei Information
Joined
November 24, 2008
Generation
5th Generation
Graduated
November 18, 2013

Miyamoto's Autograph
"
I'll make this year better than last year.[1]
"

–Miyamoto Karin, February 2014
Miyamoto Karin (宮本佳林) is a Japanese pop singer signed to Hello! Project as a member of Juice=Juice. She was previously a Hello Pro Kenshuusei, and a member of Shin Minimoni. She is also a former member of the SATOYAMA movement unit Jurin.
Biography
Edit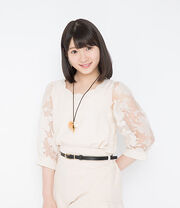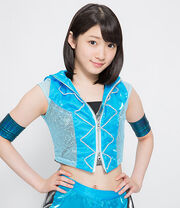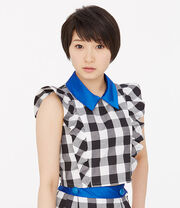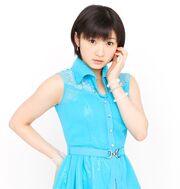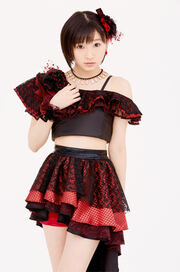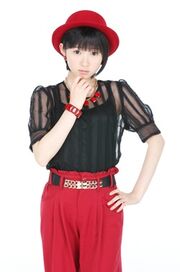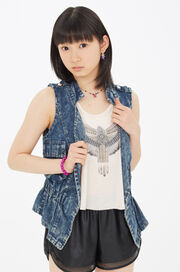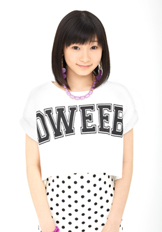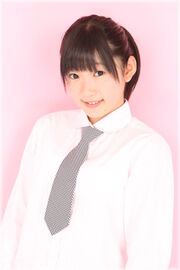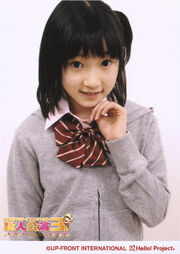 Early Life
Edit
Miyamoto Karin was born on December 1, 1998 in Chiba, Japan to a couple whose names are undisclosed.
Miyamoto Karin joined Hello! Project as a member of Hello Pro Egg in 2008. She was first introduced at the 2008 Hello! Project Shinjin Kouen 11gatsu ~Yokohama JUMP!~ concert in November as a winner of the UP-FRONT Egg Audition.
In June, Miyamoto took part in the stage play Ojigi de SHAPE-UP!, the sequel to Ojigi 30 do Degrees, with fellow Hello Pro Egg member Takeuchi Akari, and Morning Musume members Takahashi Ai, Kamei Eri, Michishige Sayumi, and Tanaka Reina.
In 2009, Miyamoto became part of the new revival unit for Minimoni, Shin Minimoni, alongside Linlin, Fukuda Kanon, and fellow Egg Takeuchi Akari.
From April 8 to 12, Miyamoto appeared in the stage play Kaibutsu no Kodomo.[2]
In 2011, Miyamoto participated in the S/mileage Shin Member Boshuu!, but failed to pass.
In October, Miyamoto starred in a stage play titled Reborn ~Inochi no Audition~ along with various Morning Musume members.
In December, Miyamoto was in a stage play featuring Okai Chisato, Nakajima Saki, and Kudo Haruka, titled 1974 (Ikunayo). The play ran from December 14 to December 18. She replaced Takeuchi Akari, who was supposed to play the role, but was taken out due to S/mileage activities.
She auditioned for Morning Musume's 11th generation, but was not chosen to enter the group.
Shortly after the auditions, it was announced that select Kenshuusei, including Karin, would be releasing their first single, "Kanojo ni Naritai!!!".
She was a back-up dancer for the S/mileage Live Tour 2012 Aki ~Choi Kawa Banchou~.
On January 27, Miyamoto and other Hello Pro Kenshuusei members appeared as an opening act for Morning Musume's mini live event at the Osaka's Senri SELCY Square to promote "Help me!!". The Kenshuusei sang Kanojo ni Naritai and were backdancers for "LOVE Machine".
On February 3, during the Bravo! concert in Fukuoka, it was announced that Miyamoto would debut in a new unit, Juice=Juice, along with Kanazawa Tomoko, Miyazaki Yuka, Takagi Sayuki, Otsuka Aina and Uemura Akari.[3] Tsunku's comment regarding Miyamoto:
"Up until now she has participated in a few unit in Hello Project as someone with a real talent. Her character is also strong."
On February 12, Hello! Project Fanclub News announced that Miyamoto would participate in a stageplay titled Moshimo Kokumin ga Shusho o Erandara along with Takahashi Ai, Ishikawa Rika, Wada Ayaka, Fukuda Kanon, and Uemura Akari. There was 11 showings and it ran from April 24 to the 30.[4]
On February 13, it was announced that she would be graduating from PINK!SS and Kopinks!, to focus on Juice=Juice. She officially graduated on March 2 at the PINK!SS & Kopinks! Special Live.[5] Miyamoto released her first and last mini-album as Kopink, titled Kopinks! Melodies ~star chart~, on March 20. Her last episode as Kopink was broadcast on April 2.[6]
On February 23, She participated as a back-dancer at Mano Erina's graduation concert.
On July 23, it was announced that Miyamoto would be a member of the new unit Jurin alongside Morning Musume member Sato Masaki.
On August 23, it was announced that Miyamoto suffered a left cuboid bone fracture, she was expected to be fully recovered in six weeks, and until then she was not be able to dance in Juice=Juice activities.
On September 15, staff reported that Miyamoto was in poor condition and couldn't participate in a Juice=Juice handshake event, and in the Hello Pro Kenshuusei Happyoukai 2013 ~9gatsu no Nama Tamago Show!~ that day.
On December 17, Miyamoto and Uemura Akari celebrated their birthdays in a joint event called Juice=Juice Miyamoto Karin, Uemura Akari Birthday Event 2013, featuring two performance at TOKYO FM HALL.
On January 16, Miyamoto's first solo e-Hello DVD, Greeting ~Miyamoto Karin~ was announced, it was released in late March.
On April 27, Miyamoto announced her first solo photobook, titled Karin, released on June 12.
On July 16, she released her first solo image DVD, KArin.
On September 23, Juice=Juice performed at the PINK!SS & Kopinks! Special Live 2014 ~Uso Mitai na Kyou~, with Miyamoto reprising her role as the first generation Kopink for the event.[7]
On December 11, Miyamoto and Uemura Akari celebrated their birthdays in a joint event called Juice=Juice Miyamoto Karin, Uemura Akari Birthday Event 2014. One show took place at Differ Ariake in Tokyo.
On May 27, Miyamoto released her second solo photobook, Karin sixteen.
On July 16, she released her first solo image Blu-ray, Karin wa 16sai.
On December 1, Miyamoto celebrated her 17th birthday at a special event called Juice=Juice Miyamoto Karin Birthday Event 2015. The event featured two performances at CLUB CITTA' in Kanagawa, and parts of the event were recorded for Juice=Juice's 2016 drama Budokan.
On October 21, Miyamoto released her third solo photobook, titled Sunflower. Following her photobook release, she also released her second solo image Blu-ray bluest on November 23.[8]
On December 1, Miyamoto celebrated her 18th birthday at a fanclub event titled Juice=Juice Miyamoto Karin Birthday Event 2016. The event featured two performances at Yamano Hall in Tokyo.
On July 21 and 22, for both the Juice=Juice LIVE AROUND 2017 ~Seven Horizon~ and the Hello! Project 2017 SUMMER concerts that took place, Miyamoto could only dance and not sing due to inflammation of her vocal cords.[9][10][11] On July 25, it was announced that Miyamoto was diagnosed with functional dysphonia. Even when only dancing and mimicking her solo parts during the weekend concerts, she had difficulty breathing. In order to recover, all work that requires her voice, such as lives and events, would be canceled until further notice.[12][13] In the meantime, Miyamoto continues to write on her blog and do photoshoot work.[14]
Personal Life
Edit
She was raised as an only child and she lives with her grandparents.
She has a pet cat named Jasmine.
When Miyamoto debuted as a member of Juice=Juice in February 2013, she was a second year middle school student. She graduated from high school in March 2017.[15]
The following list are notable friendships Miyamoto Karin has acquired:
Other
Nanarin (ななりん): Her and Tanabe Nanami's pairing name is "Nanarin".
Miyamoto's given name, Karin, was chosen so that good (佳) things would happen one after another (林).[16]
Here is a list of nicknames that was used to refer to Miyamoto Karin:
Karin (カリン): Official nickname, given her since joining Hello Pro Egg. Used by members and fans.
Kopink (コピンク): Kopink is Miyamoto's voice-actor character.
Karin-chan-san (かりんーちゃんーさん): A nickname for Miyamoto Karin, which Sayashi Riho used first on her blog during the musical Reborn ~Inochi no Audition~ in 2011. Sayashi used two kinds of honorifics together, "chan" for endearing one and "san" for respectable one.
Starting in 2011, Miyamoto provided voice-over for the Shizuoka Asahi TV program PINK!SS (ピンクス), and was the voice actress of the anime character Kopink (コピンク; sometimes stylized as コピンク*) for the other SATV program Kopinks! (コピンクス!). As Kopink, Miyamoto released 5 solo digital singles and a mini-album.
She graduated from the program in March 2013, prior to debuting with Juice=Juice.[5]
Name: Miyamoto Karin (宮本佳林)
Nickname: Karin (カリン), Kopink (コピンク)
Birthdate: December 1, 1998
Birthplace: Chiba, Japan
Western Zodiac: Sagittarius
Eastern Zodiac: Tiger
Blood type: O
Height: 154cm (5"1)
Hello! Project Status:
Official Kaomoji: ノリ・ 。・リ
Juice=Juice Fruit (Member Color):
Hello! Project Groups:
Hobbies: Yoga, Home Karaoke, playing with her cats
Specialty: Badminton, Yoga, Braiding, Mario's jump
Strong Point: Pacifism
Weak Point: Rough
Dislikes: Drawing
Scared of: Haunted houses, Big dogs
Favorite Animal: Cat
Favorite Food: Strawberries, fruits, Trout Sushi
Least Favorite Food: Celery
Favorite Color: Light purple, Pastel pink
Favorite Subject: Arts Technique, Music.
Rival: Oda Sakura, Danbara Ruru, Sato Masaki
Favorite Hello! Project Song: "Hare Ame Nochi Suki♥", "Ooki na Ai de Motenashite", "Resonant Blue"
Favorite Groups: S/mileage, ℃-ute, Morning Musume
Looks Up To: Okai Chisato, Nakajima Saki, Shimizu Saki, Takahashi Ai and Niigaki Risa
Discography
Edit
Digital Singles
Edit
Mini Albums
Edit
Solo Songs
Edit
Solo DVDs/Blu-rays
Edit
Other DVDs
Edit
Publications
Edit
Solo Photobooks
Edit

TV Programs
Edit
TV Dramas
Edit
Music Videos
Edit
Honorary Titles
Edit
References
Edit
External Links
Edit
Ad blocker interference detected!
Wikia is a free-to-use site that makes money from advertising. We have a modified experience for viewers using ad blockers

Wikia is not accessible if you've made further modifications. Remove the custom ad blocker rule(s) and the page will load as expected.