Michishige Sayumi
道重さゆみ

Michishige Sayumi, March 2017
Background Information
Also Known As
Sayumin (

さゆみん

?

)
Sayu (

さゆ

?

)
Shige-san (

シゲさん

?

)
Yayaomo (

やや重

?

)
Born
July 13, 1989
Origin
Ube, Yamaguchi, Japan
Blood Type
A
Zodiac Sign
Cancer
Height
160.4cm
Shoe Size
23.5cm
Genres
J-Pop
Occupation
Idol, Singer, Actress, Model
Years Active
2003–2014; 2017–present
Agency
UP-FRONT AGENCY (2003-2012)
UP-FRONT PROMOTION (2012-)
Label
zetima
UP-FRONT WORKS
Associated Acts
Morning Musume, Morning Musume Otome Gumi, Ecomoni, Zoku v-u-den, H.P. All Stars, Hello! Project Mobekimasu, Hello Pro Sentai Pink Rangers
Blog
Official Gree Blog
Official Ameba Blog
Morning Musume Information
Joined
January 19, 2003
Generation
6th Generation
Member Color

     

 Pink (2006-2014)


     

 Lemon (2003-2006)
Debut Single
Shabondama
Last Single
TIKI BUN / Shabadaba Doo~ / Mikaeri Bijin
Graduated
November 26, 2014
Time in Group
11 years, 10 months, 7 days

Michishige's Autograph
"
Because I believed my cuteness would peak at 25 years old, I wanted to graduate while I was cute at 25 years old. Even though I graduated, I still thought, "Huh, I can't stop yet." (laughs) Until now I was only a cute woman, but from now on I'd like to show my charm and expressiveness as a 27-year-old adult.[1]
"

–Michishige Sayumi, March 2017
Michishige Sayumi (道重さゆみ) is a Japanese pop-singer and talent. She is a former sixth generation member and leader of Morning Musume, as well as a former leader of Hello! Project.[2][3][4]
She first became a member of Morning Musume in 2003, as a sixth generation member alongside Fujimoto Miki, Kamei Eri and Tanaka Reina. On November 26, 2014, she passed her leadership of Morning Musume to Fukumura Mizuki and Hello! Project to Yajima Maimi when she graduated.
She is well known for portraying a narcissistic image in TV shows, often calling herself the cutest member of Morning Musume.[5] She created "Usa-chan Peace" (Bunny Peace), which is a phrase Michishige uses to identify herself.
Biography
Edit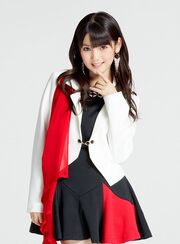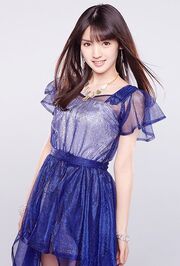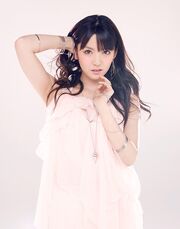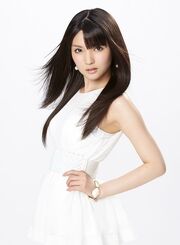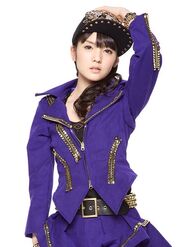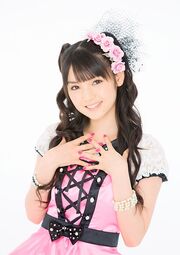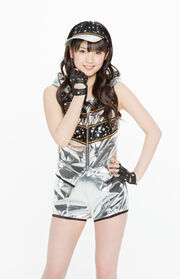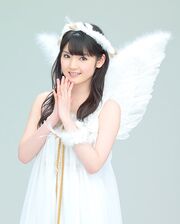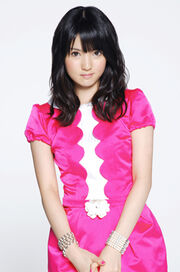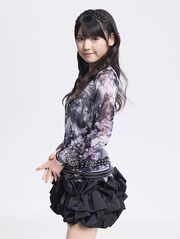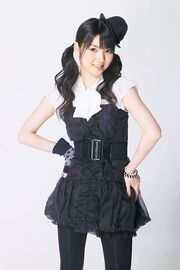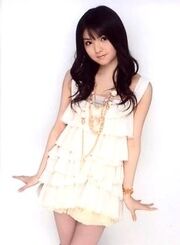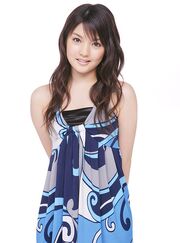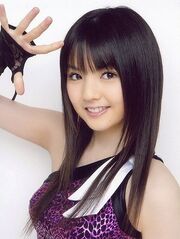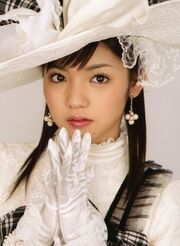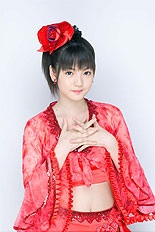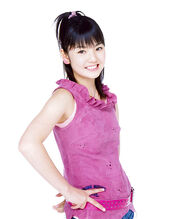 Early Life
Edit
Michishige Sayumi was born on July 13, 1989 in Ube, Yamaguchi, Japan.
When she was in elementary school, she won an award for aerobics. She also took piano lessons.
2002-2004
Edit
In latter half of 2002, Michishige auditioned the Morning Musume LOVE Audition 2002 for an opportunity to join the group and successfully passed.[6] On January 19, 2003, Michishige was introduced as a 6th generation member alongside Kamei Eri, Tanaka Reina and soloist Fujimoto Miki.
Michishige, along with Kamei and Tanaka, had their first stage debut on May 5th during the Morning Musume CONCERT TOUR 2003 Haru "NON STOP!", Yasuda Kei's graduation concert.[6]
On July 30, 2003, Morning Musume's 19th single, "Shabondama", was released.[6] This was Michishige's debut single,[6] as well as Kamei and Tanaka's.
Following her debut single, Michishige was added to Morning Musume Otomegumi, one of two Morning Musume subgroups created to have performances in towns with smaller venues.[6] The group released two singles: "Ai no Sono ~Touch My Heart!~", which was released on September 18, 2003, and "Yuujou ~Kokoro no Busu ni wa Naranee!~", which was released on February 25, 2004.[6]
From October 7, 2003 to September 28, 2004, Michishige appeared in the show M no Mokushiroku as a regular along with Nakazawa Yuko.[6]
Michishige was assigned as mentor to 7th generation member Kusumi Koharu.[7] She later admitted that she hated being Kusumi's mentor, because Kusumi had to be taught everything.[7] Because it was too stressful for her, Michishige took out her frustration by plucking out her eyebrows.[7] As a result, the mentor-pupil system within Morning Musume was removed.[7]
In October, Michishige began hosting her own half-hour radio show, Michishige Sayumi no Konya mo Usa-chan Peace, on CBC Radio every Monday at 23:30.
On June 9, Michishige began co-hosting the radio show Young Town Doyoubi, following Fujimoto Miki's FRIDAY magazine scandal and subsequent resignation from Morning Musume. Her final appearance in the show was on November 22, 2014.
Michishige appeared several times on different Japanese variety TV shows, either on her own or along with other members, usually with Yaguchi Mari. In the summer she gained decent recognition in the Japanese media due to her appearing in high-rated shows like London Hearts, Downtown DX and Odoru Sanma Goten, as well as in less popular shows. Netizens have pointed out "lately Michishige has been appearing often on TV." A TV Guide article praised her sharp tongue. Michishige used her sharp tongue on her radio show where, on certain episodes, she would comment on something from the point of view of "Good/Angel Sayumi" and "Bad/Black/Devil Sayumi."
It was revealed in July 2009 that Michishige would form part of Zoku v-u-den along with Junjun and Sugaya Risako.
In February, Michishige officially opened up a Gree blog.
In March, Yaguchi Mari, Satoda Mai, and Michishige were revealed to be regulars on the midnight TBS show Aimai na!. Michishige confirmed on her blog that she would be a regular on the show.
The official site for the Momusu Rokkies (Morning Musume 6th Generation) event titled "Morning Musume Presents Kamei Eri, Michishige Sayumi, Tanaka Reina Premium Summer Dinner Show" at Prince Hotel in Shinigawa was opened.
It was announced that Michishige would be the voice for "Harori" in the MMO game Dragon Nest.
Along with Tanaka Reina, Michishige hosted a premium Christmas dinner show on December 23 at the Prince Hotel.
On January 2, it was announced that 5th Generation member Niigaki Risa would graduate from Morning Musume and Hello! Project on May 18. As Michishige was the second oldest in Morning Musume and Hello! Project at the time, Morning Musume and Hello! Project leadership was passed down to Michishige after the graduation of Niigaki on May 19.[2][4][8][9] She became the 8th Morning Musume leader and the 4th Hello! Project leader.
On January 23, a contest was held in Japan during a press conference to pick a new voice for Harori from Dragon Nest, the in-game idol character Michishige had previously voiced. The contest was called "God Idol! Harori Junior-Senior Battle". The contestants were Tsugunaga Momoko, Barbie-san, and herself. The rest of the match took place online in which she came out victorious.
On October 10, Michishige opened an Ameba blog.[10]
On January 19, both Michishige and Tanaka Reina officially had spent 10 full years in Morning Musume. The graduation announcement of Tanaka meant that Michishige would become the last remaining sixth generation member of Morning Musume, as well as the last member remaining from the "Platinum Era".
On October 12, Michishige was declared the longest serving Morning Musume member, which was previously held by Niigaki Risa. On that day, she had served a total of 3,920 days in the group (Niigaki graduated with 3,919 days served).[11]
On October 27, Michishige released a new photobook called Blue Rose.[12]
On January 1, Michishige started off the new year with a total of 4000 days in Morning Musume.[13]
On January 19, Michishige became the first member to be in the group for 11 years.
On March 31, it was announced Michishige would hold a fanclub bus tour for her birthday, from July 12 to July 14 in her home prefecture Yamaguchi.
On April 29, during the Morning Musume '14 Concert Tour Haru ~Evolution~ concert in Yamaguchi, Michishige announced her graduation from Morning Musume and Hello! Project at the the end of Morning Musume '14's fall concert tour.[14][15][16][17][18]
Thank you for your continuous support of Morning Musume '14.
Today, at the concert held in Shuunanshi Bunka Kaikan in Yamaguchi, leader Michishige Sayumi announced that she will be graduating from Morning Musume '14 as well as Hello! Project in the final day of their Autumn concert tour this year.
Michishige CD debuted as a 6th generation member in 2003 with the song "Shabondama", in August 2012 she became leader, pushing Morning Musume forward. She holds the record for being the longest lasting member with over 4100 days in the group. Contributing vastly to the group and it was during her reign that she lead Morning Musume to a record breaking 5 straight Number 1 on the Oricon Single's chart.
After repeated discussion about the matter, with respect to her own intentions, we have come to this conclusion.
There is still time before the graduation, so I humbly ask you to please continue your support for Morning Musume '14 and for Michishige Sayumi.
April 29, 2014
UP-FRONT PROMOTION
Representative Director
Ohama Minoru
Message from Michishige Sayumi[19]
I, Michishige Sayumi, will be graduating from Morning Musume on the final day of Morning Musume '14's 2014 autumn concert tour.
I have said roughly two years ago when I was appointed leader that I would "pay my debt of gratitude to Morning Musume".
During it all, it has not been by my efforts alone that we were able to achieve 5 consecutive number 1s, but through all our various activities, little by little, I feel that perhaps I was able to pay off the favor.
Therefore, after consulting with Tsunku-san and the company, it was decided the graduation will take place in this year's concert tour.
Nevertheless, there is still time left, I still have things I want to teach and to show my juniors.
I would still like to create precious memories with all the fans as well.
And now, from here on is when I truly pay back the favor.
I would like to graduate from Morning Musume in its best form,
as I pass the baton over to the next generation.
Best regards until autumn.
April 29, 2014
Morning Musume '14 leader
Michishige Sayumi
Hello everyone, this is Tsunku♂.
I have been working hard at my own pace even during my recuperation.
So, let's get right to it. Today at Morning Musume '14's concert in Shuunanshi Bunka Kaikan in Yamaguchi, 6th generation member, current leader "Michishige Sayumi" has announced herself that she will be graduating in the 2014 Autumn concert tour.
She has been a member of Morning Musume for "4118 days" (Up to April 29, 2014), and has been the longest standing member in the group's history.
The precious 6th generation members holds experiences from the full bloom era and the idoling era.
Since then the group has returned to a pyramid scheme where she took top spot as leader. She has been vastly active in many sense.
It is true that from 9th generation down the group is filled with young members, certainly there she feels a bit uneasy. Also, there are still lots of things she wants to teach the upcoming members as well. However, she says that, "Before the phrase, 'Great! I'm cute as well today!' becomes a gag, I want to graduate in a cute way for real". And so, "Since the group is all the buzz now, I feel my graduation time is 'Now'.", just as what you would expect from her.
I really like this kind of "rock" thinking. Actually we had talked about what the plan would be for the coming 2 years. The result was, since various records have been recently broken, this year was the best timing for Michishige to graduate, in the fall of this year.
As per her wishes, the other members were told the night before, face to face, instead of being told on the concert stage suddenly. And for fans, she wanted to deliver this news in her hometown of Yamaguchi so it came down to announcing it in today's concert.
The graduation may seem soon, but we still have some time left until then.
For Morning Musume to build on top of the legend that has been achieved so far going into the graduation I ask everyone to please up your game for her until she leaves the group!
PS,
Those who want to become a member of leader Michishige's of Morning Musume '14,
We are currently recruiting members! You can still make it!
Please give it a try! We'll be waiting!
April 29, 2014
Morning Musume '14 producer
Tsunku♂
On June 14, Michishige, along with T.M.Revolution and w-inds., hosted the MTV Video Music Awards Japan 2014.[20][21]
On September 20, Michishige announced that after her Yokohama Arena graduation, she would be taking a temporary leave of entertainment activities to rest her body and mind.[22]
Michishige concluded her radio show Michishige Sayumi no Konya mo Usa-chan Peace on November 24 with an 1 hour special.
On November 26, Michishige graduated from Morning Musume and Hello! Project at Yokohama Arena.[23] Michishige sang "Akai Freesia" as her graduation song in Morning Musume '14 Concert Tour Aki GIVE ME MORE LOVE ~Michishige Sayumi Sotsugyou Kinen Special~.
On February 4, her last appearance on Music Station before her graduation, performing "One•Two•Three (Updated)" and "TIKI BUN" with Morning Musume '14, was featured as one of the most memorable last stages performance in the past 30 years of the TV program.[24]
On October 2, Michishige made an entry on her blog for the first time in two years, simply saying, "Long time no see. I've tried to... update."[25] Thereafter, she noticeably began posting blog entries in a pattern. The first character of each entry title gradually spelled out her name, and each entry would be posted one day earlier than the one before it; the second entry was posted after 10 days, the third entry after 9 days, and so forth. Fans predicted that the dates would eventually count down to November 26, Michishige's graduation date, when she would possibly announce her return to entertainment.[26][27]
On November 26, Michishige's blog entry finally spelled out "Michishige Sayumi Saisei" (道重さゆみ再生; Michishige Sayumi Rebirth) in hiragana, and in it she announced that should would be resuming activities next spring.[28] Michishige aims for a "new sensation" of performance on stage, different from lives and musicals.[29][30] She had begun taking vocal and dance lessons in order to bring up her stamina and would announce her exact schedule once it had been decided.
On December 26, it was announced that Michishige would be joining M-line club in 2017.[31]
On January 27, it was announced on the M-line club website that Michishige would hold her first comeback stage, titled SAYUMINGLANDOLL ~Saisei~, from March 19 to April 16 at COTTON CLUB in Tokyo.[32] Shows from May 17 to May 21 at STUDIO PARTITA in Osaka were later announced.[33] A soundtrack album, also Michishige's first solo album, was pre-released at the venue on April 10[1] and was released for general sale on July 5.
On March 18, Michishige made her first media appearance since graduating as a guest on Sanma's radio show Young Town Doyoubi, in which she was previously a regular.[34]
On March 27, she brought back her former radio show for a one night special, titled Michishige Sayumi no Konya mo Usa-chan Peace ~Ichiya Kagiri no Saisei Special~, and previewed the studio versions of a couple of her new songs from SAYUMINGLANDOLL ~Saisei~.[35]
Michishige provided commentary for the cat photo collection Itoshi no Paris Neko -Oshare de Kawaii Paris no Neko Café de Iyasareru!-, which was photographed by Masa Tanaka at the two Le Café des Chats locations in Le Marais and Bastille.[36] It was published on April 17.
Due to its popularity, more SAYUMINGLANDOLL ~Saisei~ shows at COTTON CLUB were added, taking place from July 4 to July 8.[37]
On July 13, Michishige celebrated her 28th birthday at a fanclub event, titled Michishige Sayumi FC Event 2017 ~Kawaii Birthday Party~, with two shows at Yamano Hall.
On September 14, she and Tanaka Reina were surprise guests at the Morning Musume Kessei 20 Shuunen Kinen Event ~21 Nenme mo Ganbatte Ikimasshoi!~.[38] They performed "Ookii Hitomi" together and "Kare to Issho ni Omise ga Shitai!" with Morning Musume '17.
On October 17, it was announced that Michishige would voice the character Arisa for the last episode of Henkei Shoujo, a web anime short series.[39][40] The episode aired on October 24.
On November 21, Michishige made a surprise appearance alongside Takahashi Ai and Tanaka Reina during the Morning Musume Tanjou 20 Shuunen Kinen Concert Tour 2017 Aki ~We are MORNING MUSUME~ at Nippon Budokan. The three of them performed "Shabondama" and "Resonant Blue" with all of the current members, and Michishige performed her "Suki da na Kimi ga" duet song with Fukumura Mizuki.[41]
On December 16 and 17, she held the Michishige Sayumi Fanclub Tour in Izu.
On February 24, Michishige was announced a model for Án MILLE's 2018 S/S Collection catalog.[42]
From March 20 to 25, Michishige will hold her second solo performance series at COTTON CLUB, titled SAYUMINGLANDOLL ~Shukumei~.[43]
On April 6, a second Itoshi no Paris Neko photo collection by Masa Tanaka in collaboration with Michishige, titled Itoshi no Paris Neko 2 ~Neko to Sara to Watashi~, will be released. This time it includes gravure of Michishige as well as private, unpublished photos of her sister's cat Sara.[44][45]
Personal Life
Edit
Her father works as a researcher for the chemical company Ube Industries. She has two siblings: an older brother, who is a tax accountant, and an older sister, a part-timer.[46] She was raised as the youngest of three children.
After joining Morning Musume, Michishige moved to Tokyo with her mother and older sister. Michishige has strong bonds with both of them.
On November 20, 2013, Michishige's grandfather passed away. He had been in a coma since December 2012, and she had been making frequent visits to Yamaguchi Prefecture. Michishige has said in her blog that he was one of the most supportive family members and was always proud of her.[47] A year later, on November 4, 2014, Michishige announced that her grandmother passed away.[48]
In her extended family history, she is second cousins with Michishige Saho, a member of the idol group Houkago Princess. It has also been revealed that Buddhist Priest is Michishige Sayumi's ancestor on her paternal side of the family.[49]
On September 18, 2014, Michishige had been bothered by some red looking bubbles on her body for the past three days and they became painful when she sweat during rehearsals. After going to the hospital she was diagnosed with shingles and was prescribed medication for it to heal.[50] By September 26, she had completely recovered.[51]
When Michishige joined Morning Musume in January 2003, she was near the end of her first year of middle school. It is assumed that she graduated from high school in March 2008.
The following list are notable friendships Michishige Sayumi has acquired:
During a release event for her photobook Blue Rose, Michishige revealed that she has no intentions of dating or getting married. If she were to get married, she'd like to live separately. She doesn't intend to get a divorce, she just wants to live with her sister and her mother because it's so comfortable for her, as new people make her feel uncomfortable.[52]
As a member of Morning Musume for over a decade, Michishige has had a large number of nicknames through the years. Here is a list of nicknames that was used to refer to Michishige Sayumi:
Sayumin (さゆみん): Official nickname, given her since joining Morning Musume. Used by members and fans.[53]
Sayu (さゆ): Originally used by fellow 6th generation members Kamei Eri and Tanaka Reina. It has now been used by other members and fans.[53]
Shige-san (シゲさん, 重さん): During the dance lessons for Morning Musume's 19th single, Shabondama, Yoshizawa Hitomi began calling Michishige "Shige-san" (しげさん). It has first heard publicly during a handshake event in May 2003 and was first recorded in the 2003-07-13 episode of Hello! Morning, both said by Yoshizawa. It has been used by other members and fans as well.[53][54] In the contrary, Michishige doesn't like being called by that nickname as she doesn't find it cute. While a kanji version (重さん) has been used before, but it's used less frequently.
Oyakata (親方; Master): Originated in Youngtown Doyoubi. Commonly used by Sanma-san and herself.[53]
Shige-pink (重ピンク): Used during Rainbow Pink performances.
Minishige-san (みにしげさん): Used by Sato Masaki.[55]
Shige-chan (しげちゃん): Used by Nakazawa Yuko since September 2003.[citation needed]
Yayaomo (稍重 / ややおも): Used by Ishibashi Takaaki, when Morning Musume was at Utaban to take a lie detector test. Nakai Masahiro couldn't read her name properly and thus Ishibashi Takaaki made it up. [56]
Sayu-chan (さゆちゃん): Used by family members. Sugaya Risako has also used it.[citation needed]
Sayusuke (さゆすけ): Used by Niigaki Risa.[citation needed]
Shigeko (重子): Used by Konno Asami.[citation needed]
Michi-san (道さん): Used by Sugaya Risako.[citation needed]
Sayurin: Used by Yaguchi Mari.[citation needed]
Chayu: (チャ湯) Name composed by American fans.
Michishige is named after NHK announcer Horie Sayumi,[57] who her father was a fan of and so, hoping his own daughter would grow up to resemble Horie, decided to name her Sayumi.[58][59]
Name: Michishige Sayumi (道重さゆみ)
Official Nicknames: Sayu (さゆ), Sayumin (さゆみん)
Birth Date: July 13, 1989
Birth Place: Ube, Yamaguchi Prefecture, Japan
Blood Type: A
Height: 160.4cm (5'3")[60]
Hello! Project Status:

2003-01-19: Member
2003-01-19: Morning Musume Member
2014-11-26: Graduated

UP-FRONT AGENCY Status:

2003-01-19: Member
2012-10-01: Transferred to UP-FRONT PROMOTION (as part of Morning Musume)

UP-FRONT PROMOTION Status:
Years in Morning Musume: 11 Years
Official Kaomoji: 从*・ 。.・)
Image Color:

Pink

(2006-present)
Morning Musume Color:

Light Yellow

(2005-2006)

Pink

(2006-2014)[61]

Morning Musume Otome Gumi Color: Purple
Hello! Project Groups:
Subgroups:
Concert Units:
Shuffle Units:
Other:
Hobbies: Collecting things (hair ties, stickers, collectible toys, erasers, etc.), talking.
Special skill: Braiding, Y-balance,[53] math
Motto: Never refuse a gift
Favorite English Word: "Japan"
Favorite Color: Pink[53]
Favorite Sports: Tennis
Favorite Artists: BeForU
Inspirational People: Ogura Yuko (Michishige has stated she thinks Yuko looks like herself)
Favorite Movie: Titanic, Celeb to Binbo Taro
Favorite Flowers: Red freesias
Favorite Animal: Cats (retitled to Hello! Kitty)
Favorite Season: Summer, winter
Disliked Food: Avocado, milk
Favorite Manga: Bokura ga Ita, Angel Lip, Sugar Sugar Rune, Paradise Kiss, Detective Conan.
Favorite Songs: "Go Girl ~Koi no Victory~," "KI・SE・KI," "Samui ne.", "Zutto Zutto Tomodachi" by Ashida Mana, "Follow Me" by E-Girls, "Tsumetai Kaze to Kataomoi",[62] "Tokyo to Iu Katasumi"[62]
Favorite Songs in the Past: "White Love" by SPEED, "Ai no Shirushi" by PUFFY, "Hidamari no Uta" by Le Couple
Discography
Edit
Solo Albums
Edit
Solo DVDs
Edit
Solo Fanclub DVDs
Edit
Solo Blu-rays
Edit

Solo Songs
Edit
Publications
Edit
Photobooks
Edit
Digital Photobooks
Edit
Other Books
Edit
[2003] Hoshizuna no Shima, Watashi no Shima ~Island Dreamin'~ (星砂の島、私の島 ~アイランド・ドリーミン~)
[2005] Tatakae!! Cyborg Shibata San (闘え!! サイボーグしばた3)
[2011] Keitai Deka THE MOVIE 3 Morning Musume Kyuushutsu Daisakusen! ~Pandora no Hako no Himitsu (ケータイ刑事 THE MOVIE3 モーニング娘。救出大作戦!~パンドラの箱の秘密)
[2011] Kare wa Imouto no Koibito (彼は、妹の恋人)
[2005] Dai 10 Kai Hello Pro Video Chat (第10回ハロプロビデオチャット)
[2006] Hello Pro Hour (ハロプロアワー) (4 episodes)
[2006] Aozora Shower (青空シャワー)
[2011] Michishige Sayumi no "Mobekimasutte Nani??" (道重さゆみの『モベキマスってなに??』
[2013–2014] Hello! Project Station
TV Programs
Edit
[2003–2007] Hello! Morning (ハロー! モーニング)
[2003] Soreyuke! Gorokkies (それゆけ!ゴロッキーズ)
[2003–2004] M no Mokushiroku (Mの黙示録) (regular)
[2004] Futarigoto (二人ゴト)
[2006-2008] Utadoki! ~Pop Classics~ (歌ドキッ! ~ポップクラシックス~)
[2007–2008] Haromoni@ (ハロモニ@)
[2008] Berikyuu! (ベリキュー!)
[2008–2009] Yorosen! (よろセン!)
[2009–2010] Bijou Houdan (美女放談)
[2010–2011] Aimai na! (あいまいナ!) (regular)
[2010–2011] Bijo Gaku (美女学)
[2011] Zaki Kami! ~Zakiyama-san to Yukai na Nakamatachi~ (ザキ神っ! ~ザキヤマさんとゆかいな仲間たち~) (regular)
[2011–2012] Hello Pro! TIME (ハロプロ!TIME)
[2011] Ikinari Ougon Densetsu (いきなり黄金伝説) (10,000 Yen Challenge)
[2012] Chihara Geinousha (千原芸能社)
[2012-2013] Hello! SATOYAMA Life (ハロー! SATOYAMA ライフ)
[2014; 2017–] The Girls Live
TV Dramas
Edit

[2017] Henkei Shoujo (変形少女) (Web anime) (voice of Arisa)
Web Dramas
Edit
[2006] Ojigi 30 Do (おじぎ30度) (as Chii Ruruka)
[2011] Kare wa, Imouto no Koibito (彼は、妹の恋人)
Video Games
Edit
[2011] Dragon Nest (ドラゴンネスト) (MMORPG) (voice of Harori)
Commercials
Edit
[2013] Dragon Nest (ドラゴンネスト)
[2006–2014] Michishige Sayumi no Konya mo Usa-chan Peace (道重さゆみの今夜もうさちゃんピース)
[2007–2014; 2017] Young Town Doyoubi (ヤングタウン土曜日)
[2017] Michishige Sayumi no Konya mo Usa-chan Peace ~Ichiya Kagiri no Saisei Special~ (道重さゆみの今夜もうさちゃんピース〜一夜限りの再生スペシャル〜)
[2017–] HELLO! DRIVE! (HELLO! DRIVE! -ハロドラ-) (Fridays)
She ranked #51 in CDTV's 2004 "Which artist do you want as your girlfriend/lover?" poll.
She ranked #54 in CDTV's 2005 "Who you wanted to have as your Valentine?" poll.
She was voted 5th favorite member in the 2008 Hello! Project Music Awards event.[63]
She was voted 8th favorite member in the 2009 Hello! Project Music Awards event.[64]
She ranked #5 in the TV show Prime Minister Ota's 2010 "Most hated celebrities by women".
She ranked #2 in Nikkei Entertainment magazine's 2010 "Most HATED female entertainers".
She ranked #9 in Shuukan Bunshun magazine's 2010 "Female celebrities most hated by women".
She ranked #13 in goo's 2010 "Most promising new adults".
She ranked #2 in "Girls Other Girls Love to Hate 2010".[65]
She ranked #18 in CDTV's 2010 "Which artist do you want as your sweetheart?" poll.
She ranked #85 in ENTAME magazine's "Most Influential female Idols of 2010".
She was voted 8th favorite member in the 2010 Hello! Project Music Awards event.[66]
She ranked #11 in Shuukan Bunshun magazine's 2011 "Female celebs most disliked by other women".
She ranked #14 on BUBKA magazine's most hated women of 2011.
She was voted 3rd favorite member in the 2011 Hello! Project Music Awards event.[67]
She was voted 2nd favorite member in the 2012 Hello! Project Music Awards event.[68]
She ranked at #26 in Anikan R Yanyan magazine's May 2013 "Singing idol you like the most".
She ranked 2nd in mixi's June 2013 Hello! Project Popularity Ranking.
She ranked #18 in All Night Nippon Listener's 2013 Overall Female Idol Ranking.
She ranked 5th in Nippon Cultural Broadcasting recommendation's 2013 "Female Idol Faces General Election".[69]
She ranked #3 in Ichiban song show's 2013 "Top 5 artists from Yamaguchi Prefecture" ranking.
She ranked at #23 in Anikan R Yanyan magazine's September 2013 "Singing idol you like the most".
She ranked at #29 in Anikan R Yanyan magazine's October 2013 "Singing idol you like the most".
She was voted 2nd favorite member in the 2013 Hello! Project Music Awards event.[70]
She ranked #18 in Nikkei Entertainment magazine's 2014 "Talent Power Ranking".[71]
In a poll taken by J-MELO, she was voted the most popular member of Morning Musume in foreign countries.[72]
She ranked at #8 in Recomen!'s 2nd annual "Female idol face" election.[73]
She ranked 10th in Oricon Star magazine's 2014 "Favorite female idol chosen by 300 female readers".[74]
She ranked 4th in Oricon Star magazine's 2014 "Favorite female idol chosen by 100 female readers in their 20's".[75]
She ranked 7th in Oricon Star magazine's 2014 "Favorite female idol chosen by 100 female readers in their 30's".[76]
She ranked 3rd in a poll done on AKB48's TV show ※AKB Shirabe asking which non-AKB48 idols they're glad they don't have to compete with as rivals within the group.[77]
She is currently the longest running Morning Musume member with a total of 11 years (4329 days). She is also featured in the most Morning Musume singles with 39 total.
At the time of her graduation, she was the only Morning Musume member to have been in the group at the same time as a first, second, fourth, and seventh generation members. The oldest generation after her graduation (9th generation) have been in the group with a member of every generation from five onwards, with the exception of seven.
When Michishige passed the audition to join Morning Musume, Tsunku wrote a comment about her saying her singing was weak. After the audition, Michishige took vocal lessons to improve her singing, but even she admitted that her own singing was still bad.

It was revealed by Tsunku in Music Fighter that although her singing skill is below average, she was chosen for her unknown charm point at that time. However, she did want to sing and asked Tsunku to give her more singing parts.

In the Hello Pro Maruwakari BOOK 2014, Michishige answered that her favorite member was Sugaya Risako, she would like to have Yajima Maimi as her boyfriend and Wada Ayaka as her girlfriend, and she thought Haga Akane was an interesting Hello Pro Kenshuusei.
She is a fan of AKB48, Perfume, Idoling!!!, and BeForU.
She is noted for not having changed her hair in terms of color since she joined, since she considers her natural black hair as her charm point.
Prior to joining Morning Musume, she admired Takahashi Ai and Ishikawa Rika the most.
She is known to be the most narcissistic member.
She is well known for trying to kiss the other members during concerts, especially Takahashi Ai.
She called Ikuta Erina her rival.
In Yorosen!, she taught ℃-ute about railroads. Michishige revealed she is a "rail-ota" (combination of "railroad" and "otaku") and her favorite train is the Blue Train.[78]
When asked who she would be if she could be another Hello! Project member, she said Suzuki Airi with the comment "to have that good feeling, singing songs with charm, just like her!"
When asked what point of her makeup she is most particular about she replied curling her lashes and keeping her cheeks pink.
During a TV performance recording of "Shabondama" in 2003, she accidently tossed her microphone on the floor and pretended to sing with a mic for the rest of the song. It was never aired, but was shown as a question in a Hello! Morning quiz episode.[79]
Since she became leader, Tsunku showed his appreciation towards Michishige by saying how reliable she has become and how her singing has improved vastly since becoming leader.
She is allergic to cats, however, she one day wants to own one, and she often blogs pictures with her sister's cat.
Her favorite word in English is "Japan".
She has mentioned that her favorite Hello Pro Kenshuusei member was Makino Maria, who Michishige is also idolized by in return.

When she joined Morning Musume as a 12th generation member, Makino was happy she was given light pink as her official member color because she loved Michishige, who's own member color was pink.[80]

Every single released under her leadership was certified Gold by RIAJ, recognizing more than 100,000 copies sold.
She has multiple fans in show business (outside Hello! Project), including Ichikawa Miori, Kojima Haruna, Yanagihara Kanoko, Furusaki Hitomi, Sasazaki Mami and Sakaguchi Anri.[81][82][83][84][85][86]
On her radio show, Michishige says her family all became narcissistic like her.
She is the last member of her generation to graduate.
During her graduation concert, she kissed Sayashi Riho in "Kare to Issho ni Omise ga Shitai!".
Takahashi Ai sent her a picture of a running man once, and nothing else, which confused her.
Her likeness was used in episode #18 of the anime series Gintama as a maid cafe waitress doing the Usa-chan Peace pose.
Honorary Titles
Edit
Michishige Family Tree
Edit
References
Edit
External Links
Edit