Melon Kinenbi
Comments

0
1,771pages on
this wiki
Melon Kinenbi (メロン記念日; Melon Kinen-bi) was the most stable Hello! Project longest lasting group, with a lineup that remained unchanged throughout its more than seven year history. Melon Kinenbi have experimented with various musical styles over the years ranging from bubblegum pop to more recently rock. The band occasionally worked as dancers for other Hello! Project artists; they can, for instance, be seen in the music video for Goto Maki's single "Yaruki! IT'S EASY". The entire group officially graduated from Hello! Project on March 31, 2009, along with the rest of the Elder Club. On February 2010, Melon Kinenbi announced that they decided to disband.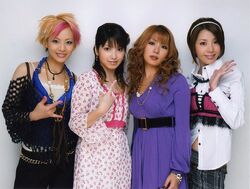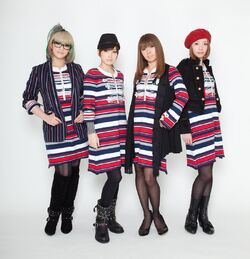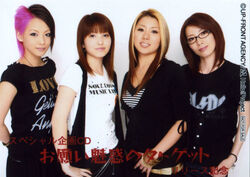 Saito Hitomi (leader): In charge of sexy
Murata Megumi (former leader: subleader): In charge of fairy tale
Ohtani Masae : In charge of boyish
Shibata Ayumi: In charge of natural
In the 1999 second Morning Musume & Michiyo Heike Protegee Audition, out of about 4,000 total people to audition. The final four were: Saito Hitomi, Murata Megumi, Ohtani Masae and Shibata Ayumi were chosen to form a new Hello! Project group, called Melon Kinenbi.
In 2000, Melon Kinebi made their debut with Tsunkuproducing, releasing their first single "Amai Anata no Aji". Murata was originally leader of the group at the time of its founding in 1999, until leadership was given to Hitomi Saito in September 2002.
The entire group officially graduated from Hello! Project on March 31, 2009, along with the rest of the Elder Club. After their graduation, they collaborated with other Japanese punk-rock groups for several limited-release indie singles, and released their 4th album Melon's Not Dead.
2010: Disbandment
Edit
Two days after the album release and just after their 10-year anniversary, the group announced that they would disband following their final tour activities in May 2010. Melon Kinenbi have announced that they will disband, after their Spring concert tour.
The announcement on the disbandment of Melon Kinenbi
As always, thank you for supporting Melon Kinenbi.
Today, during the stage of Melon Kinenbi's 10th ANNIVERSARY LIVE '3654 days since birth' which was held at SHIBUYA-AX', the members announced that Melon Kinenbi is going to disband.
Keeping their idol status for 10 years, the members gave their united statement, "We would like to end Melon Kinenbi's activity at this 10-year milestone", and after numerous discussions and assistance from the staff, it was decided we would be announcing it publicly today.
This March's stage performance, "Melon Kinenbi Story" (12 performances at the Ikebukuro Theater Green, all tickets SOLD OUT) and the final tour in April~May are the group's final activities until official disbanding.
Furthermore, February 21st (Sunday) the Osaka performances which were planned (Nanba HATCH noon performance 15:00 START/night performance 19:00 START) will be held without any changes.
Please keep supporting them until the end.
~Up Front Agency
Comment from members
Thank you, as always, for your warm support!
On February 19th, 2010, we've reached Melon Kinenbi's 10-year anniversary of existence!! The Melon road had both mountains and valleys to cross, but together with our wotamodachi [wotamodachi = wota (fan)+tomodachi (friend)], the staff, and our families who have supported us during good times and bad, we were able to build up a 10-year history. And all that without a member change!!
Before we reached the 10-year point, the four of us talked thoroughly about the future. The result was, "10 years is a good turning point, where we should get new challenges in our real life", so we firmly decided to disband the group.
We think that there will people who will be shocked, thinking, "Oh no, so it's really happened now…" , but we promise we will keep running in Melon-style until the very end. Everyone! Please keep running with us with all your energy!!
February 19th, 2010
~Melon Members
On May 3rd, 2010, The group performed together for the last time at Nakano Sun Plaza.
On April 17th, 2011, the four members of former Hello! Project idol group, Melon Kinenbi, reunited for the first time since breaking up in order to raise funds to donate to victims of the recent disasters.
Discography
Edit
Mini-Albums
Edit
Best-of Albums
Edit
Non DVD released Concerts
Edit
To see the entire list of concerts, please visit Melon Kinenbi Concerts
Television
Edit
Morning Musume no Heso (モーニング娘。のへそ?)
Idol wo Sagase (アイドルをさがせ!?)
Majokko Rika-chan no Magical v-u-den (魔女っ娘。梨華ちゃんのマジカル美勇伝?)
Tensai Terebikun Max (天才てれびくんMax?)
Musume Dokyu (娘Dokyu?)
Colorful Pleasure
Hyper Night Melon Kinenbi no "Meronpa" (ハイパーナイト・メロン記念日の「めろんぱ」?)
Mijōku! Soujōku!! Seijoku!!! Kanjōku!!!! (未熟! 早熟!! 成熟!!! 完熟!!!!, Immature! Precocious!! Mature!!! Totally Matured!!!!?)
Hello Pro Yanen
The Moving Radio Korette Yappari Melon Kibun (The moving Radio これってやっぱりメロン気分?)
Love Century -Yume wa Minna Kerya Hajimaranai-
Sōgen no Hito
Okaeri
[2005] July Hello! Project Fan Club Gentei Event
Publictaions
Edit
Photobooks
Edit
Compliation
Edit
External Links
Edit