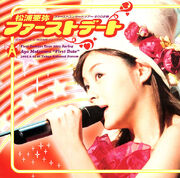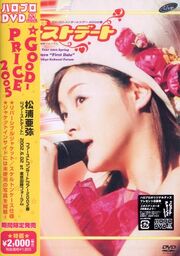 Matsuura Aya First Concert Tour 2002 Haru "First Date"
(松浦亜弥 FIRST CONCERT TOUR 2002春 "FIRST DATE" at 東京国際フォーラム) was Matsuura Aya 's 2002 Spring concert tour. Feauterd
Heike Michiyo
,
Melon Kinenbi
.The DVD was filmed on June 2, 2002 at Tokyo International Forum. It sold a total of 56,927 copies.
Tracklist
Edit
OPENING
♡Momoiro Kataomoi♡ (♡桃色片想い♡)
MC
Oshare! (オシャレ!)
Machiawase (待ち合わせ)
TALK
Yeah! Meccha Holiday (Yeah! めっちゃホリディ)
Sou Ieba (そう言えば)
S-kun (S君)
~"Quiz $ Michiyo Nea"~ (~「クイズ$ミチヨネア」~)
Murasaki Shikibu (ムラサキシキブ) - Heike Michiyo
TALK
Chu! Natsu Pa~rty (6nin Matsuri Version) (チュッ! 夏パ~ティ (六人祭 Version)) - Matsuura Aya, Heike Michiyo, Melon Kinenbi
TALK
Natsu no Yoru wa Danger! (夏の夜はデインジャー!) ~ Saa! Koibito ni Narou (さぁ! 恋人になろう) - Melon Kinenbi
Dokkidoki! LOVE Mail (ドッキドキ! LOVEメ−ル)
Zettai Tokeru Mondai X = ♡ (絶対解ける問題 X = ♡)
100 Kai no KISS (100回のKISS)
Tropica~l Koishite~ru (トロピカ~ル 恋して~る)
MC
LOVE Namida Iro (LOVE涙色)
Encore
TALK
Hajimete Kuchibiru wo Kasaneta Yoru (初めて唇を重ねた夜)
MC
Egao ni Namida ~THANK YOU! DEAR MY FRIENDS~ (笑顔に涙 ~THANK YOU! DEAR MY FRIENDS~)
Featured Members
Edit
Ad blocker interference detected!
Wikia is a free-to-use site that makes money from advertising. We have a modified experience for viewers using ad blockers

Wikia is not accessible if you've made further modifications. Remove the custom ad blocker rule(s) and the page will load as expected.