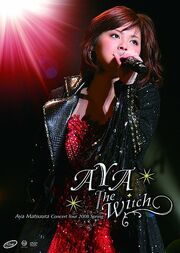 Matsuura Aya Concert Tour 2008 Haru "AYA The Witch"
(松浦亜弥コンサートツアー2008春 『AYA The Witch』) Is
Matsuura Aya
's spring 2008 concert tour DVD. It was released on September 24, 2008. The DVD sold 5,413 copies.
Tracklistt
Edit
From That Sky ~Kaedama wa Katamen de~ (From that sky〜替え玉は硬メンで〜)
Zettai Tokeru Mondai X = ♡ (絶対解ける問題 X=♡)
MC
Soul Mate (ソウルメイト)
Oshare! (オシャレ!)
Onna Day by Day (女 Day by Day)
Hitori (ひとり)
MC
Dokki Doki! LOVE Mail (ドッキドキ!LOVEメール)
Date Biyori (デート日和)
Hajimete Kuchibiru wo Kasaneta Yoru (初めて唇を重ねた夜)
Yuugure (夕暮れ)
MC
Kizuna (きずな)
Double Rainbow (ダブル レインボウ)
MC
Koishite Gomen ne (恋してごめんね)
Kiseki no Kaori Dance. (奇跡の香りダンス。)
The Bigaku (The 美学)
Yeah! Meccha Holiday (Yeah!めっちゃホリディ)
ENCORE
LOVE Namida Iro (LOVE涙色)
MC
Kanousei no Michi (可能性の道)
Egao ni Namida ~THANK YOU! DEAR MY FRIENDS~ (笑顔に涙〜THANK YOU! DEAR MY FRIENDS〜)
Bonus Feature 1 / YOUR SONG ~Seishun Sensei~ (特典映像1/YOUR SONG 〜青春宣誓〜) Bonus Feature 2 / Birthday Concert Digest (特典映像2/バースディ公演 ダイジェスト)
External Links
Edit
Ad blocker interference detected!
Wikia is a free-to-use site that makes money from advertising. We have a modified experience for viewers using ad blockers

Wikia is not accessible if you've made further modifications. Remove the custom ad blocker rule(s) and the page will load as expected.