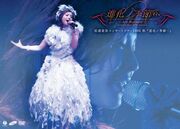 Matsuura Aya Concert Tour 2006 Aki ~Shinka no Kisetsu...~
(松浦亜弥コンサートツアー2006秋『進化ノ季節・・・』) is
Matsuura Aya
's autumn 2006 concert tour DVD. It was filmed on October 22, 2006 at Tokyo Kousei Nenkin Kaitan. The DVD was released on January 17, 2007. It sold a total of 9,111 copies. 
Zutto Suki de Ii Desu ka (ずっと 好きでいいですか)
Watarasebashi (渡良瀬橋)
MC1
Ki ga Tsukeba Anata (気がつけば あなた)
BRASS Act.
The Bigaku (The 美学)
GOOD BYE Natso (GOOD BYE 夏男)
Navi ga Kowareta Oujisama (LOVE CHANCE) (ナビが壊れた王子様(LOVE CHANCE))
Uchuu de La Ta Ta (宇宙でLa Ta Ta)
Thanks!
MC2
Kanousei no Michi (可能性の道)
Happiness (ハピネス)
MC3
YOKOHAMA SING A SONG
BAND Act.
Original Jinsei (オリジナル人生)
Medley (メドレー)

Suki Sugite Baka Mitai (好きすぎて バカみたい)
♡Momoiro Kataomoi♡ (♡桃色片想い♡)
Ne~e? (ね〜え?)
SHALL WE LOVE?
LOVE Namida Iro (LOVE涙色)
Yeah! Meccha Holiday (Yeah!めっちゃホリディ)

Date Biyori (デート日和)
Koishite Gomen ne (恋してごめんね)
I know
ENCORE
Yume (夢)
MC4
Onna no Yuujou Mondai (女の友情問題)
Bonus Features (<特典映像>)
Suna wo Kamu You ni...NAMIDA (砂を噛むように・・・NAMIDA)
Hyacinth (風信子(ヒヤシンス))
Watashi no Sugoi Houhou (私のすごい方法)
Zettai Tokeru Mondai X = ♡ (絶対解ける問題 X=♡)
Thanks! / GAM
MC (GAM/October 29 Night Performance) (MC (GAM/10月29日夜公演))
Ad blocker interference detected!
Wikia is a free-to-use site that makes money from advertising. We have a modified experience for viewers using ad blockers

Wikia is not accessible if you've made further modifications. Remove the custom ad blocker rule(s) and the page will load as expected.