Matsuura Aya Concert Tour 2005 Haru 101 Kaime no KISS ~HAND IN HAND~
Comments

0
Share
Ad blocker interference detected!
Wikia is a free-to-use site that makes money from advertising. We have a modified experience for viewers using ad blockers

Wikia is not accessible if you've made further modifications. Remove the custom ad blocker rule(s) and the page will load as expected.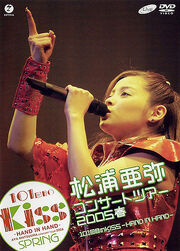 Matsuura Aya Concert Tour 2005 Haru 101kaime no KISS ~HAND IN HAND~
(松浦亜弥コンサートツアー2005春 101回目のKISS〜HAND IN HAND〜) Is
Matsuura Aya
's spring 2005 concert tour DVD. It was released on July 20 2005. The DVD sold 12,912 copies.
Yeah! Meccha Holiday (Yeah!めっちゃホリディ)
GOOD BYE Natsuo (GOOD BYE 夏男)
Ne~e? (ね〜え?)
<MC 1>
Zutto Suki de Ii Desu ka (ずっと 好きでいいですか)
Watarasebashi (渡良瀬橋)
<MC 2>
Navi ga Kowareta Oujisama (LOVE CHANCE) (ナビが壊れた王子様(LOVE CHANCE))
Kiseki no Kaori Dance. (奇跡の香りダンス。) - Melon Kinenbi
Akai Freesia (赤いフリージア) - Matsuura Aya
<MC 3>
Dokki Doki! LOVE Mail (Gospel Version) (ドッキドキ!LOVEメール (ゴスペルversion)) - Matsuura Aya, Melon Kinenbi
Nikutai wa Shoujiki na EROS (肉体は正直なEROS) - Melon Kinenbi
This is Unmei (This is 運命) - Melon Kinenbi 
Renai Sentai Shitsu Ranger (恋愛戦隊シツレンジャー) - with Melon Kinenbi
♡Momoiro Kataomoi♡ (♡桃色片想い♡)
LOVE Namida Iro (LOVE涙色)
I know - with Melon Kinenbi
Zettai Tokeru Mondai X = ♡ (絶対解ける問題 X=♡) - with Melon Kinenbi
<MC 4>
YOUR SONG ~Seishun Sensei~ (YOUR SONG 〜青春宣誓〜)
ENCORE
<MC 5>
Shining Day (シャイニング デイ) - with Melon Kinenbi
100kai no KISS (100回のKISS)