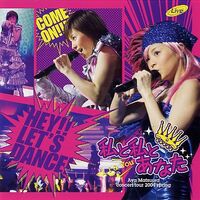 Matsuura Aya Concert Tour 2004 Haru ~Watashi to Watashi to Anata~
(松浦亜弥コンサートツアー2004春〜私と私とあなた〜) is
Matsuura Aya
's Spring 2004 concert tour DVD. It was released on August 11, 2004. The DVD sold 19,555 copies.
Opening / Opening SE (オープニング/オープニングSE)
Kiseki no Kaori Dance. (奇跡の香りダンス。)
Original Jinsei (オリジナル人生)
MC1
Koishite Gomen ne (恋してごめんね)
Yeah! Meccha Holiday (Yeah!めっちゃホリディ)
MC2
Hyacinth (風信子(ヒヤシンス))
VTR1 BGM / 100kai no KISS (Reading) (VTR1 BGM/100回のKISS(朗読))
Medley I know / Dokki Doki! LOVE Mail / Oshare! / I know (メドレー I know/ドッキドキ!LOVEメール/オシャレ/I know)
MC3
♡Momoiro Kataomoi♡ (♡桃色片想い♡)
VTR2 / Ne~e? / BGM / BE ALL RIGHT! / 11WATER (VTR2/ね〜え?/BGM/BE ALL RIGHT!/11WATER)
Ne~e? (ね〜え?)
LOVE Namida Iro (LOVE涙色)
LOVE TRAIN
Zettai Tokeru Mondai X =♡ (絶対解ける問題 X=♡)
GOOD BYE Natsuo (GOOD BYE 夏男)
MC4
Hatsukoi (初恋)
ENCORE
The Bigaku (The 美学)
MC5
Kanousei no Michi (可能性の道)
External Links
Edit
Ad blocker interference detected!
Wikia is a free-to-use site that makes money from advertising. We have a modified experience for viewers using ad blockers

Wikia is not accessible if you've made further modifications. Remove the custom ad blocker rule(s) and the page will load as expected.