Matsuura Aya Concert Tour 2003 Aki ~Ayaya Hit Parade!~
Comments

0
Share
Ad blocker interference detected!
Wikia is a free-to-use site that makes money from advertising. We have a modified experience for viewers using ad blockers

Wikia is not accessible if you've made further modifications. Remove the custom ad blocker rule(s) and the page will load as expected.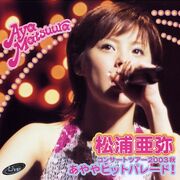 Matsuura Aya Concert Tour 2003 Aki ~Ayaya Hit Parade!~
(松浦亜弥コンサートツアー 2003 秋 〜あややヒットパレード!〜) is
Matsuura Aya
's fall 2003 concert tour DVD. It was released on 2004.02.04. The DVD sold 25,390 copies.
Disc 1
Opening (オープニング)
Dokki Doki LOVE Mail (ドッキドキ!LOVEメール)
Tropica~l Koishite~ru (トロピカ〜ル恋して〜る)
MC
The Bigaku (The 美学)
VTR Corner
MC
[GET UP! Rapper (GET UP!ラッパー) - Matsuura Aya & Inaba Atsuko
SHALL WE LOVE? - Matsuura Aya & Inaba Atsuko
MC
I know
Ayaya QUIZ Otakku 9 (あややQUIZオタック9)
Geki Tomo Yeah! Meccha Holiday / Tropica~l Koishite~ru
GOOD BYE Natsuo (GOOD BYE 夏男)
Ne~e? (ね〜え?)
MC
♡Momoiro Kataomoi♡ (♡桃色片想い♡)
LOVE Namida Iro(LOVE涙色)
Yeah! Meccha Holiday (Yeah!めっちゃホリディ)
ENCORE
MC
Sougen no Hito (草原の人)
MC
Egao ni Namida ~THANK YOU! DEAR MY FRIENDS~ / 100kai no KISS (Instrumental) (笑顔に涙 〜THANK YOU! DEAR MY FRIENDS〜/100回のKISS(Instrumental))
Disc 2
Making of (メイキング映像)
GOOD BYE Natsuo / GET UP! Rapper (GOOD BYE 夏男/GET UP!ラッパー) - Matsuura Aya & Inaba Atsuko
Geki Tomo Dokki Doki! LOVE Mail / Tropica~l Koishite~ru
Featured Members
Edit