Manner Mode / Kisokutadashiku Utsukushiku / Kimi Dake ja nai sa...friends (マナーモード/キソクタダシクウツクシク/君だけじゃないさ...friends; Manner Mode / Regularly Beautiful / You're Not Alone...friends) is ANGERME's first DVD and Blu-ray single. It was released on December 13, 2017. The song "Manner Mode" was pre-released digitally on November 11, 2017.[1]
The Blu-ray edition comes with Multi-Angle videos (which include Close-up, Front, Left side, Right side, Left side 2, Right side 2 and Overlook angles for each track), a download code for the 360° music video of "Manner Mode", and a music card for all three titled tracks. The DVD edition comes with a visual booklet. The single was also released digitally including the songs and its instrumentals.[2]
This is the debut single for 6th generation members Funaki Musubu and Kawamura Ayano.
Tracklist
Edit
Manner Mode (Music Video)
Kisokutadashiku Utsukushiku (Music Video)
Kimi Dake ja nai sa...friends (Music Video)
Manner Mode (Music Video)
Kisokutadashiku Utsukushiku (Music Video)
Kimi Dake ja nai sa...friends (Music Video)
Bonus Footage
Manner Mode (Multi-Angle) (マルチアングル)
Kisokutadashiku Utsukushiku (Multi-Angle)
Kimi Dake ja nai sa...friends (Multi-Angle)
Manner Mode
Kisokutadashiku Utsukushiku
Kimi Dake ja nai sa...friends
Manner Mode (Instrumental)
Kisokutadashiku Utsukushiku (Instrumental)
Kimi Dake ja nai sa...friends (Instrumental)
Featured Members
Edit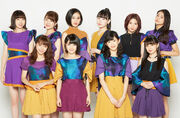 Single Information
Edit
Manner Mode
Kisokutadashiku Utsukushiku
Kimi Dake ja nai sa...friends
TV Performances
Edit
[2017.11.27] The Girls Live (Kisokutadashiku Utsukushiku)
[2017.11.28] FULL CHORUS (Manner Mode / Kimi Dake ja nai sa...friends)
[2017.12.11] The Girls Live (Manner Mode / Kimi Dake ja nai sa...friends)
Concert Performances
Edit
Manner Mode
Kisokutadashiku Utsukushiku
Kimi Dake ja nai sa...friends
Chart Positions
Edit
Daily & Weekly DVD Overall Ranking
| Mon | Tue | Wed | Thu | Fri | Sat | Sun | Week Rank | Sales |
| --- | --- | --- | --- | --- | --- | --- | --- | --- |
| - | 2 | 2 | 6 | 3 | 4 | 4 | 2 | 17,486 |
Daily & Weekly Music DVD Ranking
| Mon | Tue | Wed | Thu | Fri | Sat | Sun | Week Rank | Sales |
| --- | --- | --- | --- | --- | --- | --- | --- | --- |
| - | 2 | 2 | 3 | 2 | 2 | 2 | 2 | 17,486 |
| - | - | - | - | - | - | - | 13 | 1,266 |
| - | - | - | - | - | - | - | 16 | 652 |
Daily & Weekly Blu-ray Overall Ranking
| Mon | Tue | Wed | Thu | Fri | Sat | Sun | Week Rank | Sales |
| --- | --- | --- | --- | --- | --- | --- | --- | --- |
| - | 6 | 9 | - | 20 | - | 28 | 9 | 4,765 |
Daily & Weekly Music Blu-ray Ranking
| Mon | Tue | Wed | Thu | Fri | Sat | Sun | Week Rank | Sales |
| --- | --- | --- | --- | --- | --- | --- | --- | --- |
| - | 6 | 4 | 8 | 4 | 6 | 4 | 5 | 4,765 |
Total reported sales (DVD + Blu-ray): 24,169
DVD: 19,404
Blu-ray: 4,765
The single was announced on The Girls Live on October 9, 2017.[4]
This is the second consecutive single that does not feature 3rd generation member Aikawa Maho due to her being on hiatus with panic disorder during its production.
This is ANGERME's first major DVD and Blu-ray single, and the first Blu-ray single to be released by a Hello! Project artist.
"Manner Mode" was selected for the December 2017 power play of Tokai Radio program RUSH HOUR!.[5]
In each song, selected members are the main vocals in an especific song: In "Manner Mode" the main vocalists are Wada Ayaka, Sasaki Rikako and Kasahara Momona, in "Kisotadashiku Utsukushiku" are the 2nd generation members and Funaki Musubu; and in "Kimi Dake ja nai sa... friends" are Murota Mizuki, Kamikokuryo Moe and Kawamura Ayano. This detail are more specific in the single's cover, the ones that are sitting down had the main vocals in each song. And in "Kimi Dake ja nai sa... friends" oufit, the girls that are wearing black high heels (except Katsuta) are the main vocalists
Additional Videos
Edit
References
Edit
External Links
Edit