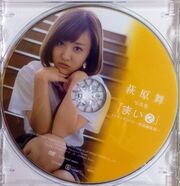 Mai② (まい②) is Hagiwara Mai's second solo photobook. It was released on August 5, 2013. A special edition DVD of the photobook's making of was released on September 27, 2013.
Information
Edit
Photobook Title
Edit
The "②" in "Mai②", represents that this is Hagiwara's second photobook. The "Mai" in the title is taken from her given name, "Mai". Combined, they represent Mai's official nickname, "Maimai".
Photobook Previews
Edit
Hagiwara held a release event for the photobook at Fukuya-Books on August 5, 2013.