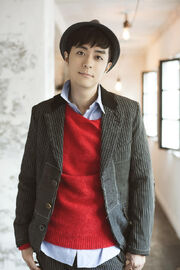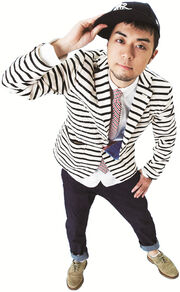 Maeyamada Kenichi (前山田健一), known best by his stage name Hyadain (ヒャダイン), is a singer, song writer, composer, arranger and a music producer. He debuted as a soloist in 2011 with "Hyadain no Kakakata ☆ Kataomoi-C", the opening theme for the TV anime Nichijou.
Since becoming a music producer in 2007, he has written songs for several artists and idol groups, including idols managed by UP-FRONT GROUP. Hyadain has produced songs for MilkyWay, Melon Kinenbi, Tsukishima Kirari starring Kusumi Koharu, YuiKaori, Juice=Juice, and Kobushi Factory.
[2011.04.27] Hyadain no Kakakata ☆ Kataomoi-C (ヒャダインのカカカタ☆カタオモイ-C)
[2011.08.03] Hyadain no Joujou Yuujou (ヒャダインのじょーじょーゆーじょー)
[2011.11.23] Christmas? Nani Sore? Oishii no? (クリスマス?なにそれ?美味しいの?)
[2012.05.09] Start it right away
[2012.08.08] Sanba de Toriko!!! (サンバ de トリコ!!!)
[2013.01.30] 23ji 40fun (23時40分)
[2013.05.29] Warai no Kamisama ga Orite Kita! (笑いの神様が降りてきた!)
Music Videos
Edit
External Links
Edit
Ad blocker interference detected!
Wikia is a free-to-use site that makes money from advertising. We have a modified experience for viewers using ad blockers

Wikia is not accessible if you've made further modifications. Remove the custom ad blocker rule(s) and the page will load as expected.