M-line Memory Vol.10 is a fanclub DVD covering an event for former Morning Musume members Abe Natsumi and Ishikawa Rika. It also features Fukumura Mizuki, Ikuta Erina, Sato Masaki, and Kudo Haruka.
Abe Natsumi FC Event
Edit
MC1
MC2
Ishikawa Rika FC Event Rika Corra
Edit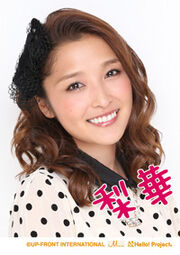 11/15 Guest Fukumura Mizuki & Ikuta Erina
MC1
MC2
MC3
MC4
11/26 Guest Sato Masaki & Kudo Haruka
MC1
MC2
Ending
Featured Members
Edit
External Links
Edit
Abe Natsumi FC Event
Ishikawa Rika FC Event Rika Kora
Ad blocker interference detected!
Wikia is a free-to-use site that makes money from advertising. We have a modified experience for viewers using ad blockers

Wikia is not accessible if you've made further modifications. Remove the custom ad blocker rule(s) and the page will load as expected.