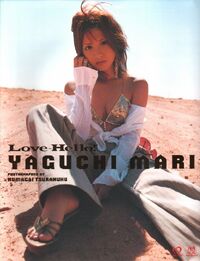 Love-Hello! Yaguchi Mari (ラブハロ!矢口真里) is Yaguchi Mari's second photobook. The photobook was published by Wanibooks on June 31, 2003 and came with a Making of DVD. The photography was done by Kumagai Tsuranuku.
Information
Edit
Photobook Title
Edit
The title of the photobook is Mari's first and last name with her first name first. In association with Love-Hello!, who sent her to Vietnam to celebrate her 20th birthday.
Photobook Content
Edit
The photobook shows Mari's adult and charming side. The photobook was also said to show the first look of her mature 20 year old self. It contains many pictures of her dressed in different swimsuits and sexy clothing, much different from her regular cute image. The photobook was shot in Vietnam and on the making-of DVD shows her going around Vietnam and learning the culture.
Photobook preview
Edit
The photobook was mentioned and teased about on the shows "Utaban" and "Hey Hey Hey Music Champ".
External Links
Edit
Ad blocker interference detected!
Wikia is a free-to-use site that makes money from advertising. We have a modified experience for viewers using ad blockers

Wikia is not accessible if you've made further modifications. Remove the custom ad blocker rule(s) and the page will load as expected.