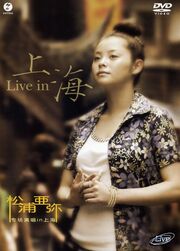 Live in Shanghai
(Live in 上海) is
Matsuura Aya
's concert DVD filmed at a special live concert that was held in Shanghai, China on June 9, 2006 at the ARK Live House. It was released on October 25, 2006. The DVD 4,680 copies.
OPENING
LOVE Namida Iro (LOVE涙色)
Tropica~l Koishite~ru (トロピカ〜ル恋して〜る)
MC1
100kai no KISS (100回のKISS)
Ne~e? (ね〜え?)
MC2
Don't Know Why
Watarasebashi (渡良瀬橋)
Oshare! (オシャレ!)
I know
Yeah! Meccha Holiday (Yeah!めっちゃホリディ)
MC3
Hyacinth (風信子(ヒヤシンス))
Beijing no Yoru (北京の夜)
Kiseki no Kaori Dance (奇跡の香り ダンス。)
♡Momoiro Kataomoi♡ (♡桃色片想い♡)
MC4
Ki ga Tsukeba Anata (気がつけば あなた)
Dokki Doki! LOVE Mail (ドッキドキ!LOVEメール)
MC5
Watarasebashi (渡良瀬橋)
ENDING
Bonus Feature Filming in Shanghai (<特典映像>上海街中ロケ映像)
External Links
Edit
Ad blocker interference detected!
Wikia is a free-to-use site that makes money from advertising. We have a modified experience for viewers using ad blockers

Wikia is not accessible if you've made further modifications. Remove the custom ad blocker rule(s) and the page will load as expected.