LilPri
リルぷりっ

Origin

Japan

Genre

J-pop

Years Active

2010-2011

Associated Acts

Website

Members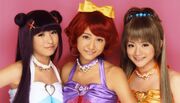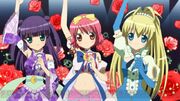 Lilpri (リルぷりっ) was a Japanese pop girl group managed by Up-Front Agency and Hello! Project. The unit was formed to promote the anime Hime-chen! Otogi chikku Idol Lilpri, of which the members provide the voice acting for the three main characters.
The members were three girls from S/mileage, they were also members of the original Shugo Chara Egg!. They were the opening act for the first concert of Hello! Project 2010 Summer ~Fankora~ concert tour.
The anime ended on March 27, 2011, thus ending their activities as Lilpri.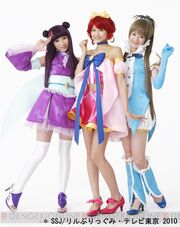 Discography
Edit
External Links
Edit
S/mileage
Members
1st Gen: Wada Ayaka (L), Fukuda Kanon
2nd Gen: Nakanishi Kana, Takeuchi Akari, Katsuta Rina, Tamura Meimi
Former Members
1st Gen: Maeda Yuuka, Ogawa Saki
Sub-Member: Kosuga Fuyuka
Singles
Indies: 01, 02, 03, 04
Major: 01, 02, 03, 04, 05, 06, 07, 08, 09, 10, 11, 12, 13, 14
Other: My School March, Makeruna Wasshoi!, Busu ni Naranai Tetsugaku
Albums
Original: Warugaki 1, 2 Smile Sensation
Best: S/mileage Best Album Kanzenban 1
Other
S/mileage Concerts
Related Units
Hello! Pro Kenshuusei, Shugo Chara Egg!, Shin Minimoni, High-King, ZYX-a, Lilpri, Oha Girl Maple, Hello! Project Mobekimasu, Peaberry, Harvest, Plumeria