LOVE Machine
Comment

1
1,761pages on
this wiki
LOVE Machine (LOVEマシーン) is the seventh single of the J-pop idol group Morning Musume, released on September 9, 1999 as an 8 cm CD. It sold a total of 1,760,000 copies, making it a massive hit (a #1 single in Japan) and their highest selling single.
In 2004, it was re-released as part of the Early Single Box and again in 2005 as a 12 cm CD.
The single also marked the debut of the third generation member Goto Maki and the departure of Ishiguro Aya.
This is the only Morning Musume single that stayed 3 weeks in a row on the #1 position on the Oricon chart. "LOVE Machine" ranked as the #7 single for 1999.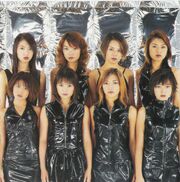 Tracklist
Edit
Original Edition
Edit
LOVE Machine
21seiki (21世紀; 21st Century)
LOVE Machine (Instrumental)
Re-released Edition
Edit
LOVE Machine
21seiki
LOVE Machine (Instrumental)
LOVE Machine (Early Unison Version)
LP Tracklist
Edit
LOVE Machine
LOVE Machine (Instrumental)
LOVE Machine ~analog remix~
LOVE Machine ~analog remix~ (Instrumental)
Secret Track (シークレットトラック)
VHS Tracklist
Edit
LOVE Machine
Featured Members
Edit
TV performances
Edit
1999-09-05 ASAYAN
1999-09-09 Utaban
1999-09-10 Music Station
1999-09-19 ASAYAN
1999-09-30 Utaban
1999-10-08 Music Station
1999-12-23 Utaban
1999-12-24 Music Station
1999-12-31 50th Kouhaku Uta Gassen
2000-08-20 Hello! Morning Episode 020 (Hello! Morning Version)
2000-09-03 Hello! Morning Episode 022 (Last Phrase Karaoke)
2000-12-31 51th Kouhaku Uta Gassen (part of a medley)
2004-02-14 PopJam Live Special in Makuhari Messe (by Matsuura Aya, Goto Maki and ZONE)
2005-12-31 56th Kouhaku Uta Gassen (as Yume Morning Musume)
2006-07-15 MUSIC FAIR 21
Concert Performances
Edit
LOVE Machine
Song Information
Edit
LOVE Machine
21seki
Week
Chart Date
Chart Period
Week Rank
Sales
Cumulative Sales
Comment
1
1999.09.20
1999.09.06~1999.09.12
1
241,540
241,540
2
1999.09.27
1999.09.13~1999.09.19
1
201,670
443,210
3
1999.10.04
1999.09.20~1999.09.26
1
191,320
634,530
4
1999.10.11
1999.09.27~1999.10.03
4
101,350
735,880
5
1999.10.18
1999.10.04~1999.10.10
2
81,340
817,220
6
1999.10.25
1999.10.11~1999.10.17
2
91,850
909,070
7
1999.11.01
1999.10.18~1999.10.24
5
68,410
977,480
8
1999.11.08
1999.10.25~1999.10.31
4
72,860
1,050,340
9
1999.11.15
1999.11.01~1999.11.07
4
69,840
1,120,180
10
1999.11.22
1999.11.08~1999.11.14
8
47,650
1,167,830
11
1999.11.29
1999.11.15~1999.11.21
7
39,540
1,207,370
12
1999.12.06
1999.11.22~1999.11.28
12
46,350
1,253,720
13
1999.12.13
1999.11.29~1999.12.05
12
36,720
1,290,440
14
1999.12.20
1999.12.06~1999.12.12
12
42,470
1,332,910
15
1999.12.27
1999.12.13~1999.12.19
12
34,910
1,367,820
16
2000.01.03
1999.12.20~1999.12.26
10
41,380
1,409,200
17+18
2000.01.17
1999.12.27~2000.01.09
8
89,980
1,499,180
two weeks due to New Year's holiday
19
2000.01.24
2000.01.10~2000.01.16
8
31,780
1,530,960
20
2000.01.31
2000.01.17~2000.01.23
17
27,580
1,558,540
21
2000.02.07
2000.01.24~2000.01.30
27
22,610
1,581,150
22
2000.02.14
2000.01.31~2000.02.06
36
14,580
1,595,730
23
2000.02.21
2000.02.07~2000.02.13
37
10,930
1,606,660
24
2000.02.28
2000.02.14~2000.02.20
46
5,830
1,612,490
25
2000.03.06
2000.02.21~2000.02.27
47
7,470
1,619,960
26
2000.03.13
2000.02.28~2000.03.05
37
7,290
1,627,250
27
2000.03.20
2000.03.06~2000.03.12
48
5,230
1,632,480
28
2000.03.27
2000.03.13~2000.03.19
55
3,650
1,636,130
29
2000.04.03
2000.03.20~2000.03.26
52
4,010
1,640,140
30
2000.04.10
2000.03.27~2000.04.02
55
3,380
1,643,520
31
2000.04.17
2000.04.03~2000.04.09
65
3,110
1,646,630
Total time in the Oricon Top 100: 31 weeks.
Total sales: 1,760,000
This is the third Morning Musume single with an English name. The first one being Morning Coffee and the second being Summer Night Town
1st Generation member Abe Natsumi gives a comment about the single on Youtube.
This is the seventh single where Nakazawa Yuko was leader of Morning Musume.
This is the highest selling single in all of Hello! Project.
A Korean version of this song, titled "Dream Girl", was recorded by After School for Tokyo Girls, a series which documented the Hello! Project Korea Auditions.
It is one of 12 music videos of a single that has reached over 1,000,000 views on Morning Musume's official youtube channel
External Links
Edit