Kudo Haruka
工藤 遥

Kudo Haruka, January 2018
Background Information
Also Known As
Kuduu (

くどぅー

?

)
Duu (

どぅー

?

)
Born
October 27, 1999
Origin
Saitama, Japan
Blood Type
A
Zodiac Sign
Scorpio
Height
159cm
Genres
J-Pop
Occupation
Idol, singer, actress, model
Years Active
2010-present
(8 years)
Agency
UP-FRONT AGENCY (2010-2012)
UP-FRONT PROMOTION (2012-2018)
J.P ROOM (2018-present)
Label
zetima
Associated Acts
Morning Musume, Hello Pro Kenshuusei, Triplet, Mobekimasu, Hamizu, Hello! Project Station Dance Club, M-line club
Blog
Haru Camera
Morning Musume Information
Joined
September 29, 2011
Generation
10th Generation
Member Color

     

 Orange
Debut Single
Pyocopyoco Ultra
Last Single
Jama Shinai de Here We Go! / Dokyuu no Go Sign / Wakain da shi!
Graduated
December 11, 2017
Time in Group
6 Years, 2 Months, 12 Days
Hello Pro Egg Information
Joined
March 2010
Generation
10th Generation
Graduated
September 29, 2011

Kudo's Autograph
"
I want to try the genre I found during my career, "acting". I don't want to do things halfway, So even by saying "I want to act" while also singing and dancing on stage as an idol, I somehow thought it would be disrespectful to the members and the fans for wanting to do both things.[1][2]
"

–Kudo Haruka, April 2017
Kudo Haruka (工藤遥) is a Japanese actress and former pop singer. She was a 10th generation member of Morning Musume under Hello! Project and a member of the SATOYAMA movement unit Triplet.
She was first introduced as a member of Hello Pro Egg at the Hello! Project 2010 Shinjin Kouen 3gatsu ~Yokohama Gold!~ concert in March 2010. She joined Morning Musume in September 2011, and graduated from both the group and Hello! Project on December 11, 2017 to pursue acting.
Biography
Edit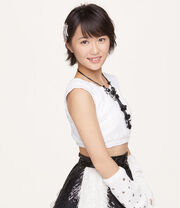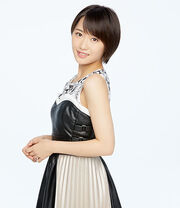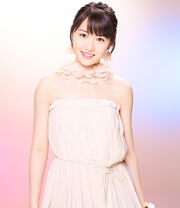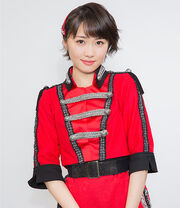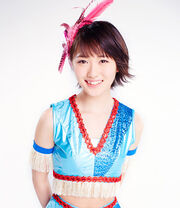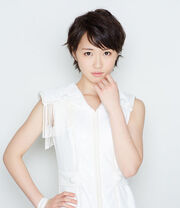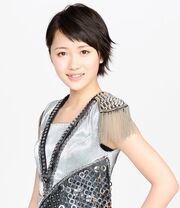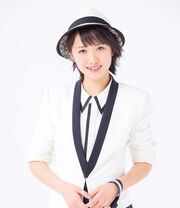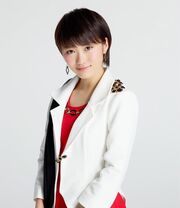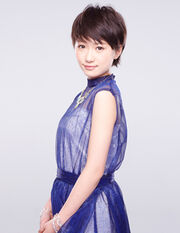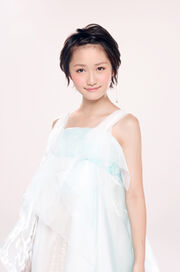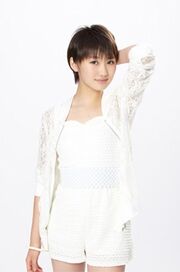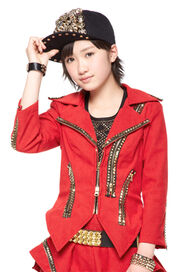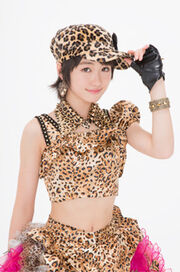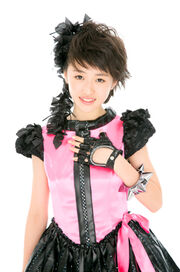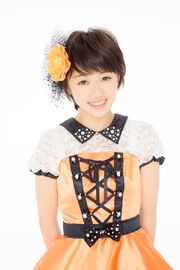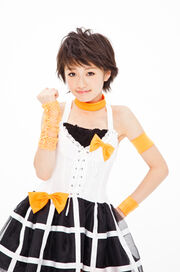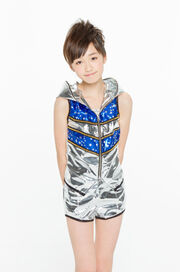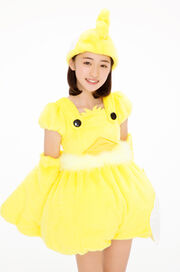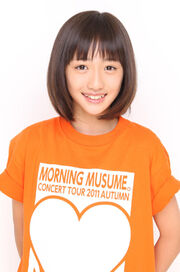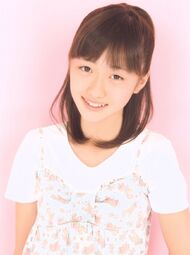 Early Life
Edit
Kudo Haruka was born on October 27, 1999 in Saitama, Japan.
On March 27, at the 2010 Hello! Project Shinjin Kouen 3gatsu ~Yokohama Gold!~ concert, Kudo Haruka was introduced as a new member of Hello Pro Egg.
Kudo debuted in concert on May 1, at the Hello Fest in Odaiba Gurume Park festival.[3]
Kudo auditioned for the Morning Musume 9ki Audition, but failed to join.[4]
In December, it was announced that Kudo and Takeuchi Akari would receive roles in Nakajima Saki and Okai Chisato's stage play, 1974 (Ikunayo).[5] The play was announced to be performed in March, but would later be postponed due to the earthquake and tsunami.[6]
On September 1, Kudo appeared was interviewed in an issue of De-view magazine with the leaders of Morning Musume, Berryz Koubou, ℃-ute, S/mileage, and Mano Erina as the representative of Hello Pro Egg.[7]
On September 29, Kudo was selected from Morning Musume's 10th generation audition to join the group along with Iikubo Haruna, Ishida Ayumi and Sato Masaki.[8] The 10th generation made their official presentation on the same day they were announced as new members at the Morning Musume Concert Tour 2011 Aki Ai BELIEVE ~Takahashi Ai Sotsugyou Kinen Special~ concert, and they participated in the performance of the song "Tomo", as well as "Namidacchi" in the final concert on September 30.
In October, Kudo starred in the stage play Reborn ~Inochi no Audition~ along with Niigaki Risa, Tanaka Reina, and the 9th generation members, having received the role three months before she became a member of Morning Musume.
On January 13, the Morning Musume 9th generation and 10th generation members began a web talk show exclusive to fanclub members, titled Morning Musume 9ki・10ki Member WEB Talk Maji DE Pyoko!.[9] They also began a radio show on April 7, titled Morning Musume no Morning Jogakuin ~Houkago Meeting~, on Radio Nippon.[10]
On April 18, it was announced that Tanaka Reina, the 9th generation, and 10th generation members would participate in a musical titled Stacies Shoujo Saisatsu Kageki. The musical ran from June 6 to June 12.
On May 13, information was released about an event featuring Morning Musume's 9th and 10th generations and S/mileage's 2nd generation member, titled Mosuma FC Event ~Gachi☆Kira~. It took place throughout June and the beginning of July at Yokohama Blitz.
On August 24, it was announced that Kudo would be taking a break from Morning Musume activities due to a possible meniscus tear. According to Kudo, she had been suffering from pain in her left knee for quite some time. Unlike Ishida Ayumi, who sprained her ankle, Kudo still participated on the dance shot for temporary "Wakuteka Take a chance" music video.
On October 10, Kudo released her first solo photobook Do.
On January 13, Kudo was absent for the Hello! Project Tanjou 15 Shuunen Kinen Live 2013 Fuyu ~Bravo!~ night concert due to a fever.
On May 16, the Morning Musume 9th generation and 10th generation members' fanclub-exclusive web talk show Morning Musume 9ki・10ki Member WEB Talk Maji DE Pyoko! ended with a total of 70 episodes.[11]
On October 30, Kudo Haruka and Fukumura Mizuki held a joint birthday event, titled Fukumura Mizuki & Kudo Haruka Birthday Event 2013, at Katsushika Symphony Hills.
On March 13, it was announced that Kudo would be a member of a newly formed SATOYAMA movement unit Triplet alongside Okai Chisato and Takagi Sayuki.
On April 6, Kudo twisted her ankle at the Okayama performance of Morning Musume '14 Concert Tour Haru ~Evolution~. She continued to participate without dancing. At the release event for "Toki wo Koe Sora wo Koe / Password is 0" on April 16, Kudo still had taping on her ankle, and danced wearing sneakers. She, however, was also experiencing pain during the handshake and interview portion. Kudo was spotted icing her ankle with staff members, and she sat in a wheelchair after the event was over.
On September 27, Kudo released her second solo photobook, Ashita Tenki ni Naare!.
On October 27, Kudo celebrated her 15th birthday at an event titled Morning Musume '14 ~Kudo Haruka Birthday Event 2014~, featuring two shows at TOKYO FM HALL.
On July 11, she was added to the Hello! Project Station Dance Club along with Sasaki Rikako, Hamaura Ayano and Yamagishi Riko.
On October 27, Kudo celebrated her 16th birthday in a joint event with Fukumura Mizuki, titled Morning Musume '15 Fukumura Mizuki & Kudo Haruka Birthday Event ~FukuDuu Birthday Party!~, at Yamano Hall.
On September 3, Kudo starred in a single episode drama of Otona e Novel on NHK Education TV.[12][13]
On December 9, Kudo announced on her blog she would be working as the "promotion manager" of the Hello! Project Mobile service.[14]
On December 12, when Kudo appeared as a guest on the radio show Young Town Doyoubi, it was announced that she would become the new regular after Sayashi Riho graduated from Morning Musume and left the show.
On February 27, Kudo released her third solo photobook, titled Harukaze.
On March 7, it was announced that Kudo was appointed as an advertising talent for Proactive+.[15][16]
On May 3, Kudo began the monthly radio show Hello! Project Mobile Sendenkaigi for the Hello! Project Mobile service along with the "promotion staff" members Ogata Haruna, Nonaka Miki, and Yanagawa Nanami.[17]
On July 6, Kudo released her first solo image Blu-ray, Haruka.
On October 27, Kudo celebrated her 17th birthday at a fanclub event, titled Morning Musume '16 Kudo Haruka Birthday Event, at Differ Ariake.
On April 29, during the Morning Musume '17 Concert Tour Haru ~THE INSPIRATION!~ concert, Kudo announced that she would graduate from Morning Musume and Hello! Project on the last day of their fall 2017 tour to focus on acting.[1] Kudo has made her goal to reach Hirose Suzu's position and someday become an asadora heroine.[18]
Thank you for your continued support towards Hello! Project and Morning Musume。'17. Haruka Kudo will graduate from Morning Musume。'17, as well as Hello! Project, at their autumn tour.
During activities in Hello Pro Kenshuusei and Morning Musume。, she realized the charms of acting and that it was enjoyable, and while understanding it was difficult, she naturally made the request of "I want to devote myself to acting".
She thought about balancing the work with Morning Musume。 activities and was worried, but with her becoming 18 years old this year, we understood her strong resolve to devote herself with all her might and challenge herself.
This is not at all a smooth road, and she has decided that she is more than ready to graduate.
We hope to support her as much as possible after her graduation.

From now on regarding the schedule, it will be reported as soon as it is decided.
First of all, the current spring tour will continue, as well as the play (Engeki Joshibu) in June and the tour final at Nippon Budokan on June 23rd.

Haruka Kudo will continue to devote herself, so please continue to support her as well as Morning Musume。'17.
UP-FRONT PROMOTION
Representative Director Takeshi Nishiguchi
I, Haruka Kudo, after the autumn tour,
Will graduate from Morning Musume。 as well as from Hello! Project.
It has been 6 years since I became a member of Morning Musume。
It has been 8 years since I got into Hello! Project.
During this time, I've had a lot of experiences,
Thanks to a lot of people, I have grown up from being an audacious primary school student into who I am now.
Because I became a normal high school student for a while,
I began to wonder, "What do I want to do in the future now that my dream of Morning Musume。 came true?"

My answer came quite quickly,
Or I think I already had it.

I want to try the genre I found during my career, "acting".

I don't want to do things halfway,
So even by saying "I want to act" while also singing and dancing on stage as an idol,
I somehow thought it would be disrespectful to the members and the fans for wanting to do both things.

I told my feelings to the company and my parents,
I thought "I want to bet on what I want to do" a lot and decided to graduate.

During the remaining time, I want to create many memories with the members and all the fans,
I want to be able to say "See you again!" without any regrets in the end.

Please support me until the end!

Morning Musume。'17 Haruka Kudo
On May 19, Kudo released a digital song with Sato Masaki titled "Miss Henkan!!".
On September 6, Kudo announced that she would release her fourth solo photobook and her last as a member of Morning Musume and Hello! Project, self-titled Kudo Haruka, on October 27.[19]
On October 27, she celebrated her 18th birthday at a fanclub event, titled Morning Musume '17 Kudo Haruka Birthday Event, at Differ Ariake.
On November 8 and 9, the 10th generation members of Morning Musume '17 held the Morning Days Happy Holiday 10ki Member Iikubo Haruna・Ishida Ayumi・Sato Masaki・Kudo Haruka Fanclub Tour in Yamanashi.
Her second solo image Blu-ray, Do The Vacation, was released on November 22.
On December 7, she announced that she would join M-line club after her graduation,[20][21] and her profile was added to the site two days later.
On December 9, Kudo held her last event at TFT HALL 1000, titled Morning Musume '17 64th Single "Jama Shinai de Here We Go! / Dokyuu no Go Sign / Wakain da shi!" Hatsubai Kinen Kudo Haruka Solo Event. Fans could win a ticket to the event by entering a lottery when they purchased the exclusive Kudo Haruka (Morning Musume '17) Edition CD of "Jama Shinai de Here We Go! / Dokyuu no Go Sign / Wakain da shi!" from forTUNE music.[22][23]
On December 11, Kudo graduated in the Morning Musume Tanjou 20 Shuunen Kinen Concert Tour 2017 Aki ~We are MORNING MUSUME~ Kudo Haruka Sotsugyou Special at Nippon Budokan.[24]
In her last Morning Musume blog entry, she announced that her first acting gig after graduating had already been decided. The work had entered the preparatory phase, but she could not share more information until the information ban was lifted.[25]
On January 12, the main cast for Kaitou Sentai Lupinranger VS Keisatsu Sentai Patranger, the 42nd Super Sentai series, was announced.[26] Kudo was revealed to be the actress of the character Hayami Umika, who is Lupin Yellow.[27][28] The series began airing on February 11.[29] Following the announcement, Kudo also opened a new Ameba blog named "Haru Camera".[30]
On February 1, Kudo transferred to J.P ROOM and opened an official Instagram account.[31][32]
On April 11, Kudo released a photobook she mostly shot herself, titled Haru Camera. It includes photos she took in the lead-up to her graduation from Morning Musume in December 2017.[33]
On June 27, Kaitou Sentai Lupinranger VS Keisatsu Sentai Patranger Mini Album 3 will be released, including a Hayami Umika / Lupin Yellow image song by Kudo titled "Himeta Omoi", which was first previewed in episode #17 on June 3.[34]
On June 30, Televi-kun Chou Battle DVD Kaitou Sentai Lupinranger VS Keisatsu Sentai Patranger ~GIRLFRIENDS ARMY~, a special double-heroine DVD featuring Kudo with her female co-star Okuyama Kazusa who portrays Myojin Tsukasa / Patren 3gou, will become available for pre-order via postcard included in the August 2018 issue of Televi-kun magazine.[35][36]
Personal Life
Edit
She has two younger brothers.[37] The first is two years younger, and the second is five years younger.
When she auditioned for Morning Musume, Kudo was a 6th grade elementary school student. She began middle school in April 2012 and graduated on March 13, 2015.[38]
On March 3, 2018, Kudo announced that she graduated from high school.[39]
Kudo most notably gets along with Sato Masaki, and their pairing name is "MaaDuu" (まーどぅー).[40]
On April 24 and 25, 2010, while in her fifth year of elementary school, Kudo competed in the Kanto Swimming Tournament 2010 in the 50m breaststroke for 9 to 10 year old girls. She got to meet Olympic gold medalist Kitajima Kosuke, who was there as a special guest.[41][42]
She wanted to compete in the swimming tournament again when she turned 15, and maybe aim for the Olympics. Tanaka Reina and Michishige Sayumi were impressed that a member of Morning Musume would want to compete.
Kudo's given name, Haruka, means "distance" (遥). It was chosen for its sound,[43] how cool it looks when written, as well as how compatible it is with her family name by its number of strokes.[42]
Here is a list of nicknames that was used to refer to Kudo Haruka:
Kuduu (くどぅー): Official nickname given to her by Tsunku as a Hello Pro Egg member.
Duu (どぅー): Official nickname given to her by Suzuki Kanon in 2012 when she joined Morning Musume. Used by members and fans.
Name: Kudo Haruka (工藤遥)
Nickname: Kuduu (くどぅー), Duu (どぅー), Haru-chan (ハルちゃん)
Birthdate: October 27, 1999
Birthplace: Kawagoe, Saitama, Japan
Height: 159cm[44]
Blood Type: A
Hello! Project Status:

2010-03: Hello Pro Egg member
2011-09-29: Morning Musume member[8]
2017-12-11: Graduated

UP-FRONT GROUP Status:
Years in Morning Musume: 6 Years
Official Kaomoji: ハo´ 。`ル
Morning Musume Color: Orange (2011-2017)
Audition Song: "Seishun Collection" by Morning Musume
Hello! Project Groups:
Hobbies: Watching DVDs
Special Skills: Swimming, cartwheels
Favorite Color: Light blue, orange, lime green
Favorite Food: Meat, green tea
Favorite Manga: One Piece
Favorite Morning Musume Songs: "Shabondama", "LOVE Machine"[42]
Favorite Hello! Project Songs: "Ai・Ai・Gasa"[42]
Past Favorite Songs: "CANDY CANDY" by Kyary Pamyu Pamyu, "We Are!" by Kitadani Hiroshi, "Battle Frontier" by Takaya Akina
Current Favorite Songs: "Fashion Monster" by Kyary Pamyu Pamyu, "Arienai!" by miwa, "Hello! Thank You!" by Becky (with Pokepark Kids chorus group)
Favorite Words: "There is only advancement"
Motto: "Be cheerful and lively!"
Looks Up To: Abe Natsumi,[42] Tanaka Reina[42]
Discography
Edit
See also: List:Kudo Haruka Discography Featured In
Solo Image DVDs/Blu-rays
Edit
Solo Fanclub DVDs
Edit
Other DVDs
Edit
Solo Songs
Edit
Publications
Edit
Solo Photobooks
Edit
Other Photobooks
Edit

TV Programs
Edit
TV Dramas
Edit

[2012] Suugaku♥Joshi Gakuen (数学♥女子学園)
[2015] Otona e Novel (オトナヘノベル)
[2018–] Kaitou Sentai Lupinranger VS Keisatsu Sentai Patranger (快盗戦隊ルパンジャーVS警察戦隊パトレンジャー) (as Lupin Yellow / Hayami Umika)
[2018] Kaitou Sentai Lupinranger VS Keisatsu Sentai Patranger en film (快盗戦隊ルパンレンジャーVS警察戦隊パトレンジャー en film) (as Lupin Yellow / Hayami Umika)
Commericals
Edit
[2016–2017] Proactive+ (プロアクティブ+)
[2012–2013] Morning Musume 9ki・10ki Member WEB Talk Maji DE Pyoko! (モーニング娘。9・10期メンバー WEBトーク 本気DE飛跳!) (fanclub exclusive)
[2012–2017] Morning Musume no Morning Jogakuin ~Houkago Meeting~ (モーニング娘。のモーニング女学院~放課後ミーティング~)
[2016–2017] Young Town Doyoubi (ヤングタウン土曜日)
[2016–2017] Hello! Project Mobile Sendenkaigi (ハロ!モバ宣伝会議) (Hello! Project Mobile exclusive)
[2017–] HELLO! DRIVE! (HELLO! DRIVE! -ハロドラ-) (Thursdays)
She was ranked 3rd in the Middle School Group of the Idol Bishoujo Sousenkyo 2012 2012[45]
She ranked at #37 in Anikan R Yanyan magazine's May 2013 "Singing idol you like the most"
According to an interview with Cool-up Girls magazine in April 2014, she applied for Hello Pro Egg herself.
She was known as the tomboy of Morning Musume, and would jokingly call herself a boy, and say that she was the "the little brother" character of Morning Musume.
Because all 10th generation members' birthdays are on the seventh day of a month or have a seven in the day, Kudo said that their lucky number is seven.
She believes she can't lose with her husky voice and sports skills.
Her Morning Musume audition number was 242.
She is the youngest member in the history of Morning Musume, being 11 years old when she joined. She broke Kago Ai's 11 year record of being the youngest to ever join Morning Musume. Adding to coincidence, 11 year record broken in 2011 by an 11 year and 11 months old girl.
She is the third Morning Musume member to be from Hello Pro Egg, the first being Linlin and the second being Fukumura Mizuki.
Her name is often pronounced "Kudou", with 'u' being an independent sound, rather than being used for a long 'o' sound.
When asked about what aspect of her makeup she is most particular about, she said not to apply too much.
She auditioned for the 9th generation, but failed.[4] This makes her the second member of Morning Musume who had to audition twice to join the group, the first one being Tanaka Reina and in total she is the 3rd one who failed to join and later became a member, the first one being Fujimoto Miki.
She was the second member to continue being the youngest member after another generation joined; Fukuda Asuka was the first, then Haga Akane joined and became the third.
When she was young, her parents gave her many old Morning Musume CDs, except "Ai no Tane", which her father treasures, who has been a fan of the group since it formed.
She said her biggest wish is to meet Oda Eiichiro, the creator of her favorite manga One Piece.
If she wasn't in Morning Musume, she said she wants to be a Disney show dancer and a Disney cast member.[47]
She is the youngest idol to appear on the cover of the magazine Big Comic Spirits.
She is bad at cooking.[50]
Until 2017, she had missed at least one performance of each Hello! Project winter concert since she joined Morning Musume.
She knows how to juggle.
She has appeared in at least one play every year since joining Hello! Project.
In August 2014, Tsunku commented on Kudo: "She has gotten taller and her voice more stable, she's standing out this year. She's always been photogenic and it's really showing now. In "TIKI BUN" too she shines in a different way, looking forward to see where she goes from now."[52]
She was sometimes teased at school for being an idol, and classmates sometimes brought her photobooks to class.
For her 15th birthday event goods, she cosplayed as Sonoda Umi from Love Live! School Idol Project and Ciel Phantomhive from Kuroshitsuji.[53]
During an interview with ZIP! in January 2015, Morning Musume '15 was asked who would take over Michishige Sayumi's position as the cutest member of the group and Kudo replied: "After Michishige-san graduated, I realized, 'Oh, it looks like I'm the cutest member now,'" and that she wants to keep that position a little longer. Sayashi Riho responded, "So you're saying out of the remaining nine, no one else is worth mentioning (for being cutest)," and Haruka said, "No, that's what I'm saying!".[54]
She always eats an apple after a performance.
She is the first 10th generation member to graduate.
If she could be reborn as someone else, she would become Okai Chisato. She has always admired Okai even though she is an extreme mood maker. She makes people smile, and Kudo finds it amazing how different she is on stage.[42]
She believes she is the Hello! Project member who receives the most high-pitched (female) cheers.[42]
If she did not become an idol, she would have liked to become an Olympic swimmer. If she still competed, she would have been the right age to go to the Tokyo 2020 Olympics Games.[42]
She says she is addicted to the Kingdom Hearts video game series. She started playing two or three years before 2017, when she bought a Nintendo DS, and has finished most of the DS and mobile app games.[42]
Kudo's father has been a fan of Morning Musume since 1997, and he bought a copy of "Ai no Tane" when they sold it by hand for their five-day campaign. When she told him they would be singing a remake, he wasn't amused.[55]
Kudo, Iikubo Haruna, and Ogata Haruna gave themselves the unit name "Triple A" (spelled トリプルエー or AAA) as an inside joke about their breast sizes.[56][57]
In Hello! Project DVD Magazine Vol.36 which was released in 2013, Kudo said that she loved Super Sentai heroes and wanted to appear as one. Mano Erina, who was Kamen Rider Nadeshiko in the Kamen Rider Fourze films, asked Kudo if she could do it in five years.[58][59][60] This ended up being true in 2018, when Kudo was cast as Lupin Yellow in Kaitou Sentai Lupinranger VS Keisatsu Sentai Patranger.[61]
She has a photography hobby. Her favorite camera is the double-lens Canon EOS M2 that she bought in February 2016, and she has taken photos with it almost everyday since.[62]
When she graduated from Morning Musume, Ikuta Erina gifted her a set of orange chopsticks with "☆Haruka Kudo☆" and "10th" engraved on them.[63]
Honorary Titles
Edit
Kudo Family Tree
Edit
Father
Mother
Haruka
(b.1999)
Younger
Brother 1
(b:2001)
Younger
Brother 2
(b.2004)
References
Edit
External Links
Edit