Korenaga Miki
是永美記

'
Background Information
Also Known As
Korekore
Koretty
Kore-chan
Born
November 4, 1985
Origin
Tokyo, Japan
Blood Type
A
Zodiac Sign
Scorpio
Height
161cm
Genres
J-Pop
Occupation
Singer, futsal player
Years Active
2004-present
Agency
UP-FRONT AGENCY
Associated Acts
Hello Pro Egg, Ongaku Gatas, Gatas Brilhantes H.P.
Twitter
@miki__114
Ongaku Gatas Information
Member Color

     

 Blue
Korenaga Miki (是永美記) is a player for Gatas Brilhantes H.P., she is also a member of Ongaku Gatas, and a former member of Hello Pro Egg.
Biography
Edit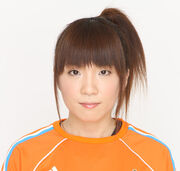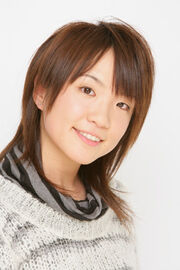 Korenaga joined in 2004 from the Hello! Project Eggs audition for her football skills, and as the oldest girl, she became their leader.
Korenaga became an important player for Gatas Brilhantes H.P., and is their top scorer. She also appeared with the Eggs at concerts, and made her debut with Ongaku Gatas.
From October 3-11, 2007, she appeared in the stage play "Heisei Revolution ~Back to the Byakkotai~" alongside Yoshizawa Hitomi, Satoda Mai, Inaba Atsuko, Shibata Ayumi, and Fukuda Kanon.[1]
On January 27, 2008 she graduated from Hello Pro Egg to concentrate on Ongaku Gatas and Gatas Brillhantes H.P.
From November 4-8, 2009, she appeared in the stage play "Rintoshite!" alongside Miyoshi Erika, Sainen Mia, Kitahara Sayaka, and Sano Kaori.[2]
Name: Korenaga Miki (是永美記)
Nickname: Korekore (コレコレ), Koretty (コレティ), Korechan (コレちゃん)
Birthdate: November 4, 1985
Birthplace: Tokyo, Tokyo Prefecture, Japan
Blood type: A
Height: 161 cm
Western Zodiac: Scorpio
Eastern Zodiac: Ox
Ongaku Gatas color: Blue
Hello! Project groups:
Current:
Hobbies: Sports in general, listening to music
Special skill: General Sports (Especially futsal)
Charm point: navel
Favorite food: Sushi, Orange, okonomiyaki, Spicy (Shichimi)
Favorite subject: Physical Education, Geography
History of sports: Futsal (Gatas), soccer (small 2 to 6 small),
Volleyball (junior high), handball (high school),
Sepaktakraw (college age)
Her current Gatas Brilhantes H.P. uniform number is #7 (July 2005-present) and was previously #23 (August 2004-May 2005).
She is Gatas Brilhantes H.P.'s top scorer.
Singles Participated In
Edit
Ongaku Gatas
Edit
Albums Participated in
Edit
Ongaku Gatas
Edit
[2007] Heisei Revolution ~Back to the Byakkotai~ (平成レボリューション~バック トゥ ザ・白虎隊)
[2009] Rintoshite! (凛として!)
Honorary Titles
Edit
Cite error: <ref> tags exist, but no <references/> tag was found