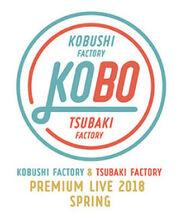 Kobushi Factory & Tsubaki Factory Premium Live 2018 Haru "KOBO" (こぶしファクトリー&つばきファクトリー プレミアムライブ2018春 "KOBO") was Kobushi Factory and Tsubaki Factory's joint 2018 spring hall concert. It took place on May 3 and 5, 2018.
Opening Dance Performance
MC
Uruwashi no Camellia - Kobushi Factory
Samba! Kobushi Janeiro - Tsubaki Factory
Medley Part 1

Kobushi Factory VS Tsubaki Factory Premium Battle
Medley Part 2

MC
Bokura no Sedai! - Hirose Ayaka, Inoue Rei, Ogata Risa
Oheso no Kuni Kara Konnichiwa - Nomura Minami, Hamaura Ayano, Wada Sakurako, Yamagishi Riko, Niinuma Kisora, Tanimoto Ami, Kishimoto Yumeno, Asakura Kiki, Ono Mizuho, Onoda Saori, Akiyama Mao
Kimi no Tomodachi - Hamaura Ayano, Wada Sakurako, Ogata Risa, Niinuma Kisora, Asakura Kiki
Ai ~Suite Room~ - Hirose Ayaka, Yamagishi Riko, Tanimoto Ami
Ne~e? - Inoue Rei, Onoda Saori
Succhaka Mecchaka~ - Nomura Minami, Kishimoto Yumeno, Ono Mizuho, Akiyama Mao
MC - Tsubaki Factory
Hatsukoi Sunrise - Tsubaki Factory
Kore Kara da! - Kobushi Factory
Happy Cracker - Tsubaki Factory (with Kobushi Factory as back dancers)
Shalala! Yareru Hazu sa - Kobushi Factory (with Tsubaki Factory as back dancers and chorus)
Icchoume Rock!
Encore
MC
Hyokkori Hyoutanjima
MC
Featured Members
Edit
Concert Schedule
Edit
Date
Venue
Prefecture
Doors Open
Concert Starts
5/3
Nakano Sun Plaza
Tokyo
14:00
15:00
17:30
18:30
5/5
NHK Osaka Hall
Osaka
13:30
14:30
17:00
18:00
References
Edit
↑ Ogata Risa. "KOBO! 小片リサ" (in Japanese). Tsubaki Factory Official Blog. 2018-03-16.
External Links
Edit