Kira☆Pika
きら☆ぴか


General Information

Origin

Japan

Genre

Japanese pop

Years active

2007, 2009

Associated acts

Website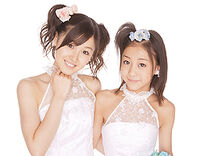 Kira☆Pika (きら☆ぴか) was a Hello! Project duo consisting of Kusumi Koharu from Morning Musume and Hagiwara Mai from ℃-ute. The unit was made for the anime Kirarin☆Revolution, as both girls lend voices to characters in the series. In the anime itself, both characters had formed Kira☆Pika but quickly disbanded. For this reason, the real life counterpart of Kira☆Pika haven't released anything else. They released their debut and only single on August 1, 2007, and eventually disbanded in May 2009 after the end of the anime.
Kira☆Pika was announced at the beginning of 2007. They had to sing the opening and ending songs for the anime Kirarin☆Revolution, in which Kusumi Koharu starred as the main character named Tsukishima Kirari. In 2007, a new character, named Mizuki Hikaru was announced, starring Hagiwara Mai.
On August 1st, they released their only single Hana wo Pu-n / Futari wa NS, Kira☆Pika has been inactive from this point on.
Kira☆Pika performed for the end of Kirarin☆Revolution in May 2009, at Kirarin Revolution Final Stage. Hagiwara Mai & Kusumi Koharu performed Hana wo Pu-n, while Futari wa NS was performed by Kitahara Sayaka & Kikkawa Yuu of MilkyWay. There, all Kirarin Revolution groups disbanded, signaling the end of the anime series.
On November 19th, Kira☆Pika reunited on Sakazaki Kounosuke no Momoiro Folkmura #15 (Momoiro Clover Zs monthly live music show) to perform Futari wa NS with Momoclo members Ayaka Sakaki and Reni Tagaki (Video here)
Discography
Edit
External Links
Edit
Kirarin☆Revolution
Groups
&
Members

Tsukishima Kirari starring Kusumi Koharu (Morning Musume)
Kira☆Pika: Kusumi Koharu as Kira, Hagiwara Mai as Pika
MilkyWay: Kusumi Koharu as Tsukishima Kirari, Kitahara Sayaka as Yukino Noel, Kikkawa Yuu as Hanasaki Cobeni
SHIPS: Ide Takuya as Kazama Hiroto, Kanai Shikou as Hiwatari Seiji
Singles

Tsukishima Kirari: 1, 2, 3, 4, 5, 6
Kira☆Pika: 1
MilkyWay: 1, 2
SHIPS: 1, 2
Other: Ooki na Ai de Motenashite by ℃-ute
Albums

☆☆☆ (Mitsuboshi), Kirarin☆Land, Kirari to Fuyu
Mini: Song Selection, Song Selection 2, Song Selection 3, Song Selection 4, Song Selection 5
Best: Best☆Kirari
Other

Kirarin☆Revolution Final Stage
Ad blocker interference detected!
Wikia is a free-to-use site that makes money from advertising. We have a modified experience for viewers using ad blockers

Wikia is not accessible if you've made further modifications. Remove the custom ad blocker rule(s) and the page will load as expected.