"
I'm a beginner at dancing and singing, I'm still inexperienced but, from now on while watching my seniors, I want to be able to do many things![1]
"

–Kasahara Momona, July 2016
Kasahara Momona (笠原桃奈) is the sole fifth generation member of ANGERME, an idol group under Hello! Project.
She originally joined Hello! Project as a Hello Pro Kenshuusei on May 4, 2015, being introduced during the Hello Pro Kenshuusei Happyoukai 2015 ~Haru no Koukai Jitsuryoku Shindan Test~.
Biography
Edit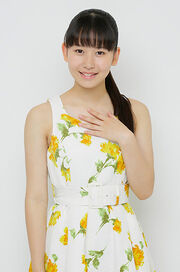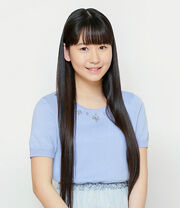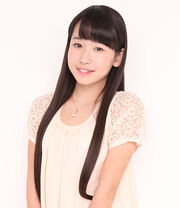 On April 1, Kasahara joined Hello Pro Kenshuusei. She was formally introduced and participated in the Hello Pro Kenshuusei Happyoukai 2015 ~Haru no Koukai Jitsuryoku Shindan Test~ on May 4, 2015 alongside Ono Mizuho, Nakano Rion, Yanagawa Nanami, Maeda Kokoro, Akiyama Mao, Kanatsu Mizuki and Okamoto Honoka.
On May 5, she was awarded the public vote for best performance alongside Kiyono Momohime at the Hello! Project Kenshuusei Happyoukai 2016 ~Haru no Koukai Jitsuryoku Shindan Test~ for her performance of Itoshiku Kurushii Kono Yoru ni.
On July 16, during the opening Hello! Project 2016 SUMMER concert, it was announced that Kasahara had joined ANGERME as the 5th generation member.[2] According to Wada Ayaka, Kasahara had been participating in lessons with the group since May.
On November 15, Kasahara celebrated her 13th birthday at a special event titled ANGERME Kasahara Momona Birthday Event 2016, which featured two shows at TOKYO FM HALL.
Personal Life
Edit
Both her parents are 32 years old. She has two younger sisters, one is 11 years old and one is 8 years old. (As of 2016)
When Kasahara joined ANGERME, she was a first year middle school student. As of April 2017, she is currently in her second year of middle school.
The following list are notable friendships Kasahara Momona has acquired:
Kasahara given name, Momona, means "peach" (桃; momo) combined with a phonetic character (奈; na). Her parents chose the name because it means "sweet" in Hawaiian, and they hoped to raise her to be a sweet girl.[3]
Name: Kasahara Momona (笠原桃奈)
Birthdate: October 22, 2003
Birthplace: Kanagawa, Japan
Blood Type: A
Height: 160cm
Western Zodiac: Libra
Hello! Project Status:
UP-FRONT PROMOTION Status:
ANGERME Member Color:
Hello! Project groups:
Specialties: Ballet, acrobatics, swings, dancing
Hobbies: Eating sweets, playing games, athletics, dancing, cycling with her family
Favorite Music Genre: Classical music
Favorite Sport: Ballet
Motto: "Isshou kenmei" (一所懸命; As hard as one can)
Favorite Food: Peaches, fruit
Least Favorite Food: Meat
Favorite Subjects: P.E., History
Favorite Colors: Purple, pink
Favorite Hello! Project Songs: "Kimagure Princess" and "Yuugure wa Ameagari"
Favorite ANGERME Songs: "Mystery Night!", "Dondengaeshi", "Gashin Shoutan" and "Jitensha Chiririn"
Favorite ANGERME Member: Aikawa Maho
Looks Up To: Kudo Haruka, Sato Masaki, Michishige Sayumi and Kamei Eri
Discography
Edit
Solo Songs
Edit
TV Programs
Edit

[2016–] AS1422 (アンジュルムステーション1422)
[2016–] HELLO! DRIVE! (HELLO! DRIVE! -ハロドラ-) (Thursdays)
She thinks she has a strong sense of right and wrong.
She thinks she's a little scatterbrained.
Her charm point is her pale skin.
Her favorite sport is ballet, and as of July 2016 has nine years of experience.
She wants to perform like Kamei Eri.
She is the first member in Hello Pro Kenshuusei to have been born in 2003.
She decided to join Hello Pro Kenshuusei because she loves singing and dancing.
She grew to love Hello! Project because of her admiration for Takahashi Ai and the "Platinum Era" of Morning Musume.
She wants to focus on her singing and get better at the songs she has trouble with.
Her rival in Hello Pro Kenshuusei was Akiyama Mao.
She previously stated that she wanted to debut in Morning Musume. In an interview with Top Yell in July 2016, she said her future dream was to debut in Hello! Project and stand on a large stage. 
She likes The Beatles (an influence from her parents).
Wada Ayaka thinks that Kasahara Momona's personality which isn't afraid of anything is amazing.
When Wada Ayaka told her she would be joining ANGERME, she thought it was a prank.
When Wada Ayaka asked her which group was her favorite she said Morning Musume, when asked who her second favorite group was, she initially said ANGERME while looking down, but when pressed again she admitted her second favorite group was actually Country Girls.
Kamikokuryo Moe calls Momona's pink image color Peach color.
Honorary Titles
Edit
References
Edit
External Links
Edit
Ad blocker interference detected!
Wikia is a free-to-use site that makes money from advertising. We have a modified experience for viewers using ad blockers

Wikia is not accessible if you've made further modifications. Remove the custom ad blocker rule(s) and the page will load as expected.