JK Ninja Girls

DVD Cover
Movie by

Kobushi Factory

Native title
JKニンジャガールズ
Released
July 17, 2017 (Theatrical)
March 7, 2018 (DVD)
Genre
Comedy
Format
DVD
Length
88 min.
Label
Toei Video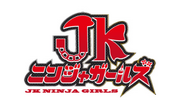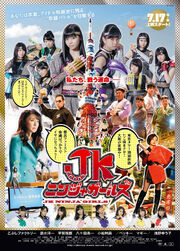 JK Ninja Girls (JKニンジャガールズ) is a 2017 film starring Kobushi Factory and directed by Sato Genta.[1] The film is an adaptation of the earlier musical production, which also stars Kobushi Factory. It was theatrically released on July 17, 2017.[2]
The Eiga "JK Ninja Girls" Official Photobook (映画「JKニンジャガールズ」オフィシャルフォトブック) by Odyssey Books and an original soundtrack for both the musical and the film were pre-released at theaters on the day of the theatrical release. The soundtrack was later released for general sale on September 6, 2017.
"Ee ja nai ka Ninja nai ka" by Kobushi Factory is the film's theme song, and "Yami ni Nukegake" and "Pitch Pichi Tomodachi" were used as insert songs.
The DVD was released on March 7, 2018 including a bonus disc. First press copies included a random bromide card of 14 kinds.[3][4]
(Translation of the official Toei synopsis.)
Unbeknownst to anyone, the Kanto and Kansai regions are secretly in a conflict for supremacy. Crawling in the shadows are ninjas. As always, the descendants of the Kansai ninjas continue to harass the Kanto.
Meanwhile, four students have transferred to a girls' high school in Tokyo. Their real identities are the JK Ninja Girls, who are ninja descendants sent to protect Tokyo!
Their current order is "to prevent the takeover of Tokyo Tower!"
Four members of the Ninja Oyajis (old men) who plan to take over Tokyo Tower are said to have possessed JK to blend in at the same girls' school...
The four ninja girls make their move to find the evil ninjas and complete their order!
Gold Team (JK Ninja Girls)
Silver Team (girls possessed by Ninja Oyajis)
Ninja Oyajis
Nukumizu Yoichi as as Sarutobi Mosuke (猿飛茂助)
Hiraga Masaomi as as Sugitani Yoshizo (杉谷善造)
Yasoda Yuichi as Yamaoka Nobutomo (山岡信友)
Toshimasa Komatsu as Sasayama Hyozo (篠山兵蔵)
Other
Director: Sato Genta
Screenplay Writer: Ban Kazuhiko
Planner and Producer: Kurihara Miwako
Music: Wada Shunsuke
JK is an acronym for joshi kousei (女子高生) meaning "high school girl".
This is the first movie Kobushi Factory have starred in.
Sato Genta also directed the 2016 drama Budokan starring Juice=Juice.
The movie was shot in December 2016.[5]
The movie premiered on Inoue Rei's 16th birthday.
The ninja characters' last names likely refer to legendary ninjas who they are "descended" from:
References
Edit
External Links
Edit