JK Ninja Girls

Promotional Poster
Musical by

Kobushi Factory

Native title
JKニンジャガールズ
Recorded
2017
JK Ninja Girls (JKニンジャガールズ) is a musical starring Kobushi Factory as the main cast and select Hello Pro Kenshuusei members as the ensemble. It will run from February 23 to March 4, 2017 at Zenrosai Hall/Space Zero.
In addition to the main and ensemble casts, there will be daily guest appearances by other Hello! Project members.
On December 27, 2016, it was announced that a movie adaptation of JK Ninja Girls was filmed and directed by Sato Genta for release in July 2017.[1][2]
Four transfer students have come to a certain "girls' school."
... They are descendants of ninjas (= ninja girls) sent by the state power in order to punish evil!
They have been tasked to defeat evil ninjas who are disguised as students at the same school.
The eight members of Kobushi Factory will perform as the four ninja girls of justice (Hirose, Nomura, Hamaura, and Wada) VS the four ninja girls of evil (Fujii, Ogawa, Taguchi, Inoue).
These skilled, determined, and divided ninja girls will be guided by a strict instructor...
Ninja VS ninja! Until the direct confrontation, will the hearts of these ninja girls become one?!
Dressed as "ninja girls," Kobushi Factory presents to you a super ninja comedy!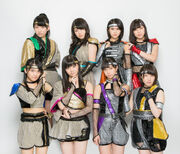 From Kobushi Factory
Other
From Hello Pro Kenshuusei
Special Daily Guests
Edit
Script: Kazuhiko Ban
Director: Hoshida Ryoko
Music: Wada Shunsuke
Choreography: YOSHIKO
References
Edit
External Links
Edit
Ad blocker interference detected!
Wikia is a free-to-use site that makes money from advertising. We have a modified experience for viewers using ad blockers

Wikia is not accessible if you've made further modifications. Remove the custom ad blocker rule(s) and the page will load as expected.