Ishida Ayumi
石田 亜佑美

Ishida Ayumi promoting "Are you Happy?"
Background Information
Also Known As
Daaishi (

だーいし

?

)
Born
January 7, 1997
Origin
Sendai, Miyagi, Japan
Blood Type
O
Zodiac Sign
Capricorn
Height
153cm
Genres
J-Pop
Occupation
Idol, singer, actress, model
Years Active
2010-present
Agency
Step One (2010-2011)
UP-FRONT AGENCY (2011-2012)
UP-FRONT PROMOTION (2012-present)
Label
zetima
Associated Acts
Morning Musume, B♭, Harvest, HI-FIN, Hello! Project Mobekimasu, Hello! Project Station Dance Club, Date Shimai, Kamiishinaka Kana
Blog
Morning Musume Tenkigumi Official Blog

Morning Musume

Information
Joined
September 29, 2011
Generation
10th Generation
Member Color

     

 Blue
Debut Single
Pyocopyoco Ultra
Time in Group
6 Years, 8 Months, 16 Days

Ishida's Autograph
"
I've said "I'm good at dancing" when I entered Morning Musume, but since joining Morning Musume I've only danced with Morning Musume; there are much more amazing dancers in the world, therefore I don't want to stop the thought that "the dancing in Morning Musume is amazing". I understand that of course dancing is not everything; I want to cherish Morning Musume as a group itself, but I want to stretch out further and further my strength in dancing.[1]
"

–Ishida Ayumi, October 2016
Ishida Ayumi (石田亜佑美) is a Japanese pop singer under Hello! Project. She is a tenth generation member of Morning Musume, as well as former member of Harvest and HI-FIN.
Biography
Edit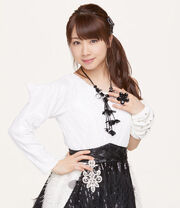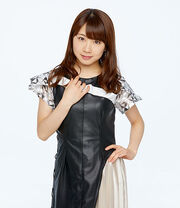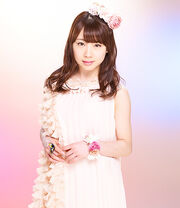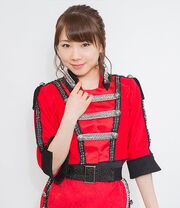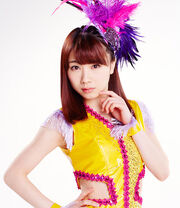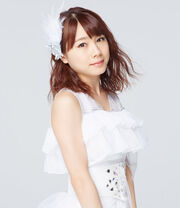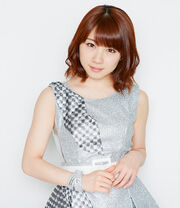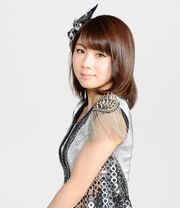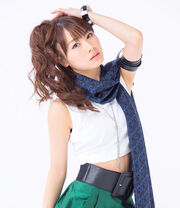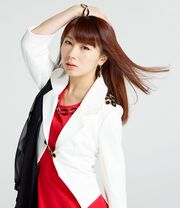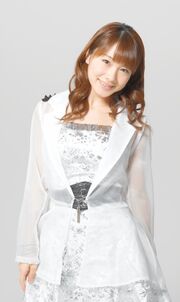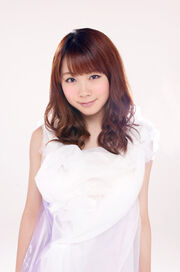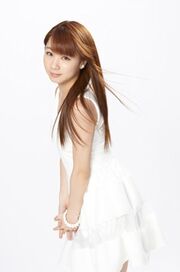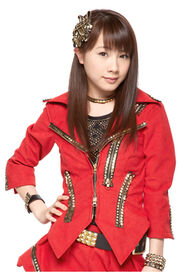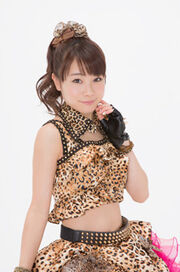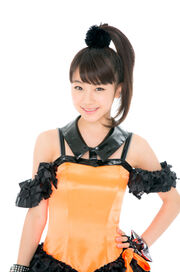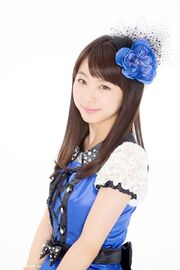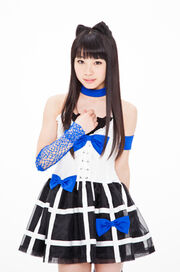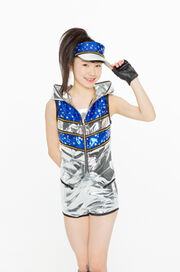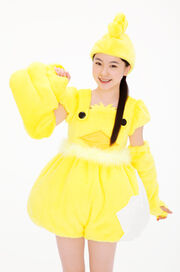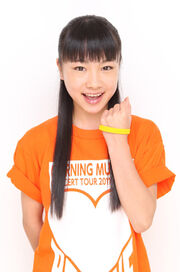 Early Life
Edit
Ishida Ayumi was born on January 7, 1997 in Sendai, Miyagi, Japan.
From 2006 to 2009, Ishida was part of the Rakuten Eagles Cheerleading School, in training to become a future member of the Tohoku Golden Angels, the cheerleaders for the Rakuten Golden Eagles baseball team in Sendai.[2]
On March 8, Ishida became a support member for the local Sendai group B♭ under the agency Step One.[3] She was promoted to full member on July 7.[4] She graduated from the group on December 16 to become an official back dancer for the group Dorothy Little Happy.[5]
On September 29, Ishida Ayumi was selected from Morning Musume's 10th generation audition to join the group along with Iikubo Haruna, Sato Masaki, and former Hello Pro Kenshuusei member Kudo Haruka.[6] The tenth generation made their official presentation on the same day they were announced as new members at the Morning Musume Concert Tour 2011 Aki Ai BELIEVE ~Takahashi Ai Sotsugyou Kinen Special~ concert, and they participated in a performance of the song "Tomo." In the final concert, they also participated in "Tomo" and the end of "Namidacchi".
On January 13, the Morning Musume 9th generation and 10th generation members began a web talk show exclusive to fanclub members, titled Honki DE Hichou!.[7] They also began a radio show on April 7, titled Morning Musume no Morning Jogakuin ~Houkago Meeting~, on Radio Nippon.[8]
From June 6 to June 12, Morning Musume's Tanaka Reina and the 9th and 10th generation members starred in the musical Stacies Shoujo Saisatsu Kageki.
An event featuring the 9th and 10th generation members of Morning Musume and the 2nd generation members of S/mileage, titled Mosuma FC Event ~Gachi☆Kira~, took place on June 15, 18, and 20 at Yokohama Blitz.
On August 24, it was announced that Ishida would take a one month break from Morning Musume activities due to an ankle sprain.
On October 10, it was announced that Ishida would be a member of the new SATOYAMA movement unit Harvest alongside Ikuta Erina, Sato Masaki, and Takeuchi Akari.
On January 7, Ishida held a birthay event titled Ishida Ayumi Birthday Event DX ~9ki Mem no Futari wo Mukaete~ with Ikuta Erina and Suzuki Kanon as guests.
On March 2, it was announced at Forest For Rest ~SATOYAMA e Ikou~ SATOYAMA movement in YOKOHAMA that Ishida would be a member of the new SATOUMI movement unit Plumeria (later renamed HI-FIN), alongside Nakajima Saki, Fukuda Kanon, Hagiwara Mai, and Ikuta Erina.
On May 15, it was announced that she would release her first solo photobook, Ishida Ayumi, on July 15.
On May 16, the Morning Musume 9th generation and 10th generation members' fanclub-exclusive web talk show Honki DE Hichou! ended with a total of 70 episodes.[9]
On November 8, Tsunku announced in his blog that in order to be able to meet the deadline for the Juice=Juice single "Ijiwaru Shinai de Dakishimete yo / Hajimete wo Keiken-chuu" release date, Ishida Ayumi would to take Miyamoto Karin's place in the dance shot for "Ijiwaru Shinai de Dakishimete yo".[10]
On January 7, Ishida held a birthday event titled Ishida Ayumi Birthday Event 2014 with her fellow 10th generation members as guests.
On April 14, it was announced that she would release her second solo photo book, shine more, on May 10.
On July 2, she released her 3rd solo DVD, Souka -souka-.
On November 10, Ishida announced on her blog she would be getting her own regular corner on Sendai TV's Ara Ara Kashiko.[11] The first segment of "Ishida Ayumi ga Iku!" aired on November 15.
On January 1, it was announced that Ishida was chosen to be the model for H!P Digital Books, and Yajima Maimi was chosen as the plus model.[12]
On January 7, Ishida celebrated her 18th birthday at an event called Ishida Ayumi Birthday Event 2015. The event featured one performance in Tokyo at TOKYO FM HALL.
On February 2, it was announced that Ishida would model for H!P Digital Books, while Wada Ayaka and Fukuda Kanon would be the plus models.[13]
On October 30, the Tohoku Rakuten Golden Eagles baseball team announced a documentary drama titled 44sai no Cheerleader!!, about a 44-year-old mother who joined their cheerleading team, the Tohoku Golden Angels, with Ishida portraying one of the cheerleaders.[14] The one episode drama premiered on December 20 on NHK BS Premium.
On January 7, Ishida celebrated her 19th birthday at a fanclub event titled Morning Musume '16 Ishida Ayumi Birthday Event at Yamano Hall.
On January 15, Ishida Ayumi held a talk event at the Hello! Project Official Shop in Akihabara.[15]
On June 27, Ishida released her third photobook titled It's my turn.[16]
On July 27, she released her first solo image Blu-ray, It's a Beautiful Day.
On October 29, Ishida announced she would star in a single episode drama on NHK Education TV's Otona e Novel on November 10.[17] Ishida portrayed a girl who hides behind a face mask, avoiding communication with other people as a result, and is unable to give it up.
On November 24, Fukumura Mizuki and Ishida annnounced they would hold a joint fanclub bus tour the next year on January 26 and 27, titled Morning Days Happy Holiday Fukumura Mizuki・Ishida Ayumi Fanclub Tour in Yamanashi.[18]
On January 13, Ishida celebrated her 20th birthday at a fanclub event titled Morning Musume '17 Ishida Ayumi Birthday Event, which featured two performances at Yamano Hall.
On March 15, it was announced that Ishida had joined the new SATOYAMA movement unit Kamiishinaka Kana alongside Nakajima Saki, Kanazawa Tomoko, and Kamikokuryo Moe.[19]
On November 8 and 9, the 10th generation members of Morning Musume '17 held the Morning Days Happy Holiday 10ki Member Iikubo Haruna・Ishida Ayumi・Sato Masaki・Kudo Haruka Fanclub Tour in Yamanashi.
On December 19, Ishida appeared as a commentator in the TV broadcast of the Sportan! LIVE presents Rakuten Eagles 2017 Season Soushuuhen Special,[20] which would also released in late January 2018 on DVD and Blu-ray.[21][22]
On January 9, Ishida celebrated her 21st birthday at a fanclub event titled Morning Musume '18 Ishida Ayumi Birthday Event at Differ Ariake.
On January 30, Ishida and ANGERME member Sasaki Rikako were announced as the image characters of the "Eagles Girls", female fans of the Tohoku Rakuten Golden Eagles.[23] They will be appointed on Eagles Girl Day, which will be held on June 23 during the home game against the Hokkaido Nippon-Ham Fighters. Female fans attending the game will be given pink Eagle Girls uniforms and cheersticks to show support for the Golden Eagles.[24]
On March 10, during her regular corner on Ara Ara Kashiko, Ishida collaborated with the sushi restaurant Tachibana to make a special rice bowl named "Sendai Zukedon Musume" that would be sold on their menu until April 30.[25][26]
On April 27, Ishida released her fourth solo photobook titled 20th canvas.[27]
On May 27, the Fami Hello! PHOTOBOOK was released, including Ishida's gravure that was originally published in the January 2016 issues of Weekly Famitsu.[28]
Personal Life
Edit
She has an older brother and a cousin named Ishida Mio. Her family owns a bakery.
When she auditioned for Morning Musume, Ishida was a 3rd year middle school student. As of March 2015, she graduated from high school.[29]
The following list are notable friendships Ishida Ayumi has acquired:
Ishida's given name, Ayumi, means "Asia" (亜; a), "help" (佑; yu) and "beauty" (美; mi). Her parents want to use the kanji for "yu" because it has a meaning of helping people.[30]
Here is a list of nicknames that was used to refer to Ishida Ayumi:
Daaishi (だーいし): Official nickname, given her since joining Morning Musume. Used by members and fans.
Ayumin (あゆみん): Second official nickname, given her since joining Morning Musume. Used by members and fans.
Name: Ishida Ayumi (石田亜佑美)
Nicknames: Daaishi (だーいし), Ayumin (あゆみん), Da-chan (だーちゃん), Darling (ダーリン), Ayuyu
Birthdate: January 7, 1997
Birthplace: Sendai, Miyagi, Japan
Zodiac: Capricorn
Height: 153cm
Blood type: O
Hello! Project Status:

2011-09-29: Morning Musume member[6]

UP-FRONT GROUP Status:
Years in Morning Musume: 6 Years
Official Kaomoji: 川c '∀´)
Morning Musume Color: Blue (2011-Present)
Audition Song: "Naichau Kamo" by Morning Musume
Hello! Project Groups:
Other Groups:
Hobbies: Fashion, dancing, Candy Crush, watching movies
Special Skills: Dancing, spins, braiding and knitting.
Favorite Food: Watermelon, Ramune candy, Candy flavored soda.
Favorite Subject: Math, Science
Disliked Food: Mushrooms, shellfish
Favorite Colors: White, red, pink, orange, blue
Favorite Sport: Dodgeball
Favorite Words: "Shining smile"
Motto: "Always smile"
Looks Up To: Michishige Sayumi,[31] Suzuki Airi
Favorite OG Member: Mitsui Aika
Favorite Morning Musume Songs: "Naichau Kamo", "I WISH"[31]
Favorite Hello! Project Songs: "Otona na no yo!"[31]
Past Favorite Songs "Ichibu to Zenbu" by B'z, "Niji" by Aqua Timez, "Fuyu no Ageha" (from Tensai Terebi-kun MAX) by Kiuchi Riona and Hisoda Ramu
Current Favorite Song: "Saraba, Itoshiki Kanashimi Tachi yo" by Momoiro Clover Z, "Haru ni Nattara" by miwa
Discography
Edit
Solo DVDs/Blu-rays
Edit
Solo Fanclub DVDs
Edit

Solo Songs
Edit
Publications
Edit
Solo Photobooks
Edit
TV Programs
Edit
TV Dramas
Edit

[2012] Suugaku♥Joshi Gakuen (数学♥女子学園)
[2015.12.20] 44sai no Cheerleader!! (44歳のチアリーダー!!)
[2016.11.10] Otona e Novel (オトナヘノベル)
Animated Films
Edit
[2015] PreCure All Stars - Haru no Carnival♪ (映画プリキュアオールスターズ 春のカーニバル♪)
[2011] Michishige Sayumi no "Mobekimasutte Nani??" (道重さゆみの『モベキマスってなに??』)
[2013-] Hello! Project Station (ハロ!ステ)
[2012–2013] Morning Musume 9ki・10ki Member WEB Talk Maji DE Pyoko! (モーニング娘。9・10期メンバー WEBトーク 本気DE飛跳!) (fanclub exclusive)
[2012–] Morning Musume no Morning Jogakuin ~Houkago Meeting~ (モーニング娘。のモーニング女学院~放課後ミーティング~)
Music Videos
Edit
She is the first Morning Musume member to come from Miyagi prefecture.
Tsunku called her performance skills high quality.
During her introduction at her first concert she said, since her specialty is dancing, she wants to have a solo performance as soon as possible.
Considers her charm point to be her brown eyes.
When asked what aspect of her makeup she is most particular about, she said she has to apply lotion before putting on any makeup to protect her skin.
She wears contact lenses.
She is known to be a big Suzuki Airi fan and has declared her love and full support for her at a 10th gen debut event in Nagoya.
She is the first and currently only member out of the 10th generation to have dyed hair.
When asked what she would do if she were trapped on an island, she said she would ride a whale to safety.
She believes she can't lose with the sharpness of her dancing, and never forgetting to put in effort.
She considers Fukumura Mizuki her rival.
She would like to remake Morning Coffee if Tsunku would ask her to write a song. 
She wants to spend less time perfecting her dances, and simply enjoy being in Morning Musume.
She has stated that she will only eat tangerines as a midnight snack and nothing else.
Her favorite English word is "difficult."
She said that English isn't one of her favorite subjects because she has a hard time remembering English words.
She could have been in Kera magazine when she was 11 years old. Her cousin, Ishida Mio, who was a model for the magazine, gave her the opportunity to participate, but her mother disagreed.
She, along with Ikuta Erina, are the only members in Morning Musume to be born in the same year as the group was formed in 1997.
If she wasn't an idol, she would like to have been a hairdresser.
Sanma-san has named Ishida as his oshimen.
Tsunku commented on her: "She's already 17 years old. Since she's short she's often grouped with the younger ones, but she's already in the grown up team. Surely from the end of this year, until the beginning of the next year, Ishida will grow as an adult even more. Ah, and she should set her goal even higher when it comes to dancing!"[32]
Fans have found that she has a habit of taking promotional costumes home for personal use.
She has said that she really doesn't like spending money and that she is a bargain hunter despite shopping being a hobby of hers. She admits to being a total cheapskate, even when craving certain foods, and that her mother manages her savings. Iikubo Haruna has said that her cheap nature is getting worse annually and that it's becoming increasingly difficult to invite her out because she always wants to go to cheaper places.
She is not saving her money for anything (not a house, a car, or anything really). She just likes saving.
She says that she has three close friends from her hometown who always watch their concerts. However, since moving to Tokyo four years ago, she has not made a single new friend outside of H!P. In addition, she only has around 60 contacts on her phone. She surmises that not having many friends to spend money with is one of the reasons she has become a cheapskate.
In late 2015, she apparently lost her title as the shortest Morning Musume member to Oda Sakura when they appeared on Tokyo Girls' Update TV. She stated she was a bit sad that she can't use her catchphrase "I'm small, but I can dance!" anymore.[33]

Despite this, her height was recorded as 150cm at that time,[34] which was 2cm shorter than Oda.

She has a Japanese cooking app that allows you to share your own recipes.
Shiritsu Ebisu Chuugaku member Yasumoto Ayaka is a fan of Morning Musume, and her favourite member is Ishida. She has mentioned Ishida on several television programs and in her blog,[35] and also collects her goods.
Her mother was surprised Ayumi became physically active in school because in her early childhood she had a weak body.
She was hospitalized 3 times with a 40°C fever in the past.
Despite having no electricity following the 2011 Tohoku Earthquake, she kept on practicing dance with just the light of candles.
TRIANGLE was Ishida's first lead role in a musical production.
If she could be reborn as someone else, she would be Nakazawa Yuko because she wants to experience being the first leader of Morning Musume while they were at the top. Nakazawa often comes to concerts and Ishida was surprised by the gap in her image. Ishida because had heard that she was scary, but was surprised when Nakazawa told them "I'm glad that everyone right now is working hard" in a kind voice.[31]
Ishida is really proud of being the only Morning Musume member from the Tohoku region. She can confidently say it is one of her charm points due to the strong support she has from Tohoku fans.[31]
If she did not become an idol, she believes she would still be doing something that involves dance because she started learning when she was little and always has fun when showing off her dancing.[31]
Ishida Family Tree
Edit
Father
Mother
Elder
Brother
Ayumi
(b.1997)
References
Edit
External Links
Edit