Ide Takuya
井出卓也

Ide Takuya, 2012
Background Information
Also Known As
Idetake (イデタク)
Born
March 12, 1991
Origin
Tokyo, Japan
Zodiac Sign
Pisces
Height
174cm
Genres
J-Pop, J-rock
Occupation
Model, Actor, Singer, Rapper
Years Active
1993-Present
Agency
UP-FRONT PROMOTION (2008-2009), Spacecraft Entertainment (?-2017)
Associated Acts
SHIPS, Cocoa Otoko, Ryoga
SHIPS Information
Joined
2008
Left
2009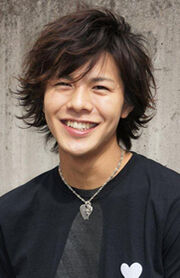 Ide Takuya (井出卓也) is a Japanese model, actor and singer formerly under Spacecraft Entertainment. He is best known for being a member of SHIPS, Cocoa Otoko and Ryoga.
Biography
Edit
Early Life
Edit
Ide entered the entertainment industry at the age of 2, after being scouted by an agency.
2008-2009
Edit
In 2008, Ide joined the Kirarin☆Revolution group SHIPS, portraying Kazama Hiroto. The group went on to release two singles before disbanding with the end of the anime in 2009.
2010-2012
Edit
In April, Ide joined the Avex Trax rock band Cocoa Otoko as the keyboardist and rapper. The group went on to release six singles and two albums before disbanding in March 2012.
In March 2015, Ide joined the Avex Trax pop group Ryoga as the rapper. The group released their debut single, "Live For You", on April 4, 2016.
On September 1, it was announced that Ryoga would enter an indefinite hiatus on December 31, and that Ide and Goto Keitaro would simultaneously leave the group.[1] His contract with Spacecraft Entertainment ended on December 31.
Name: Ide Takuya (井出卓也)
Birthday: March 12, 1991
Birthplace: Tokyo, Japan
Height: 174cm
Weight: 58kg
Blood Type: AB
Hobbies: Rap, dance, piano
Singles Participated In
Edit
Cocoa Otoko
Edit
Amai Wana Nigai Uso...
Let Me Free ~Goin na Hodo~ / CROSS MIND
Soldier / 「No You! No Life! No...xx ?」Feat.Me
Harikiri Megami
Sayonara Janakute... / Seishun Oka
Kiseki ~Time To Go~
Live For You
FOREVER / ROCK THIS WORLD
Burning Like A Flame
Believe In Magic
Solo Discography
Edit
Digital Singles
Edit
[2013.02.27] vintage
[2013.02.27] Super star
[2013.02.27] Sokubaku
[2013.02.27] Honesty
[2014.06.11] This year's summer
[2014.07.09] YOU-TRICK
[2014.08.03] Lucky Day
[2014.09.24] Come On
[2014.10.29] Complex
[2015.02.23] PINA COLADA
[2016.06.01] ∀FFECTION
[2016.06.01] Yesterday
[2018.01.01] Silent
[2018.01.01] Dante
[2018.01.01] Sweet Nightmare
Digital Albums
Edit
[2016.05.27] RADIO JACK EDITION
He is a graduate of Aoyama Gakuin University.
References
Edit
External Links
Edit
Kirarin☆Revolution
Groups
&
Members

Tsukishima Kirari starring Kusumi Koharu (Morning Musume)
Kira☆Pika: Kusumi Koharu as Kira, Hagiwara Mai as Pika
MilkyWay: Kusumi Koharu as Tsukishima Kirari, Kitahara Sayaka as Yukino Noel, Kikkawa Yuu as Hanasaki Cobeni
SHIPS: Ide Takuya as Kazama Hiroto, Kanai Shikou as Hiwatari Seiji
Singles

Tsukishima Kirari: 1, 2, 3, 4, 5, 6
Kira☆Pika: 1
MilkyWay: 1, 2
SHIPS: 1, 2
Other: Ooki na Ai de Motenashite by ℃-ute
Albums

☆☆☆ (Mitsuboshi), Kirarin☆Land, Kirari to Fuyu
Mini: Song Selection, Song Selection 2, Song Selection 3, Song Selection 4, Song Selection 5
Best: Best☆Kirari
Other

Kirarin☆Revolution Final Stage