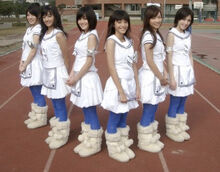 Ice Creamusume (アイスクリー娘。; Ice Cream Girls) was a Japanese and Chinese pop girl group managed by Up-Front Agency and part of Hello! Project. In Taiwan, they were officially known as Bing Qi Lin Shao Nu Zu (冰淇淋少女組。; Ice Cream Girl Group)
Former Members
Edit
Ice Creamusume was formed from the winners of the Taiwan Hello! Project New Star Auditions, an audition aimed at recruiting new Taiwanese members to join Hello! Project in order to continue its expansion into Asia. This was similar to the recruitment of Chinese Morning Musume members Junjun and Linlin. The auditions started in 2007 and the winners were announced in September 2008.
Due to the girls being Taiwanese (speaking Chinese) and being a group based in Japan, they sang in a mixture of Japanese and Chinese.
As the winners were announced, they traveled to Japan to undertake singing and dancing lessons and began recording their first mini-album. The music video for "Lian Ai Deng Chang" (戀愛登場; Love Debut), the first track on the album, was released in Taiwan on New Year's Eve.
On January 9, Ice Creamusume released their first mini-album 1st Zui Bang! in Taiwan, while it was released in Japan on January 18. It contained Morning Musume's hit single "Ren'ai Revolution 21" (恋愛レボリューション21; Love Revolution 21) under the title of Lian Ai Ge Ming 21 (戀愛革命21) and other Morning Musume songs. There was only one original track on the album — "Lian Ai Deng Chang."
Ice Creamusume made their concert debut at the Hello Pro Awards '09: Elder Club Graduation Commemoration Special concert, performing the Japanese version of "Lian Ai Deng Chang."
Four of the Ice Creamusume members (Shenshen, Anchii, Youko and Reirei) appeared and performed at the Hello! Project Concert 2009 Summer: Hello! Champloo concert, performing Debut! The Corner Of Love Will Bring The Best Luck (Japanese Version) with Morning Musume's Junjun and Linlin filling in for Peipei and Guu-chan.
Ice Creamusume became inactive in late 2009, and were removed from the official Hello! Project website in 2010.
Discography
Edit
Chinese Discography
Edit
Japanese Discography
Edit
External Links
Edit
Ad blocker interference detected!
Wikia is a free-to-use site that makes money from advertising. We have a modified experience for viewers using ad blockers

Wikia is not accessible if you've made further modifications. Remove the custom ad blocker rule(s) and the page will load as expected.