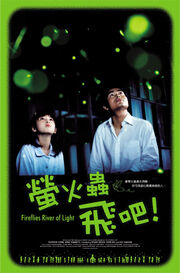 Hotaru no Hoshi (ほたるの星; The Fireflies' Star), its official English title being Fireflies: River of Light, is a movie featuring several Hello! Project Kids. It was released theatrically on June 5, 2004; followed by the DVD on December 22, 2004.
Hajime Miwa dreams of being a teacher and, when he finally passes his teachers' exam, gets a job teaching in an elementary school in the country, a very different setting from the Tokyo that he is used to. He has some good ideas about teaching, which conflict with Japan's traditional and conservative education system, as well as the rather different ideas that the PTA have about what a good teacher should be.
After his kids suggest raising fireflies, which used to appear every year in the area, but due to modern engineering projects and simple waste the rivers that they are raised from become unsuitable, he decides to make it a year long class project and starts raising fireflies with the kids. All the while having to put up with skeptical adults who think that such a project will only do more harm than good to the children, and trying to encourage one girl in his class, Hikari, who suffers from emotional problems after the death of her mother, to take a more active role in class and in raising the fireflies.
Ozawa Yukiyoshi as Miwa Hajime
Sugaya Risako as Hoshi Hikari
Kiki Kirin as Principal Hashimoto
Okai Chisato as Sano Eriko
Yamamoto Mirai as Teacher Nanami
Yana Nobuo as Tanakasan