Ad blocker interference detected!
Wikia is a free-to-use site that makes money from advertising. We have a modified experience for viewers using ad blockers

Wikia is not accessible if you've made further modifications. Remove the custom ad blocker rule(s) and the page will load as expected.
Hello☆Pro Party~! 2006 ~Goto Maki Captain Kouen~
(ハロ☆プロ パー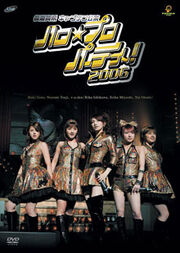 ティ~! 2006 ~後藤真希キャプテン公演~) is
Goto Maki
,
Tsuji Nozomi
, and
v-u-den
's 2006 concert tour. The DVD was filmed on April 16, 2006 at Ichikawa-shi Bunka Kaikan. It was released on July 5, 2006. 
The DVD peaked at #2 on the Oricon weekly charts and sold 16,438 copies total.
OPENING
MC
MC
Issai Gassai Anata ni∮A.ge.ru♪ - v-u-den
Ai ~Suite Room~ - v-u-den
SHALL WE LOVE? - Goto Maki, Tsuji Nozomi, Miyoshi Erika
Onna, Kanashii, Otona - Goto Maki, Ishikawa Rika, Okada Yui
MC
Dokki Doki! LOVE Mail - Tsuji Nozomi
Namida ga Tomaranai Houkago - Goto Maki, Tsuji Nozomi
Osaka Koi no Uta - Goto Maki, Miyoshi Erika, Okada Yui
KoiING - Goto Maki, Ishikawa Rika, Tsuji Nozomi
Ai no Sono ~Touch My Heart!~ - Tsuji Nozomi, v-u-den
Suppin to Namida. - Goto Maki
Ima ni Kitto... In My LIFE - Goto Maki
Ekizo na DISCO - Goto Maki
Yaruki! IT'S EASY - Goto Maki
Daite yo! PLEASE GO ON - Goto Maki (with Tsuji Nozomi, v-u-den)
MC
<ENCORE>
MC
Members featured in this release 
Edit