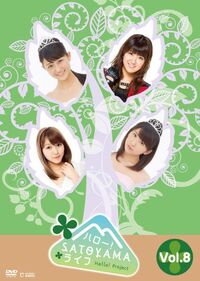 Hello! SATOYAMA Life Vol. 8 (ハロー!SATOYAMAライフ Vol.8) is a DVD by Hello! Project. It features selected scenes from episodes of the show Hello! SATOYAMA Life. It was released on August 14, 2013 under the UP-FRONT WORKS label.
Tracklist
Edit
ウッドデッキ作りにチャレンジ 1日目/徳永千奈美(Berryz工房)/光井愛佳
ウッドデッキ作りにチャレンジ 2日目/徳永千奈美(Berryz工房)/和田彩花・福田花音(スマイレージ)/光井愛佳
モーニング娘。「ワクテカ Take a chance」MV撮影に密着
ピーベリー「キャベツ白書」MV撮影に密着
DIY ♡ 「フォレフォレ ~Forest For Rest~」MV撮影現場に密着
Featured Members
Edit
External Links
Edit
Ad blocker interference detected!
Wikia is a free-to-use site that makes money from advertising. We have a modified experience for viewers using ad blockers

Wikia is not accessible if you've made further modifications. Remove the custom ad blocker rule(s) and the page will load as expected.