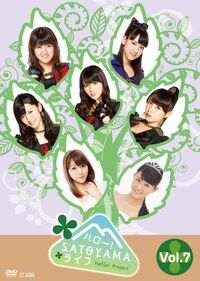 Hello! SATOYAMA Life Vol. 7 (ハロー!SATOYAMAライフ Vol.7) is a DVD by Hello! Project. It features selected scenes from episodes of the show Hello! SATOYAMA Life. It was released on August 14, 2013 under the UP-FRONT WORKS label.
Tracklist
Edit
Morning Musume 11ki Member Oda Sakura Goukaku Made no Kiseki (モーニング娘。11期メンバー小田さくら合格までの軌跡)
Hakusai to Cabbage no Tanemaki wo Shiyou (白菜とキャベツの種まきをしよう) - Tokunaga Chinami, Wada Ayaka, Mitsui Aika
Morning Musume 11-Ki Member Oda Sakura Ohirome stage no butaiura (モーニング娘。11期メンバー小田さくらお披露目ステージの舞台裏)
Edamame to satsumaimo no shukaku ni chosen (枝豆とサツマイモの収穫に挑戦) - Iikubo Haruna, Tokunaga Chinami, Yajima Maimi, Nakajima Saki, Suzuki Airi
Morning Musume Hatsu no sekai akushukai tsua in Tai (モーニング娘。初の世界握手会ツアーinタイ)
GREEN FIELDS「Boys be ambitious !」MV Satsuei ni mitchaku (GREEN FIELDS「Boys be ambitious !」MV 撮影に密着)
SATOYAMA movement stage hatsu performance (SATOYAMA movement ステージ初パフォーマンス/ハーベスト) - Harvest, GREEN FIELDS
Featured Members
Edit
External Links
Edit
Ad blocker interference detected!
Wikia is a free-to-use site that makes money from advertising. We have a modified experience for viewers using ad blockers

Wikia is not accessible if you've made further modifications. Remove the custom ad blocker rule(s) and the page will load as expected.