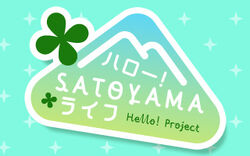 Hello! SATOYAMA Life (ハロー!SATOYAMAライフ) was a Hello! Project show replacing Hello Pro! TIME.
Unlike Hello! Pro TIME, Hello! SATOYAMA Life was based on agriculture and nature as a tie-in with the SATOYAMA movement, and also the SATOUMI movement in its second season. Different girls are selected to take a camera around and film various topics about agriculture and nature.
The show aired on TV Tokyo from June 7, 2012 through December 26, 2013. The same Episodes were also aired 2 days later Saturday from June 9, 2012 through December 28, 2013 on BS Japan. It was replaced by The Girls Live.
Featured Members
Edit
Names in bold participated in SATOYAMA movement and SATOUMI movement activities during the show.
Season 1 (2012-2013)
Edit
 

| Episode #: | Date Aired: | Members Featured: | Summary: |
| --- | --- | --- | --- |
| # 1 | 06/07 (2012) | Suzuki Kanon, Iikubo, Nakajima, Wada, Fukuda, Nakanishi, Mitsui | Learn the correct way of planting, cooking a soup and rice balls. |
| # 2 | 06/14 | Iikubo, Ishida, Nakajima, Wada, Fukuda, Mitsui | Preparing the land for planting and seeding. BeriKyuu filming Chou HAPPY SONG. |
| # 3 | 06/21 | Fukumura, Yajima, Mano, Mitsui | Learn to get bruised and damaged leaves of vegetables, Going to the Edogawa district in Tokyo for visiting shops selling vegetables in vending machines. |
| # 4 | 06/28 | Fukumura, Yajima, Mano, Mitsui, Niigaki Risa | Growing the vegetables that are sold in automatic machine, making glasses that touch the door bells, Risa promoting the premiere of the play Minori. |
| # 5 | 07/05 | Ishida, Tokunaga, Sudo, Yajima | Growing scallions, painting the glasses. |
| # 6 | 07/12 | Iikubo, Ishida, Nakajima, Wada, Mitsui, Morning Musume | Visiting an art studio where two artists do work with wood and fabric, the theme is Do it yourself. Morning Musume promoting One•Two•Three / The Matenrou Show. |
| # 7 | 07/19 | Iikubo, Ishida, Nakajima, Wada, Mitsui | Visiting an art studio where two artists do work with wood and fabric. They will finish the job with stools. |
| # 8 | 07/26 | Iikubo, Ishida, Nakajima, Wada, Mitsui | Learning how to grow corn. |
| # 9 | 08/02 | Iikubo, Ishida, Yajima, Nakajima, Wada, Fukuda | Making fertilizer and planting various vegetables and spoon the potatoes. |
| # 10 | 08/09 | Tokunaga, Sudo, Yajima, Mitsui, Miyamoto Karin, Kaneko Rie, Taguchi Natsumi | Festival in SATOYAMA, selling vegetables and juices. |
| # 11 | 08/16 | Tokunaga, Nakajima, Mitsui, S/mileage | Learning to pack and weigh the vegetables. S/mileage filming Suki yo, Junjou Hankouki. |
| # 12 | 08/23 | Hello! Project | Celebrating 15 years. With the concerts Hello! Tanjou Project 15th Anniversary Live 2012 Summer ~ Ktkr Natsu Matsuri in Fan! ~ And ~ Wkwk Natsu Matsuri in Fan! ~ |
| # 13 | 08/30 | Tokunaga, Mitsui, ℃-ute | making a table and a bench personalized with the name of Hello! SATOYAMA Life. ℃-ute filming Aitai Aitai Aitai na. |
| # 14 | 09/06 | Iikubo, Ishida, Nakajima, Fukuda, Mitsui | Picking watermelons, reaping some types of cucumbers, eggplant, peppers and potatoes, cooking rice and making barbecue. |
| # 15 | 09/13 | Yajima, Tokunaga, Sudo | Garden decorations, Morning Musume 11th gen audition finalist. |
| # 16 | 09/20 | Morning Musume, Yajima, Tokunaga, Sudo, Wada, Mitsui, Sayashi | Garden decorations, preparing a special dish, Oda Sakura first appearance in Morning Musume concert. |
| # 17 | 09/27 | Oda Sakura | Special Sakura episode part 1 |
| # 18 | 10/04 | Morning Musume, Oda Sakura | Special Sakura episode part 2 |
| # 19 | 10/11 | Mitsui, Tokunaga, Morning Musume | Learning and helping to build a wood floor. Morning Musume filming Wakuteka Take a chance. |
| # 20 | 10/18 | Mitsui, Tokunaga, Peaberry | Learning and helping to build a wood floor. Peaberry filming Cabbage Hakusho. |
| # 21 | 10/25 | Mitsui, Tokunaga, Wada, Fukuda, DIY♡ | Barbecue, learning and helping to build a wood floor. DIY♡ filming Forefore ~Forest For Rest~. |
| # 22 | 11/01 | Yajima, Nakajima, Iikubo, Suzuki Airi, Tokunaga, Tanaka, Michishige, Ishida, Fukumura, GREEN FIELDS | GREEN FIELDS filming Boys be ambitious!. |
| # 23 | 11/08 | Nakajima, Tamura, Fukuda, Miyazaki, Harvest | Visiting Ibaraki, Harvest filming Forest Time. |
| # 24 | 11/15 | Nakajima, Tamura, Fukuda, Miyazaki, Airi | Visiting Ibaraki. |
| # 25 | 11/22 | Nakajima, Tamura, Fukuda, Miyazaki, S/mileage, Tanaka | Visiting Ibaraki, S/mileage filming Samui ne. Reina announced her graduation. |
| # 26 | 11/29 | Nakajima, Tamura, Fukuda, Miyazaki | SATOYAMA Day bus tour in Hitachiota. |
| # 27 | 12/06 | Nakajima, Okai, Mitsui, Tokunaga, Sudo, Fukuda, Miyazaki | Trying to build a small house. |
| # 28 | 12/13 | Nakajima, Sudo, Fukuda, Miyazaki, Berryz Koubou | Trying to build a small house (2), Learn how to plant radishes, Berryz Koubou filming WANT!. |
| # 29 | 12/20 | Nakajima, Sudo, Fukuda, Miyazaki | Trying to build a small house (3), Learn how to plant parsley. |
| # 30 | 12/27 | Oda, Nakajima, Sudo, Fukuda, Miyazaki | Sakura training and photo shoot and rehearsals for the new winter tour of Hello! Project, Building a brick fireplace to the cottage. |
| # 31 | 01/10 (2013) | Hello! Project | Special episode about the start of the new winter tour of Hello! Project Viva! and Bravo!. |
| # 32 | 01/17 | Nakajima, Sudo, Fukuda, Suzuki Kanon, Kudo, Iikubo, Okai, Fukumura, Morning Musume | Putting the roof on the small house and Suzuki Kanon, Haruka, Haruna, Chisato and Mizuki visiting and helping Maasa, Saki and Kanon with building. Morning Musume filming Help me!!. |
| # 33 | 01/24 | Nakajima, Sudo, Fukuda, Suzuki Kanon, Kudo, Iikubo, Okai, Fukumura | Finish building the small house and decorated it. Haruka and Saki harvesting some vegetables for dinner. |
| # 34 | 01/31 | Nakajima, Tamura, Mitsui, Miyazaki, Morning Musume, °C-ute | Traveling to Yamagata, to visit a group of women who organize and carry out planting vegetables in the region. Help me!! event in Tokyo. °C-ute filming Kono Machi. |
| # 35 | 02/07 | Nakajima, Tamura, Mitsui, Miyazaki | Traveling to Yamagata, to visit a group of women who organize and carry out planting vegetables in the region part 2. Meeting with several members to talk about the SATOYAMA movement events in Yokohama. |
| # 36 | 02/14 | Nakajima, Tamura, Mitsui, Miyazaki, Iikubo, Wada, °C-ute | Visiting a group of women who organize and carry out planting vegetables in the region part 3. Haruna and Ayaka visiting the garden house. °C-ute event for the release date of Kono Machi. |
| # 37 | 02/21 | Nakajima, Tamura, Mitsui, Miyazaki, Peaberry | The members are hosted at the home of two gentlemen who grow and make dishes using the vegetables they harvest, Aika and Yuka visiting a subway sandwish shop in Tokyo, Peaberry filming Cabbage Hakusho ~Haru Hen~ |
| # 38 | 02/28 | Nakajima, Tamura, Mitsui, Miyazaki, Fukumura, Iikubo, Ishida, Tokunaga, Sudo, Wada, Fukuda, Peaberry, Harvest, DIY♡, Mano | Traveling by boat across a river and learn to dye some handmade scarves. Doing research and looking for a type of bean that will sell in the event of SATOYAMA movement and learn how to cook it. Peaberry, Harvest and DIY♡ help in choosing the name and make the designs for the package of the bean. Moments of Mano Erina graduation concert. |
| # 39 | 03/07 | SATOYAMA movement, Nakajima, Tamura, Mitsui, Miyazaki | Short summary of the events of the SATOYAMA movement and Hinamatsuri Festival, held in Yokohama. Maimi, Saki, Aika and Miyazaki visited a man who cooks a dish of the region and met 2 women who work with products and apples. They make a special photo shoot to promote these products. |
| # 40 | 03/14 | SATOYAMA movement, LoVendoЯ | Events of SATOYAMA movement, Party Music Vol 0 and Hinamatsuri Festival, held in Yokohama. short performance of the band LoVendoЯ at the Music Festival. Announcement of the new unit Juice=Juice. |
| # 41 | 03/21 | Morning Musume, SATOYAMA movement, Berryz Koubou, S/mileage | Announcement of Morning Musume 12th generation, Events of SATOYAMA movement held in Yokohama part 2. Berryz Koubou turned 9 years career event. S/mileage Filming Tabidachi no Haru ga Kita |
| # 42 | 03/28 | Sudo, Fukumura, Iikubo, Ishida, °C-ute, Michishige | Planting a peach tree and sticking some posters of Morning Musume in the small house. °C-ute filming Crazy Kanzen na Otona. Sayumi talks about the start of the new Morning Musume tour. |
| # 43 | 04/04 | °C-ute, Tokunaga, Sudo, Miyazaki, Iikubo, Wada, LoVendoЯ | The release event of °C-ute's single Crazy Kanzen na Otona in Tokyo. Help harvesting the turnip Japanese type and drying of soybeans. The debut live of LoVendoЯ. |
| # 44 | 04/11 | Iikubo, Wada, Morning Musume | Visiting the home garden. Preparing three types of pizzas made ​​with white bread. Morning Musume filming Kimi Sae Ireba Nani mo Iranai |
| # 45 | 04/18 | Wada, Takeuchi, Nakanishi, Fukuda, Morning Musume | Learn to do the cultivation and planting methods and eat in the garden house. Morning Musume filming Brainstorming. |
| # 46 | 04/25 | Wada, Takeuchi, Nakanishi, Fukuda, Suzuki Kanon | Learn to do the cultivation and planting methods and planting seeds. Tsunku talks about auditioning for the 12th generation of Morning Musume. Suzuki Kanon talks about Reina's graduating. |
| # 47 | 05/02 | Tamura, Nakajima, Iikubo, Juice=Juice, Morning Musume | Making towels. Juice=Juice filming Watashi ga Iu Mae ni Dakishimenakya ne. Summary of Morning Musume special event at Shibuya on April 25. |
| # 48 | 05/09 | Tamura, Nakajima, Iikubo, Juice=Juice, Hello Pro Kenshuusei | Learning all the techniques about how to transform cotton into clothes in a fabric. Juice=Juice filming Samidare Bijo ga Samidareru. Summary of the special event of Hello Pro Kenshuusei held on May the 5th. |
| # 49 | 05/23 | Morning Musume, Nakajima, Takeuchi, Nakanishi, Hello! Project | Summary of Reina's graduation concert at Nippon Budokan. Cropping some vegetables and sweet potatoes. Summary of Hello! Project Yaon Premium Live ~Soto Fest~. |
| # 50 | 05/30 | Ishida, Iikubo, Ikuta, Morning Musume | Learning about some crops of fruits and vegetables. Morning Musume interviews about Reina's graduation. |
| # 51 | 06/06 | Nakajima, Takeuchi, Nakanishi, Berryz Koubou, S/mileage | Making a chocolate fondue with harvested strawberries, Berryz Koubou filming Golden Chinatown. Showing the new single of S/mileage Yattaruchan. |
| # 52 | 06/13 | Peaberry, GREEN FIELDS, Shimizu, Mitsui, Sayashi, Wada, Miyazaki, Iikubo, Ishida, Ikuta | Satoyama special event. Going to Hitachiota by bus with fans. Learn how to crop and harvest strawberries and cook some omelets. |
| # 53 | 06/20 | Juice=Juice, Nakajima, Miyazaki, Iikubo, Suzuki Airi, Takeuchi, Sayashi, Ikuta | Announcement of the major debut of Juice=Juice that was held on the 13th in Tokyo. The members mentioned in this episode will watch a few moments of past episodes of the program. |
| # 54 | 06/27 | Nakajima, Miyazaki, Iikubo, Suzuki Airi, Takeuchi, Sayashi, Ikuta | The members will watch a few moments of past episodes of the program (part 2). |
Season 2 (2013)
Edit
 

| Episode #: | Date Aired: | Members Featured: | Summary: |
| --- | --- | --- | --- |
| # 1 | 07/04 | Nakajima, Ikuta, Okai, Mitsui | Traveling to Yamaguchi. Ikuta meets former Morning Musume member Yoshizawa Hitomi in Okinawa. Summary of the final day of °C-ute's concert tour Treasure Box on June 29 in Yokohama. Scenes of S/mileage's Yattaruchan. |
| # 2 | 07/11 | Nakajima, Ikuta, Okai, Mitsui, °C-ute | Traveling to Yamaguchi, fishing with a group of children. °C-ute filming Kanashiki Amefuri / Adam to Eve no Dilemma. |
| # 3 | 07/18 | Nakajima, Ikuta, Okai, Mitsui | Traveling to Yamaguchi, learning how to cultivate rice in the field and in the evening going to a camp for barbecue. |
| # 4 | 07/25 | Nakajima, Ikuta, Okai, Mitsui, Dia Lady | Traveling to Yamaguchi and a barbecue at a camp. Dia Lady filming Lady Mermaid. |
| # 5 | 08/01 | Nakajima, Ikuta, Okai, Mitsui, Sato, Miyamoto | Traveling to Yamaguchi, Showing the results of the cards game. Special moments and statements of the members in Hello! Project 2013 SUMMER COOL HELLO!. Talking about the new unit Jurin. |
| # 6 | 08/08 | Nakajima, Ikuta, Okai, Mitsui, HI-FIN, LoVendoЯ | Traveling to Yamaguchi, learning how to cook new typical dishes of the region. HI-FIN filming Kaigan Seisou Danshi. LoVendoЯ concert in San Francisco. |
| # 7 | 08/15 | Iikubo, Ishida, Takeuchi, Mellowquad | Working on field. Mellowquad filming Eiya-sa! Brother. |
| # 8 | 08/22 | Ikuta, Mitsui, Nakajima, Okai | Dancing hula. An update on the Morning Musume's 12th gen auditions and Morning Musume MV making. |
| # 9 | 08/29 | Morning Musume, Ikuta, Mitsui, Nakajima, Okai | Morning Musume event for the new single release. Morning Musume filming and practicing Ai no Gundan. Traveling to Yamaguchi. |
| # 10 | 09/05 | S/mileage, Morning Musume, Jurin | Picking fruit and vegetables and then cooking. Wagamama Ki no Mama Ai no Joke/Ai no Gundan 1st place in the Oricon ranking members reaction. Jurin filming Hotaru Matsuri no Hi. |
| # 11 | 09/12 | HI-FIN, Mellowquad, Dia Lady, Juice=Juice, S/mileage Morning Musume | Cleaning the beach in Kanagawa. Juice=Juice filming Romance no Tochuu. S/mileage visiting Mr. Ishii. Morning Musume big event in Kawazaki. |
| # 12 | 09/19 | Juice=Juice, Ikuta, Mitsui, Nakajima, Okai, °C-ute, Morning Musume | Event for the first major single Romance no Tochuu. Visiting Yamaguchi. °C-ute rehearsaling for their concert. Morning Musume celebrating their 16th annivarsary. |
| # 13 | 09/26 | Ikuta, Mitsui, Nakajima, Okai, °C-ute | Journey in Yamaguchi. Rehearsals and backstage moments of °C-ute Budokan concert. |
| # 14 | 10/03 | Nakajima, Yajima, Takeuchi, Miyazaki, Berryz Koubou | Taking a ride around the town and meeting some of the producers and growers in Satoyama. Berryz Koubou filming Motto Zutto Issho ni Itakatta. |
| # 15 | 10/10 | Nakajima, Yajima, Takeuchi, Miyazaki, Berryz Koubou | Meeting some producers and growers in satoyama, helping in the harvest and experience some local dishes and taking a train ride. |
| # 16 | 10/17 | Nakajima, Yajima, Takeuchi, Miyazaki, Suzuki Airi | Trying ice slushies and boating down a river in the region. Suzuki and Nakajima make a photobook of a trip. |
| # 17 | 10/24 | Nakajima, Yajima, Takeuchi, Miyazaki, Suzuki Airi, Tokunaga, Sudo, Ishida, Ikuta, Takagi, Miyazaki | Showing the finished photobook of the previous episode. Visiting Mr. Ishii and cultivate some vegetables. Celebrating Halloween. |
| # 18 | 10/31 | Tokunaga, Sudo, Ishida, Ikuta, Takagi, Miyazaki, °C-ute | Decorating the Garden House and preparing snacks For Halloween. °C-ute filming Tokai no Hitorigurashi. |
| # 19 | 11/07 | Tokunaga, Sudo, Iikubo, Fukumura, °C-ute | Journey to the city Kamakura in Kanagawa Prefecture. °C-ute filming Aitte Motto Zanshin. |
| # 20 | 11/14 | Tokunaga, Sudo, Iikubo, Fukumura, °C-ute | Journey to the city Kamakura in Kanagawa Prefecture and visiting a temple. Visiting a man who works with clay products and the members will try to learn the techniques of molding. |
| # 21 | 11/21 | Tokunaga, Sudo, Iikubo, Fukumura, Shimizu, Takeuchi, Nakanishi | Journey to the city Kamakura in Kanagawa Prefecture part two. Traveling by train to see an old station opened called Gokurakuji. Talking about the satoyama event, SatoUmi movement and the goods. |
| # 22 | 11/28 | Satoyama movement, Tokunaga, Sudo, Iikubo, Fukumura, Shimizu, Juice=Juice | Summary of Satoyama and SatoUmi movement event. Journey to the city Kamakura and experiencing the typical dishes of the region. Shimizu and Sudo choosing pictures of the journey to the city Kamakura to make a photobook. Juice=Juice filming Ijiwaru Shinai de Dakishimete yo. |
| # 23 | 12/05 | Satoyama movement, Morning Musume, S/mileage, Natsuyaki, Sudo, Shimizu, Tokuanaga, Iikubo, Fukumura | Summary of Satoyama and SatoUmi movement event. Fashion contest between Morning Musume and S/mileage organized by Natsuyaki. Shimizu and Sudo choosing pictures of the journey to the city Kamakura to make a photobook, and presenting it to Tokunaga. Iikubo and Fukumura behind the scenes of Hajimete wo Keiken-chuu. |
| # 24 | 12/12 | Berryz Koubou, S/mileage | Rehearsals and backstage moments of Berryz Koubou at Nippon Budokan on November 29. S/mileage filming Ee ka!?. |
| # 25 | 12/19 | Morning Musume, S/mileage | Rehearsals, interviews and backstage moments of Morning Musume at Nippon Budokan. S/mileage filming "Ii Yatsu". |
| # 26 | 12/26 | Maimi, Shimizu, Nakajima, Iikubo, Sudo, Miyazaki | Recalling moments that passed within the program. Satoyama units will continue their activities to promote the importance of nature protection. |
External Links
Edit