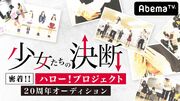 October 31, 2017 - Hello! Project Shin Member Audition will be broadcast on AmebaTV

On October 31, an AmebaTV program following the Hello! Project Shin Member Audition, titled Shoujotachi no Ketsudan ~Mitchaku!! Hello! Project 20 Shuunen Audition~, was announced to begin broadcasting on November 13.
To make the audition memorable, the program will show full close coverage of the audition for the first time since 2011. In addition, various past and current Hello! Project members will watch and comment on the audition process from a studio. Unreleased footage and stories from the audition will also be uploaded onto AmebaVideo.
---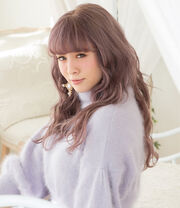 October 18, 2017 - Former Berryz Koubou member Sugaya Risako announces marriage and pregnancy

On October 18, UP-FRONT PROMOTION announced that Sugaya Risako is marrying a man of an ordinary background and is due to give birth to her first child in the spring. She would therefore go on maternity leave, and her future activities would be decided once she settles down after giving birth and begins child-rearing.
Sugaya further revealed in an interview with Josei Jishin that she is currently five months pregnant and she started dating her partner earlier this year, after being introduced to him by a friend at a dinner party.
Source: UP-FRONT PROMOTION, Josei Jishin
---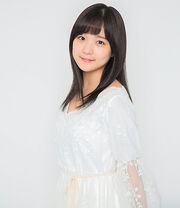 September 8, 2017 - Former Country Girls member Inaba Manaka to resume activities

On September 8, it was announced through the Hello! Project website that Inaba Manaka would be resuming activities within Hello! Project.
According to the official statements given by herself and management, Inaba's asthma has been stabilized since spring, and she eagerly held talks with UP-FRONT PROMOTION about resuming activities. The official statements went on to say that she would be joining Hello Pro Kenshuusei Hokkaido as the leader, and that she will also be pursuing independent activities in Sapporo, with the first event to mark her "new start" being the Hello Pro Kenshuusei Hokkaido Teiki Kouen Vol.4 held on September 18, 2017.
In addition to the announcement, she has been added to Hello! Project's artist page as a soloist, and has also started her own blog which can be found here.
Inaba Manaka was previously a member of the Country Musume reboot group Country Girls, which she joined on November 5, 2014. She graduated from the group on August 4, 2016 after having been on hiatus since April 28 of that year due to asthma.
Source: Hello! Project, UP-FRONT LINK
Ad blocker interference detected!
Wikia is a free-to-use site that makes money from advertising. We have a modified experience for viewers using ad blockers

Wikia is not accessible if you've made further modifications. Remove the custom ad blocker rule(s) and the page will load as expected.