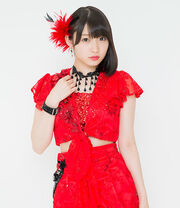 January 12, 2018 - Miyamoto Karin hospitalized due to neck injury (UPDATED)

On January 12, an announcement was posted to the Hello! Project website stating that Juice=Juice member Miyamoto Karin had been hospitalized due to neck and head pain after twisting her neck during Hello! Project 20th Anniversary!! Hello! Project 2018 WINTER concert rehearsals on January 3. As a result, she was absent from the January 3 to January 7 concerts, which was previously reported due to "poor health".
Although her pain has improved over the past week, she has been having hearing sensitivity. The hospital referred her to a specialist who suspects she may have developed Bell's palsy, a type of paralysis that affects the facial muscles and generally lasts between 2 weeks to 6 months. She will be hospitalized for a week and absent from the upcoming January 13 and January 14 winter concerts. Her future activities will be decided based on the results of her doctor's findings.
January 18 UPDATE: It was announced on the Hello! Project website that Miyamoto was discharged from hospital on January 15 and was gradually resuming activities. In a consultation with the doctor and her parents, it was decided it was necessary to continue watching over her progress after being medically treated. It was also decided that she would still be absent from the winter tour concerts on January 20 and 21, and she will instead make her return to performance at the Juice=Juice LIVE GEAR 2018 ~Go ahead~ starting on January 25. Miyamoto will continue to readjust in order to restart all live activities.
Source: Hello! Project, Hello! Project (Update)
---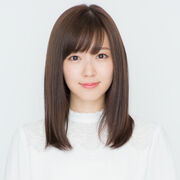 December 31, 2017 - Suzuki Airi announces the start of solo activities

On December 31, former ℃-ute member Suzuki Airi participated in the Hello! Project 20th Anniversary!! Hello! Project COUNTDOWN PARTY 2017 ~GOOD BYE & HELLO!~ concert, where she performed an original song titled "Mikansei Girl" and announced that she would begin activities as a soloist under UP-FRONT CREATE.
She is currently working on her debut album, and has two solo lives planned for March and April 2018.
In addition to the announcement, she has opened a Twitter account under the "airimania" handle, and opened an official website.
---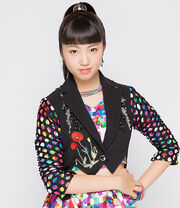 December 31, 2017 - Aikawa Maho graduates from ANGERME and Hello! Project

On December 31, an announcement was posted to the Hello! Project website stating that Aikawa Maho had decided to graduate from both ANGERME and Hello! Project due to her panic disorder, which she had been on hiatus treating for the past eleven months.
While her condition had been improving, and she was able to enroll and attend classes at her university, she decided to graduate out of fear that she would relapse and have a panic attack while performing, and that she would be a burden to the other members.
Previously on January 11, it was announced that Aikawa would be halting her activities to seek treatment for panic disorder. She had been diagnosed with the condition after having reported various symptoms to her doctor, which at the time prevented her from performing in the Hello! Project 2017 WINTER concert tour. In a country where the discussion and treatment of mental illness remains taboo, Aikawa noted that she hoped to help fight the stigma against panic disorder alongside others with the condition.
Throughout her hiatus, members and fans continued to show their support, and it's widely believed that "Namida Iro no Ketsui" from ANGERME's 23rd single was written as a message of support.
Aikawa Maho had been a member of Hello! Project for three years, having originally joined as a Hello! Pro Kenshuusei in May 2014 alongside Takemura Miu and Saito Kana. After training for a mere five months, she was promoted to S/mileage in October 2014 alongside Murota Mizuki and Sasaki Rikako as the third generation.
Source: Hello! Project, UP-FRONT LINK
---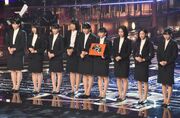 December 30, 2017 - Tsubaki Factory win the Best Newcomer Award at the 59th Japan Record Awards

At the 59th Japan Record Awards on December 30, which was live broadcasted by TBS, Tsubaki Factory received a Newcomer Award and performed "Shuukatsu Sensation". They were nominated for the grand prize against three other Newcomer Award winners. In the end, Tsubaki Factory were named the winners of the Best Newcomer Award.
Leader Yamagishi Riko accepted the award and said: "Although it took some time for us to make our major debut, you can only win the Best Newcomer Award once in a lifetime, so I'm very happy." Sub-leader Ogata Risa also commented: "This moment is like we're in a dream. We have been working our hardest for three years and because winning a newcomer award became our dream, I'm happy the nine of us could make it come true." The members' comments and tears of happiness noticeably moved announcer Shinichiro Azumi to tears.
Tsubaki Factory was formed as six members in April 2015, three months after their "rivals" Kobushi Factory, who had won the Best Newcomer Award at the 57th Japan Record Awards. In February of this year, they made their major debut as nine members. In November, Tsubaki Factory also received a Newcomer Award at the 50th Japan Cable Awards.
Source: Oricon
Ad blocker interference detected!
Wikia is a free-to-use site that makes money from advertising. We have a modified experience for viewers using ad blockers

Wikia is not accessible if you've made further modifications. Remove the custom ad blocker rule(s) and the page will load as expected.