Hello! Project Wiki Announcement
Live! Chat on H!P Wiki

Upon a request we decided to enable a live chat here. Feel free to use it and make sure to have fun!
---
"This wikia is..."

Would you like to express your opinion on this wiki? If yes, please feel free to give us feedback in this thread. Your ideas are welcomed.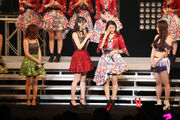 December 31, 2016 - New Hello! Project Leader and Sub-leader Appointed

During the first part of the Hello! Project COUNTDOWN PARTY 2016 ~GOOD BYE & HELLO!~, Yajima Maimi announced that she had decided the new leader of Hello! Project.
ANGERME leader Wada Ayaka was appointed as 6th leader of Hello! Project and Morning Musume '16 leader Fukumura Mizuki was appointed as 1st sub-leader of Hello! Project.
Source: BARKS, ORICON STYLE
---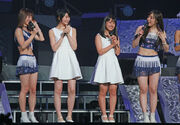 December 12, 2016 - Kaga Kaede and Yokoyama Reina join Morning Musume as 13th generation members

On November 23, 2016, it was announced that the second Morning Musume '16 Shinseiki Audition ended with no successful candidates from the public audition, and the winners would instead be selected from Hello Pro Kenshuusei and announced on December 12 during the Morning Musume '16 Concert Tour Aki ~MY VISION~ finale at Nippon Budokan.
On the night of the concert, leader Fukumura Mizuki introduced the new 13th generation members: Kaga Kaede (17) and Yokoyama Reina (15). Kaga first joined Hello Pro Kenshuusei in November 2012 and Yokoyama joined in August 2016.
The 13th generation will begin group activities in the new year as part of Morning Musume '17.
Source: Hello! Project, UP-FRONT LINK, BARKS
---
November 5, 2016 - Tsugunaga Momoko to graduate from Country Girls and Hello! Project

It has been announced that Tsugunaga Momoko will graduate from Country Girls and Hello! Project on June 30, 2017. This will be 15 years to the day she was introduced as one of the Hello! Project Kids and the same month fellow remaining Kids ℃-ute disband.
Tsugunaga is best known for her time in Berryz Koubou from 2004 to 2015, and she has since been the playing manager of Country Girls. Following her graduation she intends to leave public entertainment and continue on the path of becoming a school teacher, for which she attended university.
Source: Hello! Project, UP-FRONT LINK
Singles

Albums

DVDs/Blu-ray

Photobooks
Singles

Albums

DVDs/Blu-ray

Photobooks
Current
Upcoming
Sister Wikis
Related Websites
February 25, Coming Soon

February 26, Coming Soon

February 28, Coming Soon

March 2, Coming Soon
Note: All birthdays are based on JST Time.
Release Date: March 8, 2017
Release Date: February 22, 2017
Favorite S/mileage Single:
Weekly Results
Favorite S/mileage Single (2009-2010): Yumemiru Fifteen
Yumemiru Fifteen (46 Votes)
○○ Ganbaranakutemo Eenende!! (15 Votes)
Suki-chan (11 Votes)
aMa no Jaku (7 Votes)
Asu wa Date na no ni, Imasugu Koe ga Kikitai (5 Votes)
Onaji Jikyuu de Hataraku Tomodachi no Bijin Mama (4 Votes)
Otona ni Narutte Muzukashii!!! (3 Votes)
Member of the Month
Morito Chisaki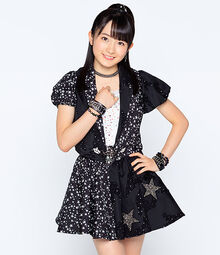 This month's featured member is Country Girls's Morito Chisaki.
2010 - Onna ga Medatte Naze Ikenai Single V is released. (Morning Musume single)
2010 - Shocking 5 releases. (℃-ute album)
2010 - Haru no Arashi releases. (Mano Erina single)
Helping out
This is an open Wiki that anyone can edit. To write a new article, just enter the article title in the box below.
For more information please visit the Helping out and Guidelines pages.
Ad blocker interference detected!
Wikia is a free-to-use site that makes money from advertising. We have a modified experience for viewers using ad blockers

Wikia is not accessible if you've made further modifications. Remove the custom ad blocker rule(s) and the page will load as expected.