Welcome to Hello! Project Wiki
Articles
Random Members



Arihara Kanna (有原栞菜), now known simply as Kanna (栞菜), is a Japanese actress under Toki Entertainment. She is a former member of Hello! Project group ℃-ute. She originally joined Hello! Project as a member of Hello Pro Egg in 2004 and was added to ℃-ute on January 2, 2006. On July 9, 2009, she resigned from the group and Hello! Project without a graduation ceremony. A year later, Arihara made her return to entertainment as a stage actress.
---
November 3, 2018 - Mitsui Aika retires from entertainment

On November 3, Mitsui Aika announced that she has decided to graduate from Hello! Project and retire from the entertainment industry.
In 2006, Mitsui became an 8th generation member of Morning Musume after winning the Morning Musume Happy 8ki Audition. Her time in the group started to come to an end in May 2011, when she was first diagnosed with a stress fracture of the left talus (part of the ankle joint) which took her away from performing on stage. She worked hard towards recovery, hoping she would be able to perform like she did before, and was happy when she became able to walk without support.
During a medical examination in April 2012, Mitsui was told that she would re-injure herself due to her bones being inherently weak and Morning Musume's choreography becoming more intense. Not wanting to hold the group back, she decided to graduate alongside Niigaki Risa on May 18, 2012. She stayed within Hello! Project as a solo act, but aside from participating in the SATOYAMA movement unit GREEN FIELDS, Mitsui never released any solo music.
Around the time of her graduation from Morning Musume, Mitsui became interested in learning English and she decided to study abroad in New Zealand at the end of 2013. When she returned to Japan in April 2015, her TOEIC score was 760 points. While in Japan, she began working in English by communicating with international fans through UP-FRONT LINK and adding English lyrics to music videos. However, after visiting Houston with Morning Musume '16 in February 2016, she decided to continue learning English abroad.
Mitsui has been back in New Zealand since June 2016. She began growing a passion for cooking after making meals with her host grandmother everyday and entered vocational school to learn it professionally. She has started working in a kitchen and will apply for a temporary work visa after she graduates from vocational school later in November.
Source: J.P ROOM, Mitsui Aika Official Blog Entry
---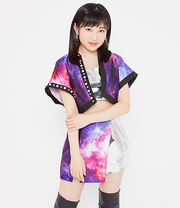 November 2, 2018 - Yanagawa Nanami to graduate from Juice=Juice, Country Girls, and Hello! Project

On November 2, it was announced that concurrent Juice=Juice and Country Girls member Yanagawa Nanami has decided to graduate from both groups and Hello! Project in March 2019.
Yanagawa first joined Hello! Project in April 2015 as a Hello Pro Kenshuusei member after failing the Morning Musume '14 <Golden> Audition!, and she debuted in Country Girls in November of the same year. When it was decided in June 2017 that a new concurrent member system would be introduced to Country Girls and the group's activities would become limited, Yanagawa joined Juice=Juice for her main activities.
Yanagawa, who will be entering her last year of high school in the spring, has decided to graduate from her idol career to pursue a higher education. She found a new dream and, after thinking it over, wants to firmly study towards that field.
---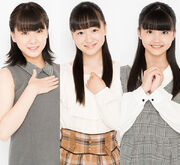 November 1, 2018 - Noguchi Kurumi, Hibi Marina, and Doi Rena leave Hello Pro Kenshuusei and three new members join

On November 1, when the list of members participating in the Hello! Project Kenshuusei Happyoukai 2018 12gatsu ~Mikan~ was revealed, it was announced that Hello Pro Kenshuusei members Noguchi Kurumi, Hibi Marina, and Doi Rena had completed their training. Noguchi had joined Hello Pro Kenshuusei in January 2016 while Hibi and Doi both joined in March 2017.
However, three new members have joined as the 29th generation: Saito Madoka, Kusunoki Mei, and Onoda Karin. They will be introduced in the recital which will begin on December 2.
Hello! Project Releases
Current
Upcoming
November 19, Happy Birthday!

November 20, Coming Soon

November 22, Coming Soon

November 23, Coming Soon

November 24, Coming Soon

November 25, Coming Soon
Note: All birthdays are based on JST Time.
Release Date: October 31, 2018
Release Date: October 24, 2018
Release Date: September 26, 2018
Favorite Morning Musume '18 x ANGERME song:
RESULTS: Favorite Kobushi Factory x Tsubaki Factory song:

Kon'ya Dake Ukaretakatta (44 Votes)
Naseba Naru (25 Votes)
Date no Hi wa Nido Kurai Shower Shite Dekaketai (18 Votes)
Kitto Watashi wa (14 Votes)
Junjou cm (13 Votes)
2003 - Mirakururun Grand Purin! / Pi~hyara Kouta releases. (Minimoni / Abe Natsumi single)
2014 - I miss you / THE FUTURE releases. (℃-ute single)
Related Websites
Sister Wikis
Helping out
This is an open Wiki that anyone can edit. To write a new article, just enter the article title in the box below.
For more information please visit the Helping out and Guidelines pages.