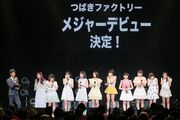 September 4, 2016 - Tsubaki Factory to make their major debut in January 2017

During the first show of the September Kenshuusei recital, Hello! Project advisor Shimizu Saki interrupted Tsubaki Factory on stage, right before their first nine-member performance of "Hitorijime." Shimizu announced to the members and fans that Tsubaki Factory's major debut has been decided, leaving the girls speechless and in tears.
Their major debut will be in January 2017, one year and eight months after the group's formation in late April 2015.
Source: Tokyo Sports, BARKS
---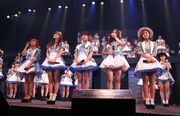 August 20, 2016 - ℃-ute to disband in June 2017

On the morning of August 20, ℃-ute made a shocking announcement that they would disband next June after a concert held at Saitama Super Arena.
The group began discussing their future back in February. When they were told in July that they would be performing at Saitama Super Arena, the members decided rather than graduating from Hello! Project and continuing as ℃-ute separately or going on hiatus, they would disband. As ℃-ute began and grew as a part of Hello! Project, the members want to end as ℃-ute of Hello! Project.
Formed in June 2005, ℃-ute will complete their twelfth year on June 11, 2017. They are grateful for everyone's support and will continue to push towards their goal of performing at Saitama Super Arena. Afterwards, the five members will continue to fulfill their individual goals and dreams.
Source: Hello! Project, UP-FRONT LINK
---
August 13, 2016 - Three Kenshuusei join Tsubaki Factory

At their fanclub event on August 13, Tsubaki Factory made a surprise announcement that three new members from Hello Pro Kenshuusei have been selected to join the group. The Kenshuusei introduced were: Ono Mizuho, Onoda Saori, and Akiyama Mao.
Onoda first joined Hello Pro Kenshuusei in November 2014; Ono and Akiyama both joined the program in April 2015.
The nine member line-up will begin activities at the September Kenshuusei recital, with the group gaining more power to reach their goal for a major debut.
Source: Hello! Project, Oricon
Singles

Albums

DVDs/Blu-ray

Photobooks
Singles

Albums

DVDs/Blu-ray

Photobooks
Current
Upcoming
Sister Wikis
Related Websites
October 3, Coming Soon

Hashimoto Aina (24th)

October 7, Coming Soon

Nonaka Miki (17th)
Ono Kotomi (14th)
Note: All birthdays are based on JST Time.
Release Date: September 28, 2016
Favorite ℃-ute Singles
Weekly Results
Part 3: 2011-2013: - Kiss me Aishiteru
Kiss me Aishiteru (31 Votes)
Adam to Eve no Dilemma (30 Votes)
Crazy Kanzen na Otona (12 Votes)
Tokai no Hitorigurashi (9 Votes)
Aitte Motto Zanshin (7 Votes)
Kanashiki Amefuri (5 votes)
Sekaiichi HAPPY na Onna no Ko (5 Votes)
Kono Machi (4 Votes)
Momoiro Sparkling (3 Votes)
Kimi wa Jitensha Watashi wa Densha de Kitaku (3 Votes)
Aitai Aitai Aitai na (3 Votes)
Member of the Month
Tsugunaga Momoko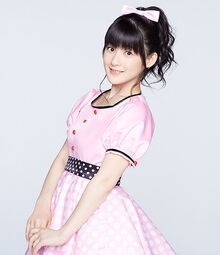 This month's featured member is Country Girls's Tsugunaga Momoko
2014 - Senobi / Date ja nai yo Uchi no Jinsei wa releases. (Juice=Juice single)
Helping out
This is an open Wiki that anyone can edit. To write a new article, just enter the article title in the box below.
For more information please visit the Helping out and Guidelines pages.