Home
Talk

24
2,149pages on
this wiki
Recent Hello! Project News

April 23, 2014 - Hello! Project official website revamps

HelloProject.com has changed to a completely new version. While not every change to an official website is newsworthy, in this case it affects this wiki both by making new information available that wasn't before, and breaking hundreds if not thousands of links to helloproject.com from here. Further information can be found in this blog entry.
April 22, 2014 - Otsuka Aina performs at a cafe, opens blog

On April 20, Otsuka was spotted performing solo at the Shisui Deux cafe. After getting permission from her parents, she opened her own blog on April 22. In her first blog post, she mentioned that she wants to sing again, and from this point on, she will do her best, proceeding step-by-step.
According to an article by Girls News, Otsuka will be resuming public life.
Otsuka joined Hello Pro Kenshuusei in March 2011, and debuted in Juice=Juice on February 3, 2013 but left both Hello Pro Kenshuusei and Juice=Juice on July 5, 2013 due to issues with her contract and family.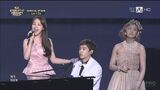 April 14, 2014 - Sugaya Risako sings Let it Go on M! Countdown.

On April 14, Sugaya Risako of Berryz Koubou sang "Let it Go" from Frozen on M! Countdown. The performance was a collaboration with Korean artists 2PM's Nichkhun, Girls Day's Minah, MBLAQ's G.O, and Block B's P.O. Berryz Koubou had also appeared as one of the guests, performing "Asian Celebration" and "Otona na no yo!". This was a very odd, but welcoming performance with Berryz Koubou being the only Japanese performer there.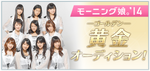 March 15, 2014 - Morning Musume '14 (Golden) Audition! announced

On March 15, it was announced that Morning Musume '14's 12th generation audition will be re-held, titled Morning Musume '14 (Golden) Audition!. The audition is for females only, between the ages of 10-17 by March 31, 2014. The application deadline is on May 11, 2014.

March 6, 2014 - Tsunku diagnosed with Laryngeal Cancer

According to Tsunku, he had begun feeling discomfort in his left vocal cord around 7-8 years ago, and in October 2013 his voice had gotten completely husky. As such, he went under surgery under general anesthesia when they discovered cancer in his larynx. The cancer was caught in its early stages, and Tsunku began treatment immediately. It is unknown when his voice will be usable again.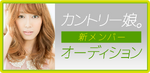 February 11, 2014 - Auditions for Country Musume announced

On February 11, an audition for new Country Musume members titled Country Musume Shin Member Audition was announced. The audition is for girls only, aged 10 to 17 from all over Japan. Applications begin on February 12 and end on April 20. Satoda Mai will not be part of the unit, as she now resides outside of Japan.
December 31, 2013 - Mitsui Aika to study abroad; go on hiatus from Hello! Project

It was announced at the Hello! Project COUNTDOWN PARTY 2013 ~GOOD BYE & HELLO!~ on December 31, 2013 that former Morning Musume and current GREEN FIELDS member, Mitsui Aika, will be studying English abroad. She did not specify what English-speaking country she is going to, when she will be leaving Japan (other than "January"), or when she will be returning. She will be on hiatus from Hello! Project until she returns to Japan.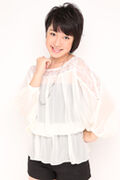 December 21, 2013 - Kaneko Rie Quits Hello Pro Kenshuusei

Kaneko Rie was introduced as a Hello Pro Kenshuusei at the Hello! Project 2008 Shinjin Kouen 6gatsu ~Akasaka HOP!~ in June 2008 alongside Fukumura Mizuki (now in Morning Musume) and Takeuchi Akari (now in S/mileage).
On December 21, 2013 at the last show of Hello Pro Kenshuusei Happyoukai 2013 ~12gatsu no Nama Tamago Show!~, fans reported that former Hello Pro Kenshuusei members Fukumura Mizuki, Takeuchi Akari, Katsuta Rina and staff members attended the event wearing T-shirts with the kanji symbols "金子" (Kaneko), fans also reported that Miyamoto Karin, Takagi Sayuki, and Makino Maria were crying and that Kaneko took a bow at the end of the concert. Later that same day, Kaneko's profile was removed from the ~Onedari Entame!~ Hapi★Pure website, a show that she was a regular on.
On December 28, Kaneko Rie's father, Naoki, posted on Facebook confirming that his daughter had quit Hello Pro Kenshuusei on December 14, 2013. He thanks fans for their support.
December 6, 2013 - Morning Musume name change, single announcement

Tsunku has announced through his blog the release of Morning Musume's 55th single-- but there's a twist. Morning Musume will be changing its name to "Morning Musume '14" (read as "Morning Musume One-Four") starting with this single, the single will be released on January 29, 2014.
On January 1, 2014 the name will be changed to "Morning Musume '14"
On January 1, 2015 the name will be changed to "Morning Musume '15" and so on.(Hello Project website news)
Latest H!P Releases
Singles

Albums

DVDs/Blu-ray

Photobooks
Upcoming H!P Releases
Singles

Sato no Akari/Triplet/ODATOMO - Aa, Subarashiki Hibi yo / Dream Last Train / Kodachi wo Nukeru Kaze no You ni - April 23, 2014
S/mileage - Mystery Night! / Eighteen Emotion - April 30, 2014
Berryz Koubou - TBA - June 4, 2014

Albums

TBA

DVDs/Blu-ray

℃-ute, S/mileage - Naruchika 2013 Aki ℃-ute x S/mileage - April 23, 2014
Hello!Project COUNTDOWN PARTY 2013 ~GOOD BYE & HELLO!~ - May 14, 2014

Photobooks

Ishida Ayumi - shine more - May 10, 2014
Recent Concerts
Current

Upcoming
Hello! Project Wiki Admins
Hello! Project Birthdays
April 25, Coming Soon

April 26, Coming Soon

April 28, Coming Soon

April 29, Coming Soon

April 30, Coming Soon
Note: All Birthdays are based on JST Time.
Recent Music Videos
Release Date: April 30, 2014
Release Date: April 16, 2014
Hello! Poll - Member of the Week (Week 86)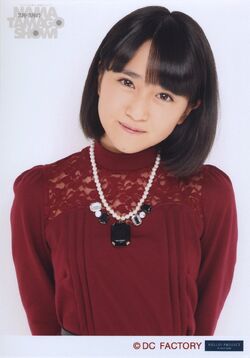 Hello Pro Kenshuusei - Taguchi Natsumi
Favourite OTP Hello! Project Member:
PLEASE ONLY VOTE ONCE
Week 85 Results -
Taguchi Natsumi (36 Votes)
Funaki Musubu (19 Votes)
Haga Akane (17 Votes)
Nomura Minami (14 Votes)
Sister Wikis
Hello! Project Wiki International
Related Websites
Helping out
This is an open Wiki that anyone can edit. To write a new article, just enter the article title in the box below.
For more information please visit this help page
Hello! Project Wiki Rules
The pictures in the members pages have to be a reasonable size.
Do not re-upload pictures that have already been uploaded or posted.
Wait the date of a member's graduation to change their Honorary Titles.
Respect what others have written on the wiki.
You may either add to what others have written, make revisions to something, or begin something new on the wiki.
Use correct spelling and grammar on the wiki. Remember that what goes up on the wiki, goes up for the world to see. This is published writing, not a draft.
Use appropriate language. Do not use any language that could be interpreted as mean to others.
Any factual information must be accurate.
Do not create pages that aren't about Hello! Project or TNX. If you want to talk about a Hello! Project member, please create a blog about it.
Do not erase a users information or pictures on the members, singles and albums pages.
The Wiki is not a competition with the users, have fun with the Wiki.
Users can not categorize themselves with categories.
Do not redirect categories to the groups pages.
There can only be 3 videos on the Main Page.
Do not post comments in all caps.