Home
Talk

25
2,914pages on
this wiki
Hello! Project Wiki Announcement
The April '15 admin auditions are now in their second week--come to this forum thread to learn more about the auditionees and make your opinion known.
April 13, 2015 - J-MELO New Song Project with Morning Musume '15

The NHK World television program on Japanese music, J-MELO, is once again taking user input for the creation of a Morning Musume song. In 2013 they took in people's messages on love, and the result was the song What is LOVE?, used for a time as the program's ending theme.
This time there is no set theme--they're asking for ideas, messages, even images that might somehow inspire the song or be used on the show. The site does not make mention of who will actually be writing and composing the song.
---
April 4, 2015 - Confirmed: Tsunku's vocal cords removed

Appearing at Kinki University's opening ceremonies, Tsunku announced that after his laryngeal cancer returned last year, his vocal cords were removed and he can no longer sing or even speak. There were reports to this effect in previous months, but they went unconfirmed.
Tsunku's music career began with him primarily a singer, progressing to songwriting, then further to producing other musical acts including most of Hello! Project throughout its history.
Sources: Oricon, Arama! Japan
---
February 25, 2015 - "2015 Hello Pro Kenshuusei Unit" named with help of new Hello! Project Advisor

The actual name for the new Kenshuusei unit announced at the beginning of January has been revealed: Kobushi Factory (こぶしファクトリー). The word kobushi has multiple meanings. In this case it is supposed to represent both the coming of spring and grace of the Kobushi Magnolia (辛夷), as well as the strength of a fist (拳). Factory seems to cement it as a successor to the outgoing Berryz Koubou--koubou (工房) means workshop.
The name was apparently chosen with the assistance of Shimizu Saki, who after the cessation of Berryz Koubou activities on March 3 will take on the role of "Hello! Project Advisor", self-described as a sort of "bridge" between the staff and members. Tokunaga Chinami will also become an Advisor.
Kobushi Factory's first DVD single will be Nen ni wa Nen / Survivor, and first be sold at showings of Week End Survivor.
---
Latest H!P Releases
Singles

Albums

DVDs/Blu-ray

Photobooks
Upcoming H!P Releases
Singles

TBA

Albums

TBA

DVDs/Blu-ray

Hello! Project COUNTDOWN PARTY 2014 ~GOOD BYE & HELLO!~ - April 29, 2015
Morning Musume '14 SPECIAL EVENT IN Shinagawa - April 29, 2015
The Girls Live Vol.9 - May 13, 2015

Photobooks

TBA
Recent Concerts
Current

Upcoming
Sister Wikis
Related Websites
Helping out
This is an open Wiki that anyone can edit. To write a new article, just enter the article title in the box below.
For more information please visit this help page
Hello! Project Wiki Rules
The pictures in the members pages have to be a reasonable size.
Do not re-upload pictures that have already been uploaded or posted.
Wait the date of a member's graduation to change their Honorary Titles.
Respect what others have written on the wiki.
You may either add to what others have written, make revisions to something, or begin something new on the wiki.
Use correct spelling and grammar on the wiki. Remember that what goes up on the wiki, goes up for the world to see. This is published writing, not a draft.
Use appropriate language. Do not use any language that could be interpreted as mean to others.
Any factual information must be accurate.
Do not create pages that aren't about Hello! Project. If you want to talk about a Hello! Project member, please create a blog about it.
The Wiki is not a competition with the users, have fun with the Wiki.
Users can not categorize themselves with categories.
Do not post comments in all caps.
April 21, Coming Soon

Takagi Sayuki (18th)

April 23, Coming Soon

Ono Risa (22nd)

April 25, Coming Soon

Tanaka Anri (24th)
Note: All birthdays are based on JST Time.
Release Date: April 15, 2015
(Week 123)
Hello! Pro song you would like to hear as a certain version: "Chikyuu wa Kyou mo Ai wo Hagukumu" with Morning Musume '15

Which January-April 2015 single is your favourite? :
PLEASE ONLY VOTE ONCE
Week 122 Results -
"Chikyuu wa Kyou mo Ai wo Hagukumu" with Morning Musume '15 (146 Votes)
"Mystery Night!" with ℃-ute (114 Votes)
"Hajimete wo Keikenchuu" with Country Girls (46 Votes)
"Egao no Kimi wa Taiyou sa" with ANGERME (31 Votes)
"Romance wo Katatte" with Kobushi Factory (29 Votes)
"Tokai no Hitorigurashi" with Juice=Juice (14 Votes)
Member of the Month
Nagasawa Wakana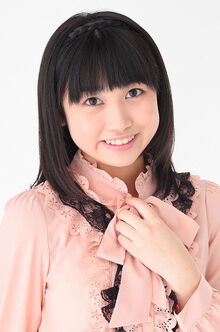 This month's featured member is former Hello Pro Egg Nagasawa Wakana.
2000 - DON'T STOP Ren'aichuu releases. (Taiyou to Ciscomoon single)