Home
Talk

25
2,898pages on
this wiki
February 25, 2015 - "2015 Hello Pro Kenshuusei Unit" named with help of new Hello! Project Advisor

The actual name for the new Kenshuusei unit announced at the beginning of January has been revealed: Kobushi Factory (こぶしファクトリー). The word kobushi has multiple meanings. In this case it is supposed to represent both the coming of spring and grace of the Kobushi Magnolia (辛夷), as well as the strength of a fist (拳). Factory seems to cement it as a successor to the outgoing Berryz Koubou--koubou (工房) means workshop.
The name was apparently chosen with the assistance of Shimizu Saki, who after the cessation of Berryz Koubou activities on March 3 will take on the role of "Hello! Project Advisor", self-described as a sort of "bridge" between the staff and members. Tokunaga Chinami will also become an Advisor.
Kobushi Factory's first DVD single will be Nen ni wa Nen / Survivor, and first be sold at showings of Week End Survivor.
---
January 2, 2015 - New Hello! Project unit formed from Kenshuusei

On January 2, during the Hello! Project 2015 WINTER concert, a new Hello! Project unit consisting of Hello Pro Kenshuusei members Fujii Rio, Hirose Ayaka, Nomura Minami, Ogawa Rena, Hamaura Ayano, Taguchi Natsumi, Wada Sakurako and Inoue Rei was announced. The group name will be revealed sometime in February and their first indie single will be released sometime in March 2015.
From March 27 to April 5, the unit will be starring in the Engeki Joshibu musical Week End Survivor alongside Sudo Maasa.
---
Latest H!P Releases
Singles

Country Girls - "Itooshikutte Gomen ne / Koi Dorobou" - March 25, 2015
Kobushi Factory - "Nen ni wa Nen / Survivor" - March 26, 2015 (DVD Single)

Albums

Hello! Pro Kenshuusei - 1 Let's say "Hello!" - February 18, 2015 (General release)

DVDs/Blu-ray

℃-ute Concert Tour 2014 Aki ~Monster~ - March 4, 2015
Engeki Joshibu "Musical Koisuru Hello Kitty" - March 4, 2015
Morning Musume '14 Live Concert in New York - March 11, 2015
S/mileage Live Tour 2014 Aki ~FULL CHARGE~ - March 18, 2015

Photobooks

Sayashi Riho - Juurokusai - March 25, 2015
Upcoming H!P Releases
Singles

℃-ute - "Tsugi no Kado wo Magare / Gamusha LIFE / The Middle Management ~Josei Chuukan Kanrishoku~" - April 1, 2015
Juice=Juice - "Wonderful World / Ça va? Ça va?" - April 8, 2015
Morning Musume '15 - "Seishun Kozou ga Naiteiru / Yuugure wa Ameagari / Ima Koko Kara" - April 15, 2015

Albums

TBA

DVDs/Blu-ray

Makino Maria - Greeting ~Makino Maria~ - March 31, 2015
Sayashi Riho - Sixteen - April 8, 2015

Photobooks

TBA
Recent Concerts
Current

Upcoming
Sister Wikis
Related Websites
Helping out
This is an open Wiki that anyone can edit. To write a new article, just enter the article title in the box below.
For more information please visit this help page
Hello! Project Wiki Rules
The pictures in the members pages have to be a reasonable size.
Do not re-upload pictures that have already been uploaded or posted.
Wait the date of a member's graduation to change their Honorary Titles.
Respect what others have written on the wiki.
You may either add to what others have written, make revisions to something, or begin something new on the wiki.
Use correct spelling and grammar on the wiki. Remember that what goes up on the wiki, goes up for the world to see. This is published writing, not a draft.
Use appropriate language. Do not use any language that could be interpreted as mean to others.
Any factual information must be accurate.
Do not create pages that aren't about Hello! Project. If you want to talk about a Hello! Project member, please create a blog about it.
The Wiki is not a competition with the users, have fun with the Wiki.
Users can not categorize themselves with categories.
Do not post comments in all caps.
March 29, Happy Birthday!

April 1, Coming Soon

April 2, Coming Soon

April 3, Coming Soon

April 4, Coming Soon
Note: All birthdays are based on JST Time.
Release Date: April 1, 2015
Release Date: April 8, 2015
Release Date: April 15, 2015
(Week 122)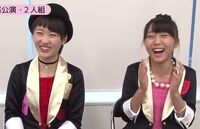 The most favorite H!P Hina Fest 2015's unit: Kudo Haruka & Murota Mizuki

Which Hello! Pro song you would like to hear as a certain version? :
PLEASE ONLY VOTE ONCE
Week 121 Results -
Kudo Haruka & Murota Mizuki (57 Votes)
Nakajima Saki, Miyazaki Yuka & Takagi Sayuki (37 Votes)
Ishida Ayumi & Sasaki Rikako (36 Votes)
Sayashi Riho, Suzuki Kanon & Wada Ayaka (25 Votes)
Iikubo Haruna, Uemura Akari & Shimamura Uta (19 Votes)
Haga Akane & Tamura Meimi (12 Votes)
Fukumura Mizuki (11 Votes)
Makino Maria (10 Votes)
Ozeki Mai (5 Votes)
Member of the Month
Umeda Erika
This month's featured member is ℃-ute graduate Umeda Erika.