June 15, 2016 - Morning Musume 13th Generation Re-recruitment

Less than three weeks since it was announced the Morning Musume '16 Shinseiki Audition ended without winners, auditions have already restarted. It is being treated as a continuation of the previous audition rather than being given an all-new name, though they sometimes refer to this as Sai Boshuu (再募集;Re-recruitment).
The new aplication deadline is August 7, 2016.
Source: Hello! Project
---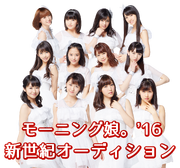 May 31, 2016 - No Morning Musume 13th Generation at This Time

It's been announced that the Morning Musume '16 Shinseiki Audition has concluded without any winners being added to the group at this time.
The Shinseiki Audition was announced this January. There's no word yet on when further auditions will be.
Source: Hello! Project
---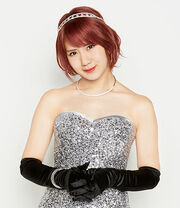 May 28, 2016 - Okai Chisato diagnosed with a vocal cord nodule

During ℃-ute's concert in Koshigaya, Okai Chisato announced that she had been diagnosed with a vocal cord nodule condition.
After the ℃-ute Okai Chisato Birthday Event 2016 on June 22, 2016, she will have the surgery and the group will perform as a 4-member line-up until she recovers.
Source: Hello! Project
---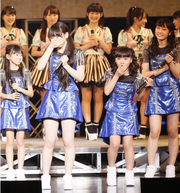 May 5, 2016 - Hello Pro Kenshuusei Public Ability Diagnosis Test results

The fourth public on-stage test, Hello! Project Kenshuusei Happyoukai 2016 ~Haru no Koukai Jitsuryoku Shindan Test~, took place on May 5, 2016 at Nakano Sun Plaza.
The winners of the public vote are 24th generation member Kasahara Momona and 25th generation member Kiyono Momohime (each with 228 votes).
Awarded by judges were: 23rd generation member Takase Kurumi (Singing Award), 24th generation members Akiyama Mao (Dance Award) and 19th generation member Inoue Hikaru (Special Award). Takase Kurumi is also runner-up to Kasahara Momona and Kiyono Momohime (receiving 225 fan votes).
---
Singles

Albums

DVDs/Blu-ray

Photobooks
Singles

Albums

DVDs/Blu-ray

Photobooks
Current

Upcoming
Sister Wikis
Related Websites
July 1, Happy Birthday!

July 2, Coming Soon

July 3, Coming Soon

July 4, Coming Soon

July 5, Coming Soon

July 7, Coming Soon
Note: All birthdays are based on JST Time.
Release Date: May 11, 2016
Category: H!P's Member Hair
Weekly Results
(Part 2) Medium Hair: - Ikuta Erina & Oda Sakura
Ikuta Erina (62 Votes)
Oda Sakura (62 Votes)
Murota Mizuki (23 Votes)
Katsuta Rina (12 Votes)
Haga Akane (5 Votes)
Member of the Month
Katsuta Rina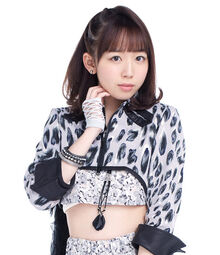 This month's featured member is ANGERME Katsuta Rina
2009 - Shochuu Omimai Moushiagemasu releases. (℃-ute single)
Helping out
This is an open Wiki that anyone can edit. To write a new article, just enter the article title in the box below.
For more information please visit the Helping out and Guidelines pages.