Home
Talk

24
2,206pages on
this wiki
Recent Hello! Project News
August 7, 2014 - Country Musume Shin Member Audition finishes without winners

It was announced on the news section of the Country Shin Musume Shin Member Audition website that the audition has come to a close, and that at this time no appropriate new members had been found. It was not stated whether they will try again to restart Country Musume.
This year's other major Hello! Project audition, the Morning Musume '14 (Golden) Audition!, is still ongoing.
---
August 2, 2014 - Berryz Koubou on hiatus starting 2015

On August 2, during the Hello! Project 2014 SUMMER ~KOREZO!~ show at Nakano Sun Plaza, Shimizu Saki announced that Berryz Koubou will be on indefinite hiatus after the conclusion of their spring 2015 tour.
All indications are that this is the end of Berryz Koubou as we know it; "indefinite hiatus" merely being a soft choice of wording.
By spring 2015 Berryz Koubou will have been around 11 years, and it will have been nearly 13 years since its members started as Hello! Project Kids.
---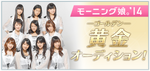 July 8, 2014 - Morning Musume and Country Musume audition update

On July 7 it was announced on the respective audition websites for Morning Musume '14 (Golden) Audition! and Country Musume Shin Member Audition that the second round of each had completed. Hopefuls continuing on to the third round will be contacted.
---
Latest H!P Releases
Singles

Albums

DVDs/Blu-ray

Photobooks
Upcoming H!P Releases
Singles

Juice=Juice - Senobi / Date ja nai yo Uchi no Jinsei wa - October 1, 2014
Morning Musume '14 - TIKI BUN / Shabadaba Doo~ / Mikaeri Bijin - October 15, 2014

Albums

TBA

DVDs/Blu-ray

Morning Musume '14 Concert Tour Haru ~Evolution~ - September 10, 2014
℃-ute Cutie Circuit ~First Trip to Taipei~ - September 10, 2014
Hagiwara Mai - Again - September, 2014

Photobooks

TBA
Recent Concerts
Current

Upcoming
2011 - S/mileage 2011 Limited Live "S/mile Factory" DVD is released. (S/mileage concert)
August 25, Coming Soon

August 26, Coming Soon

August 28, Coming Soon

August 29, Coming Soon

August 31, Coming Soon

Note: All birthdays are based on JST Time.
Recent Music Videos
Release Date: August 20, 2014
Hello! Poll - Member of the Week (Week 102)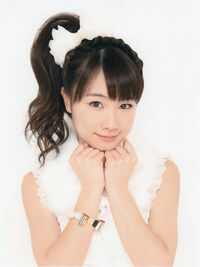 Favorite Hello! Project Member's Hairstyle on Stage - Ishida Ayumi's Crown Braid
Favorite Hello! Project Member's Character:
PLEASE ONLY VOTE ONCE
Week 101 Results -
Ishida Ayumi's Crown Braid (68 Votes)
Natsuyaki Miyabi's Long Straight Hair (30 Votes)
Iikubo Haruna's High Pig Tails (17 Votes)
Sugaya Risako's French Braid (16 Votes)
Suzuki Kanon's High Pony Tail (16 Votes)
Takagi Sayuki's Side High Pony (10 Votes)
Nakajima Saki's Bun (9 Votes)
Tsugunaga Momoko's Pigtails (8 Votes)
Sister Wikis
Related Websites
Helping out
This is an open Wiki that anyone can edit. To write a new article, just enter the article title in the box below.
For more information please visit this help page
Hello! Project Wiki Rules
The pictures in the members pages have to be a reasonable size.
Do not re-upload pictures that have already been uploaded or posted.
Wait the date of a member's graduation to change their Honorary Titles.
Respect what others have written on the wiki.
You may either add to what others have written, make revisions to something, or begin something new on the wiki.
Use correct spelling and grammar on the wiki. Remember that what goes up on the wiki, goes up for the world to see. This is published writing, not a draft.
Use appropriate language. Do not use any language that could be interpreted as mean to others.
Any factual information must be accurate.
Do not create pages that aren't about Hello! Project or TNX. If you want to talk about a Hello! Project member, please create a blog about it.
Do not erase a users information or pictures on the members, singles and albums pages.
The Wiki is not a competition with the users, have fun with the Wiki.
Users can not categorize themselves with categories.
Do not redirect categories to the groups pages.
There can only be 3 videos on the Main Page.
Do not post comments in all caps.