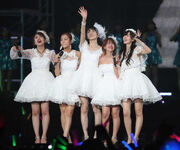 June 12, 2017 - ℃-ute have disbanded after 12 years

On June 12, a day after their 12th anniversary, ℃-ute held the ℃-ute Last Concert in Saitama Super Arena ~Thank you team℃-ute~. The five members Yajima Maimi, Nakajima Saki, Suzuki Airi, Okai Chisato, and Hagiwara Mai performed a total of 36 songs. Saitama Super Arena was filled with 20,000 fans, including former members Umeda Erika, Murakami Megumi, and Arihara Kanna. Another 10,000 watched the concert from live theater viewings nationwide and internationally.
Former Hello! Project leaders Nakazawa Yuko and Michishige Sayumi and current Hello! Project leader Wada Ayaka made a surprise appearance halfway through the concert to offer their congratulations to the group. Also, after delivering their last messages to the fans in the encore, ℃-ute sang "To Tomorrow", at the end of which 47 members of Hello! Project came on stage as a send-off.
℃-ute returned for a double encore and when they left the stage, a digital clock reading the date and "9:10 PM" was displayed, marking the time they officially disbanded.
---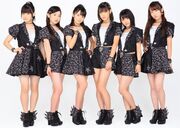 June 9, 2017 - Future activities of Country Girls

On June 9, it was announced that after Tsugunaga Momoko's graduation from the group, Country Girls will mainly have their activities during school holidays and long vacations. The group will keep on performing at Hello! Project concerts and releasing new songs, however, they will probably be only released digitally.
Simultaneously with their Country Girls activities, Morito Chisaki, Yanagawa Nanami and Funaki Musubu will move to another Hello! Project group, while Yamaki Risa and Ozeki Mai are going to focus on their studies.
Source: Hello! Project, UP-FRONT LINK
---
May 27, 2017 - Future plans for each ℃-ute member have been announced

On May 27, each ℃-ute member announced on their blog what their future plans are after the group disbands and they all leave Hello! Project.
Yajima Maimi will join M-line club and wants to try out various activities including acting. Nakajima Saki wants to become an actress and also continue working in satoyama-related activities and PR. Suzuki Airi will become a solo singer, which she will start next spring. Okai Chisato wants to focus on appearing on variety TV shows. Hagiwara Mai will retire from showbiz and study English overseas.
Singles

Albums

DVDs/Blu-ray

Photobooks
Singles

Albums

DVDs/Blu-ray

Photobooks
Current

Morning Musume '17 Concert Tour Haru ~THE INSPIRATION!~ (March 18 - August 13)
Upcoming
Sister Wikis
Related Websites
June 24, Happy Birthday!

June 25, Coming Soon

June 27, Coming Soon

June 28, Coming Soon

June 29, Coming Soon

July 1, Coming Soon
Note: All birthdays are based on JST Time.
Release Date: June 21, 2017
Release Date: June 14, 2017
Favorite H!P Kids member (2017 line-up):
Results - Favorite Kobushi Factory A-side (2015-2016)
Nen ni wa Nen (Nen'iri Ver.) (50 Votes)
Dosukoi! Kenkyo ni Daitan (41 Votes)
Sakura Night Fever (22 Votes)
Chotto Guchoku ni! Chototsumoushin (14 Votes)
Ora wa Ninkimono (12 Votes)
Osu! Kobushi Tamashii (11 Votes)
Samba! Kobushi Janeiro (9 Votes)
Ramen Daisuki Koizumi-san no Uta (8 Votes)
Bacchikoi Seishun! (5 Votes)
Member of the Month
Haga Akane
This month's featured member is Morning Musume '17's 12th generation members Haga Akane.
2009 - DON'T SAY GOOD-BYE releases. (Melon Kinenbi, Beat Crusaders single)
2009 - Seishun Bus Guide Single V is released. (Berryz Koubou single)
2012 - "S/mileage Best Album Kanzenban 1" Hatsubai Kinen Special Concert is held and recorded. (S/mileage concert)
Helping out
This is an open Wiki that anyone can edit. To write a new article, just enter the article title in the box below.
For more information please visit the Helping out and Guidelines pages.
Ad blocker interference detected!
Wikia is a free-to-use site that makes money from advertising. We have a modified experience for viewers using ad blockers

Wikia is not accessible if you've made further modifications. Remove the custom ad blocker rule(s) and the page will load as expected.