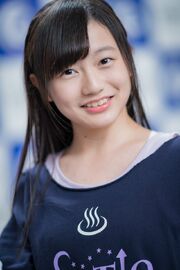 February 9, 2018 - Goto Sayaka leaves Hello Pro Kenshuusei

On February 9, the official Hello! Project fanclub website updated the list of members participating in the upcoming Hello! Project Kenshuusei Happyoukai 2018 3gatsu ~Sakura~ concert series, running from March 11 to March 18.
It was noted that Goto Sayaka had decided to end her training within the program and therefore would not be participating in the concerts, or any future Hello! Project-related activities.
The announcement came as a shock to fans, as she had only joined two months ago, making her have the quickest withdrawal since Sezaki Azusa in 2009.
Goto Sayaka was introduced, and last performed at the Hello! Project Kenshuusei Happyoukai 2017 12gatsu ~Conti→New!~ concert on December 10, 2017. She was previously a member of the Oita local idol group SPATIO, which she graduated from at the beginning of November 2017 in order to continue on in the Hello! Project Shin Member Audition and accept her invitation to join Hello Pro Kenshuusei.
Source: Hello! Project Fanclub
---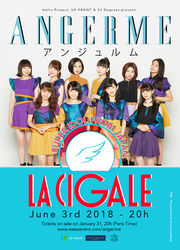 January 28, 2018 - ANGERME announce their first overseas concert

On January 28, ANGERME announced during the Hello! Project 20th Anniversary!! Hello! Project 2018 WINTER ~FULL SCORE~ concert that they would be holding their first overseas concert in Paris, France on June 3.
The concert will take place at La Cigale, where ℃-ute and Juice=Juice have also performed during their visits to France.
Source: Hello! Project
---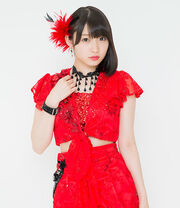 January 12, 2018 - Miyamoto Karin hospitalized due to neck injury (UPDATED)

On January 12, an announcement was posted to the Hello! Project website stating that Juice=Juice member Miyamoto Karin had been hospitalized due to neck and head pain after twisting her neck during Hello! Project 20th Anniversary!! Hello! Project 2018 WINTER concert rehearsals on January 3. As a result, she was absent from the January 3 to January 7 concerts, which was previously reported due to "poor health".
Although her pain has improved over the past week, she has been having hearing sensitivity. The hospital referred her to a specialist who suspects she may have developed Bell's palsy, a type of paralysis that affects the facial muscles and generally lasts between 2 weeks to 6 months. She will be hospitalized for a week and absent from the upcoming January 13 and January 14 winter concerts. Her future activities will be decided based on the results of her doctor's findings.
January 18 UPDATE: It was announced on the Hello! Project website that Miyamoto was discharged from hospital on January 15 and was gradually resuming activities. In a consultation with the doctor and her parents, it was decided it was necessary to continue watching over her progress after being medically treated. It was also decided that she would still be absent from the winter tour concerts on January 20 and 21, and she will instead make her return to performance at the Juice=Juice LIVE GEAR 2018 ~Go ahead~ starting on January 25. Miyamoto will continue to readjust in order to restart all live activities.
Source: Hello! Project, Hello! Project (Update)
Singles

Albums

DVDs/Blu-rays

Photobooks
Singles

Kobushi Factory - Kore Kara da! / Ashita Tenki ni Naare - March 28, 2018
Juice=Juice - TBA - April 18, 2018

Albums

None

DVDs/Blu-rays

JK Ninja Girls - March 7, 2018
Makino Maria - Blanc - March 7, 2018
Bokutachi Karen na Shounen Gasshoudan - March 14, 2018
The Girls Live Vol.41 - March 14, 2018
Country Girls 3 Shuunen Kinen Event ~Minna Genki Shiteta?~ - March 14, 2018

Photobooks

None
Current

Juice=Juice LIVE GEAR 2018 ~Go ahead~ (January 25 - June 1)
Upcoming
Sister Wikis
Related Websites
February 26, Happy Birthday!

February 28, Coming Soon

March 2, Coming Soon

March 3, Coming Soon

March 4, Coming Soon
Note: All birthdays are based on JST Time.
Release Date: February 21, 2018
Release Date: January 28, 2018
Release Date: January 28, 2018
Release Date: December 24, 2017
Dancer Of The Year: Soloist / Promoted Trainees
Akiyama Mao (30 Votes)
Asakura Kiki (26 Votes)
Tanimoto Ami (4 Votes)
Kishimoto Yumeno (21 Votes)
Onoda Saori (12 Votes)
Yamagishi Riko (10 Votes)
Ogata Risa (3 Votes)
Niinuma Kisora (3 Votes)
Ono Mizuho (2 Votes)
Member of the Month
Yamagishi Riko
Featured member of February 2018 is Tsubaki Factory's leader Yamagishi Riko.
2012 - Hatsukoi Cider / DEEP MIND Event V is released. (Buono! single)
2014 - Berryz Koubou Special Best Vol.2 releases. (Berryz Koubou best album)
Helping out
This is an open Wiki that anyone can edit. To write a new article, just enter the article title in the box below.
For more information please visit the Helping out and Guidelines pages.