May 22, 2017 - Buono! have disbanded

On May 22, 15,000 fans gathered at Yokohama Arena for Buono!'s last concert Buono! Live 2017 ~Pienezza!~.
Suzuki Airi will be leaving Hello! Project when ℃-ute disbands on June 12, leader Tsugunaga Momoko will also be graduating and retiring from the entertainment industry on June 30 to become a school teacher, and Natsuyaki Miyabi formed a new group, PINK CRES., last April. As a result, Buono! has effectively disbanded.
Source: BARKS
---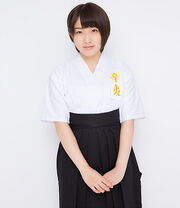 May 12, 2017 - Fujii Rio to graduate from Kobushi Factory and Hello! Project

On May 12, it was announced that Fujii Rio will be graduating from Kobushi Factory and Hello! Project at the end of the Hello! Project 2017 SUMMER concert tour.
Fujii, who is currently in her first year of university, has decided she wants to continue her old dream of becoming a teacher or nurse. In order to focus on her studies, she has decided to graduate at the end of summer vacation and the start of the new school semester.
Source: Hello! Project, UP-FRONT LINK
---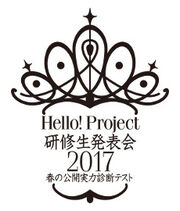 May 5, 2017 - New Hello Pro Kenshuusei section, leader, and debuts announced at the spring test

On May 5, during the Hello! Project Kenshuusei Happyoukai 2017 ~Haru no Koukai Jitsuryoku Shindan Test~, UP-FRONT PROMOTION representative director Nishiguchi Takeshi made a surprise appearance on stage and made several announcements.
Nishiguchi first announced that Takase Kurumi and Kiyono Momohime have been selected to be in a new Hello Pro Kenshuusei section just for those who aim to debut in theater, different from Engeki Joshibu. More details will be revealed at a later date.
The second announcement was that Inoue Hikaru has been appointed as the new leader of Hello Pro Kenshuusei.
Lastly, Ichioka Reina, Danbara Ruru, and Kawamura Ayano will debut as Hello! Project members in the near future. It will first depend on a sit down discussion with their parents to decide if they want to form a new unit or join an existing one.
Source: Hello! Project, Kumai Yurina Blog, Hirose Ayaka Blog
---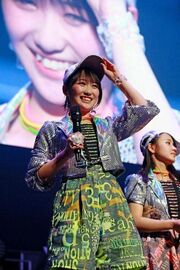 April 29, 2017 - Kudo Haruka to graduate from Morning Musume '17 and Hello! Project

On April 29, during the daytime show of Morning Musume '17 Concert Tour Haru ~THE INSPIRATION!~, 10th generation member Kudo Haruka made a sudden announcement that she will be graduating from Morning Musume '17 and Hello! Project at the end of their fall 2017 tour.
Kudo first joined Hello! Project as a Hello Pro Egg in March 2010 and joined Morning Musume in September 2011. During these seven years, she has had the opportunity to star in several Gekiharo and Engeki Joshibu theatrical productions and found it enjoyable. Now after fulfilling her dream of joining Morning Musume, she wants to devote herself to acting.
Source: Hello! Project, UP-FRONT LINK
Singles

Albums

DVDs/Blu-ray

Photobooks
Singles

Kobushi Factory - Shalala! Yareru Hazu sa / Ee ja nai ka Ninja nai ka - June 14, 2017
Tsubaki Factory - TBA - July 26, 2017

Albums

Tsugunaga Momoko - Tsugunaga Momoko Idol 15 Shuunen Kinen Album ♡Arigatou Otomomochi♡ - June 21, 2017

DVDs/Blu-ray

The Girls Live Vol.32 - June 14, 2017
Morito Chisaki - TBA - June 28, 2017
Hello! Project Hina Fest 2017 <℃-ute Premium> - July 12, 2017
Hello! Project Hina Fest 2017 <Morning Musume '17 Premium> - July 12, 2017

Photobooks

TBA
Current
Upcoming
Sister Wikis
Related Websites
May 24, Happy Birthday!

May 28, Coming Soon

May 29, Coming Soon

May 31, Coming Soon
Note: All birthdays are based on JST Time.
Release Date: April 26, 2017
Release Date: March 29, 2017
Favorite Kobushi Factory A-side (2015-2016):
Results - Favorite Country Girls A-side (2015-2016)
Ranrarun ~Anata ni Muchuu~ (43 Votes)
Boogie Woogie LOVE (40 Votes)
Koi wa Magnet (36 Votes)
Dou Datte Ii no (26 Votes)
Itooshikutte Gomen ne (18 Votes)
Wakatteiru no ni Gomen ne (14 Votes)
Tamerai Summer Time (9 Votes)
Koi Dorobou (5 Votes)
Namida no Request (4 Votes)
Member of the Month
Kanazawa Tomoko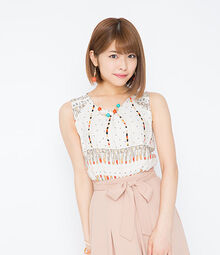 This month's featured member is Juice=Juice's sub-leader [[Kanazawa Tokomo].
2000 - DVD The Ki Ao Aka is released. (Kiiro 5 / Aoiro 7 / Akagumi 4)
2006 - Issai Gassai Anata ni∮A.ge.ru♪ Single V is released. (v-u-den single)
Helping out
This is an open Wiki that anyone can edit. To write a new article, just enter the article title in the box below.
For more information please visit the Helping out and Guidelines pages.
Ad blocker interference detected!
Wikia is a free-to-use site that makes money from advertising. We have a modified experience for viewers using ad blockers

Wikia is not accessible if you've made further modifications. Remove the custom ad blocker rule(s) and the page will load as expected.