Hello! Project Tanjou 15 Shuunen Kinen Live 2013 Fuyu ~Viva! Bravo!~ Kanzenban
Comment

1
Share
Ad blocker interference detected!
Wikia is a free-to-use site that makes money from advertising. We have a modified experience for viewers using ad blockers

Wikia is not accessible if you've made further modifications. Remove the custom ad blocker rule(s) and the page will load as expected.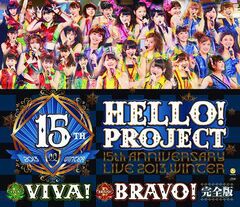 Hello! Project Tanjou 15 Shuunen Kinen Live 2013 Fuyu ~Viva! Bravo!~ Kanzenban (Hello! Project 誕生15周年記念ライブ2013冬 ~ビバ!・ブラボー!~完全版) is a Blu-ray released by Hello! Project. It was released on April 24, 2013 under the hachama label. It features footage from their winter 2013 concert tours, as well as additional footage. This Blu-ray sold a total of 3,052 copies.
Tracklist
Edit
Disc 1 Tracklist

Disc 2 Tracklist

Extra Footage 1 (from 1/20 Nagoya afternoon Bravo! show)
Extra Footage 2 (from 1/20 Nagoya afternoon Bravo! show)
Members Featured
Edit
External Links
Edit