Ad blocker interference detected!
Wikia is a free-to-use site that makes money from advertising. We have a modified experience for viewers using ad blockers

Wikia is not accessible if you've made further modifications. Remove the custom ad blocker rule(s) and the page will load as expected.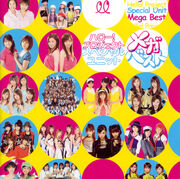 Hello! Project Special Unit Mega Best (ハロー! プロジェクト スペシャルユニット メガベスト) is a best album featuring various short-lived Hello! Project units. The album was released on December 10, 2008.
Tracklist
Edit
Morning Musume Single Medley ~Hawaiian~ (モーニング娘。シングルメドレー ~ハワイアン~) - Takagi Boo to Morning Musume, Coconuts Musume, Fujimoto Miki, Ishii Rika
SHALL WE LOVE? - Gomattou
Haha to Musume no Duet Song (母と娘のデュエットソング) - Okei-san to Abe Natsumi (Morning Musume)
Iku ZYX! FLY HIGH (行くZYX! FLY HIGH) - ZYX
SEXY NIGHT ~Wasurerarenai Kare~ (SEXY NIGHT ~忘れられない彼~) - ROMANS
FIRST KISS - Aa!
Ren'ai Sentai Shitsu Ranger (恋愛戦隊シツレンジャー) - Nochiura Natsumi
ALL FOR ONE & ONE FOR ALL! - H.P. All Stars
HELP!! ~Ecomoni no Acchii Chikyuu wo Samasunda.~ (HELP!! ~エコモニ。の熱っちぃ地球を冷ますんだっ。~) - Ecomoni
Suki Sugite Baka Mitai (好きすぎて バカみたい) - DEF.DIVA
Thanks! - GAM
Minna no Ki (みんなの木) - Tomoiki Ki wo Uetai
Bokura ga Ikiru MY ASIA (僕らが生きる MY ASIA) - Morning Musume Tanjou 10nen Kinentai
Shouri no BIG WAVE!!! (勝利のBIG WAVE!!!) - Athena & Robikerottsu
16sai no Koi Nante (16歳の恋なんて) - Abe Natsumi & Yajima Maimi (℃-ute)
C\C (Cinderella\Complex) (C\C (シンデレラ\コンプレックス)) - High-King
Morning Musume Single Medley ~Hawaiian~ (モーニング娘。シングルメドレー ~ハワイアン~) - Takagi Boo to Morning Musume, Coconuts Musume, Fujimoto Miki, Ishii Rika
SHALL WE LOVE? - Gomattou
Haha to Musume no Duet Song (母と娘のデュエットソング) - Okei-san to Abe Natsumi (Morning Musume)
Iku ZYX! FLY HIGH (行くZYX! FLY HIGH) - ZYX
SEXY NIGHT ~Wasurerarenai Kare~ (SEXY NIGHT ~忘れられない彼~) - ROMANS
FIRST KISS - Aa!
Ren'ai Sentai Shitsu Ranger (恋愛戦隊シツレンジャー) - Nochiura Natsumi
ALL FOR ONE & ONE FOR ALL! - H.P. All Stars
HELP!! ~Ecomoni no Acchii Chikyuu wo Samasunda.~ (HELP!! ~エコモニ。の熱っちぃ地球を冷ますんだっ。~) - Ecomoni
Suki Sugite Baka Mitai (好きすぎて バカみたい) - DEF.DIVA
Thanks! - GAM
Minna no Ki (みんなの木) - Tomoiki Ki wo Uetai
Bokura ga Ikiru MY ASIA (僕らが生きる MY ASIA) - Morning Musume Tanjou 10nen Kinentai
Shouri no BIG WAVE!!! (勝利のBIG WAVE!!!) - Athena & Robikerottsu
16sai no Koi Nante (16歳の恋なんて) - Abe Natsumi & Yajima Maimi (°C-ute)
C\C (Cinderella\Complex) (C\C (シンデレラ\コンプレックス)) - High-King
Featured Members
Edit
| Week Rank | Sales |
| --- | --- |
| 132 | 1.349 |
External links
Edit