Ad blocker interference detected!
Wikia is a free-to-use site that makes money from advertising. We have a modified experience for viewers using ad blockers

Wikia is not accessible if you've made further modifications. Remove the custom ad blocker rule(s) and the page will load as expected.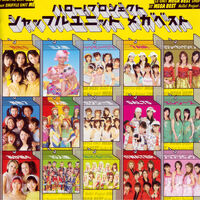 Hello! Project Shuffle Unit Mega Best is a best album featuring Hello! Project Shuffle Units. The album reached #164 on the Oricon charts and charted for one week.
Tracklist
Edit
CD
DVD
Kiiroi Osora de BOOM BOOM BOOM (黄色いお空で BOOM BOOM BOOM) - Kiiro 5
Aoi Sports Car no Otoko (青いスポ-ツカ-の男) - Aoiro 7
Akai Nikkichou (赤い日記帳) - Akagumi 4
Chu! Natsu Par~ty (チュッ! 夏パ~ティ) - 3nin Matsuri
Summer Reggae! Rainbow (サマーれげぇ! レインボー) - 7nin Matsuri
Dancing! Natsu Matsuri (ダンシング! 夏祭り) - 10nin Matsuri
Shiawase Beam! Suki Suki Beam! (幸せビーム! 好き好きビーム!) - Happy♡7
Shiawase Desu ka? (幸せですか?) - Sexy 8
Shiawase Kyouryuu Ondo (幸せきょうりゅう音頭) - Odoru♡11
Kowarenai Ai ga Hoshii no (壊れない愛がほしいの) - 7AIR
GET UP! Rapper (GET UP! ラッパー) - SALT5
BE ALL RIGHT! - 11WATER
Onna, Kanashii, Otona (オンナ、哀しい、オトナ) - Sexy Otonajan
Inshouha Renoir no You ni (印象派 ルノアールのように) - Elegies
Hitoshirezu Mune wo Kanaderu Yoru no Aki (人知れず 胸を奏でる 夜の秋) - Puripuri Pink
Featured Members
Edit