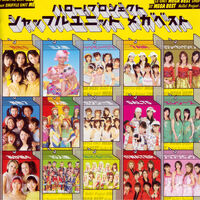 Hello! Project Shuffle Unit Mega Best is a best album featuring Hello! Project Shuffle Units. The album reached #164 on the Oricon charts and charted for one week.
Tracklist
Edit
CD
DVD
Kiiroi Osora de BOOM BOOM BOOM (黄色いお空で BOOM BOOM BOOM) - Kiiro 5
Aoi Sports Car no Otoko (青いスポ-ツカ-の男) - Aoiro 7
Akai Nikkichou (赤い日記帳) - Akagumi 4
Chu! Natsu Par~ty (チュッ! 夏パ~ティ) - 3nin Matsuri
Summer Reggae! Rainbow (サマーれげぇ! レインボー) - 7nin Matsuri
Dancing! Natsu Matsuri (ダンシング! 夏祭り) - 10nin Matsuri
Shiawase Beam! Suki Suki Beam! (幸せビーム! 好き好きビーム!) - Happy♡7
Shiawase Desu ka? (幸せですか?) - Sexy 8
Shiawase Kyouryuu Ondo (幸せきょうりゅう音頭) - Odoru♡11
Kowarenai Ai ga Hoshii no (壊れない愛がほしいの) - 7AIR
GET UP! Rapper (GET UP! ラッパー) - SALT5
BE ALL RIGHT! - 11WATER
Onna, Kanashii, Otona (オンナ、哀しい、オトナ) - Sexy Otonajan
Inshouha Renoir no You ni (印象派 ルノアールのように) - Elegies
Hitoshirezu Mune wo Kanaderu Yoru no Aki (人知れず 胸を奏でる 夜の秋) - Puripuri Pink
Featured Members
Edit
Ad blocker interference detected!
Wikia is a free-to-use site that makes money from advertising. We have a modified experience for viewers using ad blockers

Wikia is not accessible if you've made further modifications. Remove the custom ad blocker rule(s) and the page will load as expected.