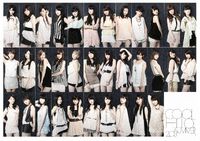 Hello! Project 2013 SUMMER COOL HELLO! ~Mazekoze!~ (Hello!Project 2013 SUMMER COOL HELLO!~マゼコーゼ!~) is Hello! Project's annual summer concert tour. The tour was announced on April 10, 2013 and the tour took place from July 27 through August 31, 2013.
This concert is part of two concert series:
Hello! Project 2013 SUMMER COOL HELLO! ~Mazekoze!~
The DVDs for both Sorezore! and Mazekoze! were released on November 27, 2013, as well as a Blu-ray combining both.
Tracklist
Edit
The following performances are not featured in the DVD.
Featured Members
Edit
Most Kenshuusei will alternate within each city. Kaneko, Tanabe, Yoshihashi, Hamaura, Taguchi, Ogawa, Murota, Nomura and Kaga are currently performing in all shows.
All of the members who performed "Ren'ai Hunter" are in Team Okai.
Concert Schedule
Edit
Date
Venue
Prefecture
Doors Open
Concert Starts
7/28
ORIX Theater
Osaka
13:30
14:30
17:00
18:00
8/04
Nakano Sun Plaza
Tokyo
10:30
11:30
17:30
18:30
8/10
Nippon Tokushu Togyo Shimin Kaikan Forest Hall
Aichi
17:30
18:30
8/11
13:30
14:30
8/17
Nakano Sun Plaza
Tokyo
17:30
18:30
8/18
14:00
15:00
8/24
Fukuoka Shimin Kaikan Dai Hall
Fukuoka
17:00
18:00
8/29
Sendai Sun Plaza Hall
Miyagi
17:30
18:30
External Links
Edit
Ad blocker interference detected!
Wikia is a free-to-use site that makes money from advertising. We have a modified experience for viewers using ad blockers

Wikia is not accessible if you've made further modifications. Remove the custom ad blocker rule(s) and the page will load as expected.