Hello! Project 2011 Winter ~Kangei Shinsen Matsuri~ Kanzenban
Comments

0
Share
Ad blocker interference detected!
Wikia is a free-to-use site that makes money from advertising. We have a modified experience for viewers using ad blockers

Wikia is not accessible if you've made further modifications. Remove the custom ad blocker rule(s) and the page will load as expected.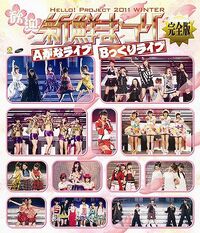 Hello! Project 2011 WINTER ~Kangei Shinsen Matsuri~ Kanzenban (Hello! Project 2011 WINTER ~歓迎新鮮まつり~ 完全版) is a Blu-ray released by Hello! Project. It was released on May 18, 2011. It features footage from their winter 2011 concert tours, as well as additional footage. The Blu-ray sold a total of 2,472 copies.
Tracklist
Edit
Bluray 1 Tracklist

Hello! Project 2011 Winter ~Kangei Shinsen Matsuri~ A gana Live (filmed on January 9, 2011 at Nakano Sunplaza)

Extra Footage
Uwaki na Honey Pie (浮気なハニーパイ) - Petitmoni V
GET UP! Rapper (GET UP! ラッパー) - ZYX-α
MC3 - New Year money lottery
DON'T STOP Ren'aichuu (DON'T STOP 恋愛中) - Aa!
Zettai Tokeru Mondai X = ♥ (絶対解ける問題X=♥) - Tanpopo#
Ai ~Suite Room~ (愛~スイートルーム~) - Zoku・v-u-den
SHALL WE LOVE? - High-King
Kioku no Meiro (記憶の迷路) - High-King
Magical Future! (マジカルフューチャー!) - Berryz Koubou
Seishun Song (青春ソング) - Berryz Koubou & ℃-ute
Bluray 2 Tracklist

Hello! Project 2011 Winter ~Kangei Shinsen Matsuri~ B kkuri Live (filmed on January 8, 2011 at Nakano Sunplaza)

Extra Footage
Featured Members
Edit
External Links
Edit