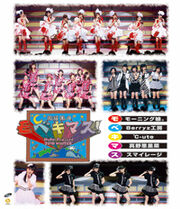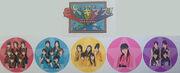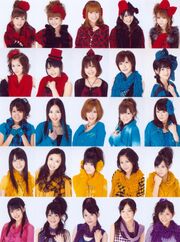 Hello! Project 2010 WINTER Kachou Fuugetsu ~Mobekimasu!~
was
Hello! Project
's winter 2010 concert tour that featured its main artists. The concert was filmed on January 9, 2010 at Nakano Sunplaza. The DVD was released on April 14, 2010 and sold a total of 9,012 copies. The Blu-ray was released on August 4, 2010 and sold a total 1,328 copies.
The concert title comes from the first parts of each artist name; Morning Musume, Berryz Koubou, ℃(ki)-ute, Mano Erina, and S(su)/mileage.
Tracklist
Edit
OPENING
VTR - Member Introduction
Suki-chan - S/mileage
Love&Peace=Paradise - Mano Erina
Lucky Aura - Mano Erina
MC
SHOCK! - ℃-ute (with Kitahara Sayaka, Sainen Mia, Maeda Irori)
EVERYDAY Zekkouchou!! - ℃-ute (with Kikkawa Yuu, Kitahara Sayaka, Mori Saki)
Tokaikko Junjou - ℃-ute
MC
Otakebi Boy WAO! - Berryz Koubou
HAPPY! Stand Up - Berryz Koubou
Rival - Berryz Koubou
MC
Manopiano - Mano Erina
Otona ni Narutte Muzukashii!!! - S/mileage
Onna ga Medatte Naze Ikenai - Morning Musume
Subete wa Ai no Chikara - Morning Musume
Ambitious! Yashinteki de Ii jan - Morning Musume
Kimagure Princess - Morning Musume
MC
Medley
Seishun Song - ℃-ute
Ryuusei Boy - Berryz Koubou
Souda! We're ALIVE - Morning Musume
MC
Featured Members
Edit
Tour Schedule
Edit
Date
Time
Prefecture
Venue
January 2, 2010
18:00
Tokyo
Nakano Sunplaza
January 3, 2010
11:30
15:00
18:30
January 4, 2010
14:00
18:00
January 9, 2010
14:00
18:00
January 10, 2010
13:30
17:30
January 16, 2010
15:00
Osaka
Osaka Kousei Nenkin Kaikan
18:30
January 23, 2010
15:00
Aichi
Chukyo University Center for Culture & Arts
18:30
External Links
Edit
Ad blocker interference detected!
Wikia is a free-to-use site that makes money from advertising. We have a modified experience for viewers using ad blockers

Wikia is not accessible if you've made further modifications. Remove the custom ad blocker rule(s) and the page will load as expected.