Hello! Project 2010 WINTER Kachou Fuugetsu ~Shuffle Date~
Comments

0
Share
Ad blocker interference detected!
Wikia is a free-to-use site that makes money from advertising. We have a modified experience for viewers using ad blockers

Wikia is not accessible if you've made further modifications. Remove the custom ad blocker rule(s) and the page will load as expected.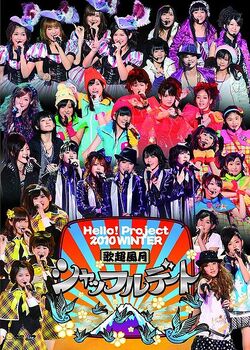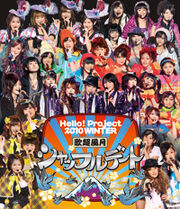 Hello! Project 2010 WINTER Kachou Fuugetsu ~Shuffle Date~ was Hello! Project's winter 2010 concert tour that featured its special units. It was filmed on January 8, 2010, at Nakano Sunplaza. The DVD was released on March 31, 2010 and sold a total of 8,411 copies. The Blu-ray was released on August 4, 2010 and sold a total of 1,190 copies.
Tracklist
Edit
OPENING
Uwaki na Honey Pie (浮気なハニーパイ)
VTR - Member Introduction
Pen Pen Kyoudai (ペン ペン 兄弟) - Shin Minimoni
Mini Strawberry Pie (ミニ。ストロベリ~パイ) - Shin Minimoni
Going On! - Guardians 4
MC
FIRST KISS - Aa!
Yume to Genjitsu (夢と現実) - Aa!
Pira! Otome no Negai (ピラッ! 乙女の願い) - Petitmoni V
Chokotto LOVE (ちょこっとLOVE) - Petitmoni V
MC
Oujisama to Yuki no Yoru (王子様と雪の夜) - Tanpopo#
Umbrella (アンブレラ) - Tanpopo#
Bravo☆Bravo - Buono!
Ren'ai♥Rider (恋愛♥ライダー) - Buono!
BE ALL RIGHT! - Niigaki Risa, Junjun, Linlin, Tokunaga Chinami, Okai Chisato, Hagiwara Mai, Mano Erina, S/mileage, Saho Akari
MC
Suki Sugite Baka Mitai (好きすぎて バカみたい) - Michishige Sayumi, Tanaka Reina, Sudo Maasa, Yajima Maimi
LOVE LIKE CRAZY - Takahashi Ai, Kamei Eri, Shimizu Saki
Shiroi TOKYO (白いTOKYO) - ZYX-α
Iku ZYX! FLY HIGH (行くZYX! FLY HIGH) - ZYX-α
ONLY YOU - Zoku v-u-den
Koisuru♡Angel♡Heart (恋する♡エンジェル♡ハート) - Zoku v-u-den
DESTINY LOVE - High-King
DIAMONDS - High-King
C\C (Cinderella\Complex) (C\C )シンデレラ\コンプレックス)) - High-King
MC
Ren'ai Revolution 21 (恋愛レボリューション21)
Featured Members
Edit
External Links
Edit