Ad blocker interference detected!
Wikia is a free-to-use site that makes money from advertising. We have a modified experience for viewers using ad blockers

Wikia is not accessible if you've made further modifications. Remove the custom ad blocker rule(s) and the page will load as expected.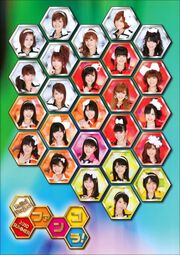 Hello! Project 2010 Summer ~Fankora!~ (Hello!Project 2010 SUMMER ~ファンコラ!~) is Hello! Project's 2010 summer concert. The fans input suggestions for the setlist, so each concert had a different setlist. There are a total of 9 setlists, but the final concert in Tokyo was the only one released. The DVD released October 27, 2010 and sold a total of 8,475 copies. The Blu-ray was released on December 15, 2010 and sold a total of 1,438 copies.
Concert Setlists
Edit
OPENING
VTR: Member Introduction
MC
Kobe Concerts Only:
MC
Performance varied:
Performance varied:
MC
Performance Varied:
Performance Varied:
MC (sometimes skipped)
Performance Varied:
Performance Varied:
MC
Performance Varied:
Performance Varied:
MC (sometimes skipped)
Performance Varied:
Performance Varied:
MC
Performance Varied:
Performance Varied:
MC
MC
Featured Members
Edit
Date
Time
Prefecture
Venue
July 18, 2010
18:30
Aichi
Aichi Prefectural Art Theater
July 19, 2010
14:30
18:30
July 24, 2010
18:30
Hyogo
Kobe International House
July 25, 2010
14:00
18:00
July 31, 2010
18:00
Tokyo
Shibuya C.C. Lemon Hall
August 1, 2010
15:00
18:30
August 7, 2010
14:30
Nakano Sunplaza
18:30
August 8, 2010
15:00
18:30
External Links
Edit